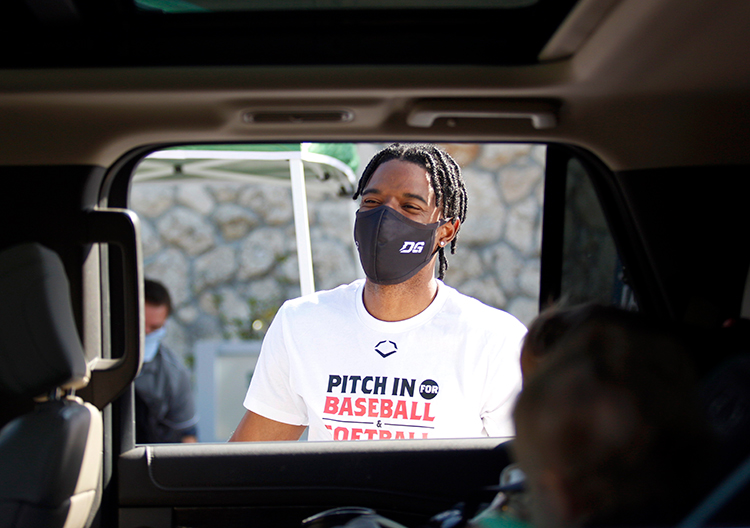 Major League Baseball's Dee Strange-Gordon knocked one out of the park recently during a drive-through equipment giveaway that he hosted at the Jackie Robinson Training Complex.
Strange-Gordon, a second baseman, shortstop and center fielder, has played for the Los Angeles Dodgers, Miami Marlins and Seattle Mariners and is currently a free agent.
The objective of the collaborative initiative with Major League Baseball, Pitch in for Baseball & Softball and Wilson Sporting Goods was to expand children's access to youth softball and baseball, particularly children survivors of domestic violence.
In 2015, Strange-Gordon founded the Flash of Hope program in honor of his mother, Devona Strange, to support children and families affected by domestic violence. He was just 7 years old when his mother was shot and killed by an ex-boyfriend.
The affable Strange-Gordon graciously took time for photos and autographs as some 200 children, ages 18 and under, and the adults who had driven them there peppered him with questions from their vehicles. Their excitement was palpable as he handed each child a bat backpack, foam bat and ball set, face-covering and helmet, while also offering greetings and encouragement.
At times, it was hard to discern whether the children or the adults were more excited as comments such as "That was so cool," "We love you" and "Oh my gosh!" were overheard as they drove off.
"To be able to do it where I got 'discovered' by the Dodgers is pretty cool," said Strange-Gordon. Ironically, he was acknowledged as the first MLB player to lead the National League in batting average and stolen bases since former Dodger Jackie Robinson held the ranking in 1949.
The event aligned with the missions of Reviving Baseball in Inner Cities (RBI) to provide disadvantaged youth with exposure to educational scholarships through baseball, and SafeSpace, a local nonprofit that helps victims of domestic violence by providing shelter, support, advocacy and education.
Later in the day, a group of about 20 excited youngsters, ranging in age from 8 to 12 from SafeSpace and Vero Beach RBI, participated in a baseball clinic. Strange-Gordon, along with Vero Beach RBI coaches and student volunteers, ran the budding athletes through drills, hitting and pitching stations. The children had been provided with brand new baseball equipment to participate in the clinic.
"In about 80 percent of cases of domestic violence, children directly see or hear the violence. Every year, between 10 and 15 million children witness domestic violence," said Charlotte Anderson-Brown, SafeSpace director of operations, adding that SafeSpace was grateful to Strange-Gordon for his commitment to the support of child witnesses of domestic violence.
"Witnessing high levels of domestic violence can have lifelong effects on a child's cognitive, emotional and social development. In our program, we apply child-centered practices when working with kids," said Anderson-Brown.
Photos by Kaila Jones