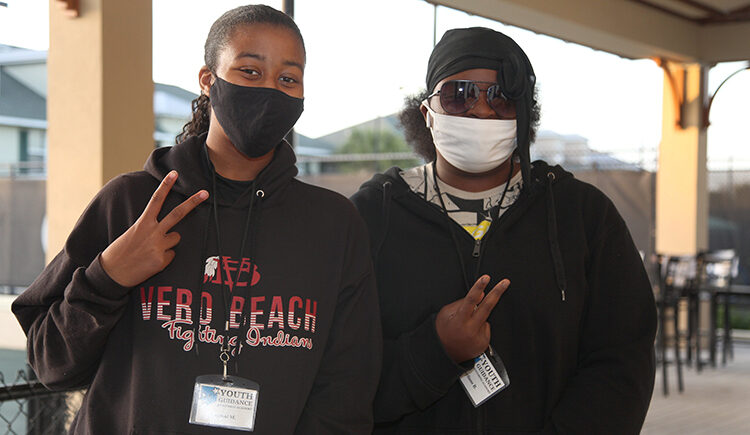 The 26th annual King of the Hill Tennis Tournament put a different spin on the ball this year, playing it in a shortened format as a three-night exhibition Feb. 4, 11 and 18 to keep players and fans safe. The 2020 finalists in the 50s, 40s and open divisions played in one of three exhibition nights at the Boulevard Tennis Club.
Proceeds from King of the Hill support the Youth Guidance Mentoring Academy and its mission to enrich the lives of Indian River County youth through mentoring relationships that inspire trust, self-esteem and positive futures.
Tournament founder and director Gigi Casapu, who established the competition in honor of his brother, Jonny Casapu, a world-class tennis professional who died 26 years ago, will announce the recipient of this year's Gigi Casapu Scholarship, awarded to a Youth Guidance high school senior, during the final night of play on Feb. 18.
"Right now, you are helping 250 kids," said Philip Barnes, YG executive director, on the first night. "This is some amazing tennis that we're about to watch, but you're also impacting the lives of kids that really need it."
Barnes added that the pandemic had created a need to "beef up services to meet the needs of the kids, because those needs were increasing."
In addition to one-on-one and group mentoring programs, Youth Guidance enrollees receive meals throughout the day, and have an opportunity to participate in STEAM (science, technology, engineering, arts and math) and recreational activities.
Students ages 5 to 18 currently enrolled in virtual school also are provided supervision and assistance.
Youth Guidance implemented several new programs this year geared toward life, trade and vocational skills training, including culinary, bike and boat mechanics, cosmetology, home economics, computer graphics and money management.
"This is one of the biggest fundraisers we host, and without the generous support of the community, we would not be able to run the programs we do for at-risk kids," said Laurie Connelly, YG board member.
She said that since its inception, the tennis tournaments have raised more than $500,000 for Youth Guidance.
Having been involved for the past 14 years as a YG board member and mentor, Connelly has seen firsthand how mentoring can change the course of a child's life.
"Just by being a positive role model. It doesn't take a lot of time, and it's as simple as cooking dinner together, going for a boat ride, or to a movie," she said. "They just need to know that someone has their back. I believe that the Youth Guidance Mentoring Academy is truly changing young kids' lives."
For more information, visit youthguidanceprogram.org.
Photos by Kaila Jones