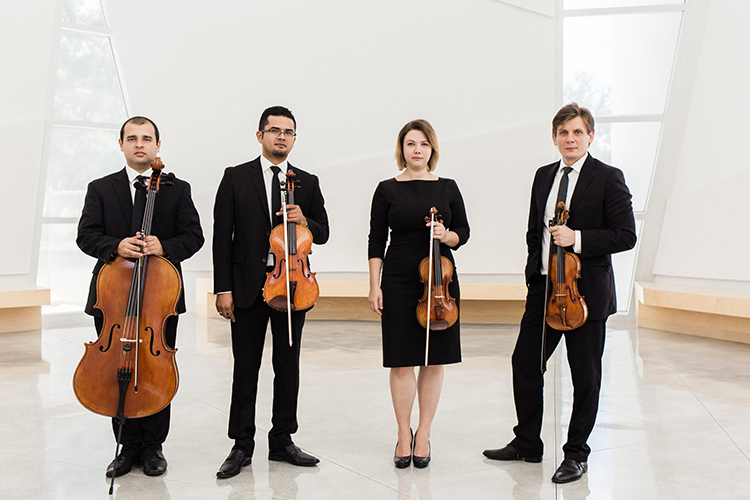 So many exciting events to get you back into the swing of life. Music lovers will be especially delighted when the Con Brio String Quartet performs Sunday afternoon at First Presbyterian Church in Vero Beach. The concert, arranged by the church's music director, Jacob Craig, features international musicians Valentin Mansurov and Marina Lenau on violin, violist David Pedrazza and cellist Aziz Sapaev performing Beethoven string quartets. As a real treat, Craig, an accomplished pianist, will join the quartet to perform the Elgar Piano Quintet. The Miami-based Con Bio first performed at First Presbyterian a few years ago and left patrons wanting more. "They were a big hit," Craig said. "They were very, very good. We got to know them a little bit and they said the next time they came, they wanted me to perform with them. They selected the Elgar." This will be the first time Craig will have performed with the Con Brio, and the first time playing the Elgar piece in front of an audience. That, he said, is a double treat. While string quartet concerts appeal to a specific type of audience, performing Beethoven broadens the appeal. Craig said that Beethoven considered string quartet music to be the "most expressive" of musical forces and devoted his final years to writing almost only string quartets. Edward Elgar was an English "nationalist composer," who, like famed composer Vaughan Williams, transformed motifs in old folk songs into expressive, elevated compositions. So give it a try, even if you've never gone to a string quartet. If you want to hear it in person, though, best get there early. The sanctuary is open to only 100 people due to social distancing restrictions. Moreover, you need to have facemasks. You can always enjoy the concert online at FirstPresVero.org, click onto "Media" and then click onto "Concerts & More." The concerts are free, but organizers are happy to accept $10 donations, which you can also do online (click "Give Online" instead of "Media"). Craig added that people are really enjoying getting out to attend the concerts. "People come up at the end of the concerts and they're crying, saying they haven't attended a live concert for months." Indeed. Whether in person on online, enjoying the arts is something that is getting us through all this. The Con Brio String Quartet concert begins 4 p.m. this Sunday, Feb. 21, at the First Presbyterian Church, 520 Royal Palm Blvd., Vero Beach. Call 772-562-9088 or visit FirstPresVero.org.
Enjoy the culture and traditions of America's First Nation with this weekend's "Thunder on the Beach Powwow." The event, sponsored by the Florida Indian Heritage Association, is designed for the whole family. There will be Intertribal dancing, drummers led by Ottertrail and Warpaint, Hoop Dancing by Cody Boettner, Tipi displays, drum and dance seminars, Native American Food, music and Native American trade vendors from around the country. You can make it a day trip or camp for the weekend (RV sites available). Saturday night features a live auction. The Florida Prairie Boys will perform a Gourd Dance 10 a.m. Sunday. Admission is $8 per person in advance or $10 at the gate. Admission is $5 for children ages 7 to 14 years and free for children under 6. The event begins 4 p.m. Friday, Feb. 19, and 10 a.m. Saturday and Sunday, Feb. 20-21 at the Indian River County Fairgrounds, 7955 58th Ave., Vero Beach. For more information, call 772-519-7888 or visit FIHA.us.
Plan ahead for the Raw Space gallery's Mixed Media Collage Workshop. Coordinated by the Fine Arts Cultural Enrichment Teaching Studios and taught by Terry K. Hunter, the workshop coincides with Raw Spaces' exhibition "The Grid Comes Full Circle II," which runs through Feb. 26 and features works by Hunter's students from 1977 to 2020. The workshop runs 10 a.m. to 3 p.m. Thursday, Feb. 25 in the Open Art Studio at Raw Space Gallery, 1795 Old Dixie Highway, Vero Beach. It will get artists to work in a variety of mixed-media collage materials and techniques. Expect to experiment with paints, tools, found objects and more. The Fine Arts Cultural Enrichment Teaching Studios is a program of Clemson University's Sandhill Research and Education Center. The workshop is sponsored by FACETS, the Dr. Samuel A. Hunter Memorial Foundation and the Gifford Historical Museum and Cultural Center. This is for beginning and intermediate skill levels. Artists need to register by Monday, Feb. 22. Call 772-985-7573 or email jonnieperry@gccr.net.