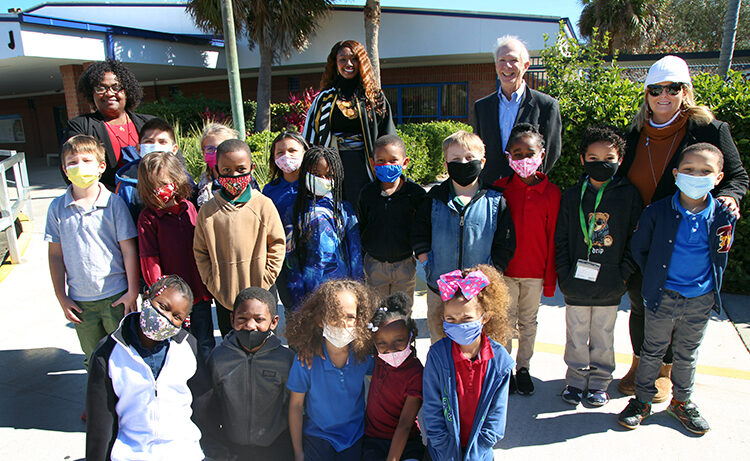 Indian River Impact 100 hosted its annual Impact Day in a virtual format that included taped videos of the five 2020 grant recipients highlighting the status of their projects, followed by a Q&A discussion.
"You're doing wonderful things in our community; it shows what a group who gets together with a common purpose can accomplish," said event sponsor Robin Lloyd, stressing that 100 percent of each member's $1,000 membership 'dues' directly benefits local charities.
"This is traditionally the event where we have our most recent community partners tell us about the progress of their grants. This is where we see our donations at work and how important our $100,000 grants are to our community," said Gladys LaForge, Indian River Impact 100 board president, reiterating the transformational giving directive: "One woman, $1000, one vote. Together, one big difference."
Stacey Watson-Mesley, CEO of Big Brothers Big Sisters started things off in the video, saying of her project, "The Big Mission focuses on recruiting veterans, law enforcement and first responders to be a part of our program, to serve as mentors to Little Brothers and Little Sisters throughout Indian River County."
She said that Ryan Meeks, a veteran who served three tours in Iraq and Afghanistan as a sergeant in the U.S. Army and who holds a degree in Human Services, was hired as the Big Mission support specialist.
"Impact 100 funding has allowed us to not only reach out into the veteran community, but also to have someone on our very own team who has served this nation and understands the needs and experiences of veterans and law enforcement," said Watson-Mesley.
Camp Haven, a transition center for homeless men, used its grant toward the construction of a new multipurpose building, which is being used as a place for classes in life-skills training, psychological counseling and various meetings.
"The Impact 100 investment in this building is more than investment in a building. It is an investment in somebody's life," said Chuck Bradley, executive director.
"This room is the heart and soul of Camp Haven. The ability to have this facility has been life-changing for us. It's just been an absolute godsend," said Gordon Stewart, board president.
The Impact 100 grant enabled the Children's Home Society Dodgertown Elementary Community Partnership School to hire a family engagement coordinator to address the societal barriers that prevent children from focusing on learning.
Thanks to a grant from the University of Central Florida, CHS has entered a 25-year commitment with the Indian River County School District, Indian River State College and Treasure Coast Community Health to introduce the concept to Indian River County.
"This partnership allows us to provide wrap-around services to students and families," said Aretha Vernette, principal at Dodgertown Elementary School.
"The funding from Impact 100 has already begun to change lives," said Sabrina Sampson, CHS regional director."
The Source launched its Dining with Dignity Food Truck this summer to provide real-world mobile culinary skills and address homelessness and unemployment. In addition to serving the local community, when Hurricane Sally hit the Florida Panhandle, they took the truck there and fed more than 1,000 people.
"Working with Impact 100 has given us the credibility to be one of the key organizations in our community serving the less fortunate," said Anthony Zorbaugh, executive director, adding that they hope to launch a second truck in July 2021 and a third in 2022. "It has been huge for our organization and has opened so many doors for us. It gives validity to our program and it establishes us in our community."
"The Treasure Coast Food Bank works with over 100,000 people each week and in Indian River County we work with about 25,000 families," said Judith Cruz, TCFB president/CEO.
"The Impact 100 grant has helped Treasure Coast Food Bank fund a Mobile Market that is able to bring food directly into communities of need in Indian River County. We're able to go block by block, providing people that are not able to access grocery stores or supermarkets the ability to access fresh produce and food."
She added that the timing couldn't have been more impactful, as the pandemic has greatly increased the number of people in need.
Amy Acker, Impact 100 past president, moderated a Q&A that included a question about how the pandemic had impacted projects. Not surprisingly, responses included increases in the need for their services coupled with decreases in funding.
On the plus side, there was grateful appreciation all around for the Impact 100 funding, collaborations with other nonprofits were noted, and a St. Lucie County donor was so inspired by the idea of the TCFB Mobile Mercado that they provided funding for one in that county as well.
Membership in Impact 100 is open until Feb. 28. For more information, visit impact100ir.com.
Photos by Kaila Jones