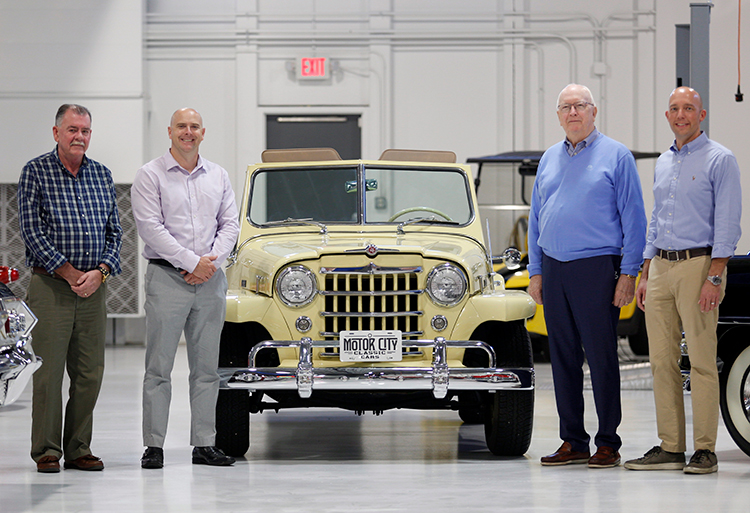 With the continuance of the coronavirus pandemic, Camp Haven opted to host a virtual version of its annual Diamonds in the Rough Gala, taking supporters online for an educational video experience and auction.
In the days preceding the evening event, folks were invited to peruse an impressive array of silent- and live-auction items, including several unique opportunities, such as having Debbie Macomber dedicate her next book to the highest bidder, or the chance to purchase a 1950 Willys Jeepster.
Roughly 80 guests logged on to watch, raising more than $63,000 and a greater awareness of the mission of Camp Haven to help homeless men reclaim their lives. A portion of the proceeds from the evening were going to be dedicated toward enhancing the nonprofit's mental health program, a crucial aspect in their journeys to self-sufficiency.
"We are a transitional program for homeless men," explained Gordon Stewart, board president. "In addition to temporary housing, we provide educational, vocational and psychological assistance."
To become a temporary resident at Camp Haven, the men must be addiction-free for at least 30 days prior to their acceptance and afterward must abide by strict curfew and visitation regulations. Program requirements include obtaining a full-time job, saving half their pay, making child support obligations current, attending support meetings, and counseling.
"Most residents are with us from 18 to 24 months and leave once they can provide their own housing and support themselves. At Camp Haven, we are proud to share that in our first seven years, we have helped over 200 men return to the community as self-supporting, productive and proud members of society," said Stewart, adding that the Treasure Coast has the highest percentage of homeless men in the country.
Before auctioneer Wesley Davis presided over a Call to the Heart and the live-auction portion of the evening, a short video gave viewers a peek into life at Camp Haven from the perspective of campus staff and Tim, a resident who shared his story.
"I'm very thankful for this place. I don't know where I would be; maybe still in the woods," said Tim, who recounted the time he spent hungry, living in the woods and drinking water from a hog trough.
Steve Pelletier, a former Prudential Financial COO and Camp Haven's newest board member, shared his own story of recovery, noting that although he was never homeless, his life began deteriorating before he achieved sobriety. His circumstances are what drew him to Camp Haven and its goal of helping men return to the community with independence and dignity.
"I know that I only recovered with a lot of help from others," said Pelletier. "I know how transformative it can be when hope overcomes hopelessness with the help of other people. And I certainly know a powerful source of help when I see it. I recognize that in Camp Haven and the men who come here."
For more information, visit camphaven.net.
Photos by Kaila Jones