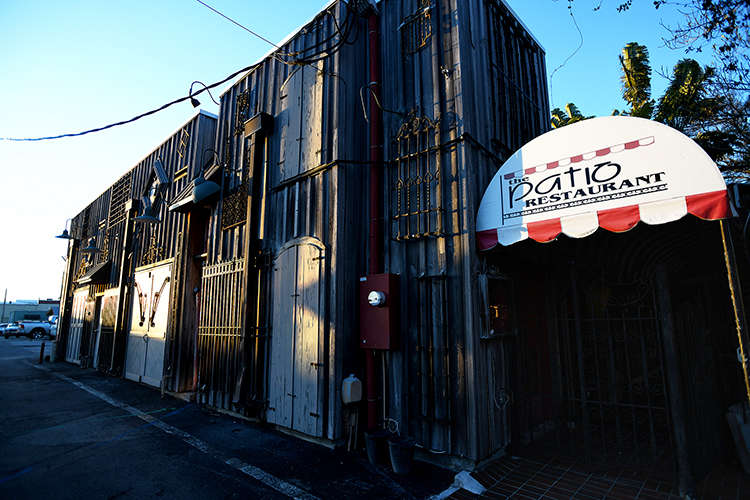 The Patio, the iconic Vero Beach restaurant that was closed and put up for sale in May, is under contract, local commercial realtor Billy Moss said last week.
However, Moss said he was not permitted to identify the potential buyer or publicly discuss the terms of the offer.
"I can tell you the buyer wants it to remain a restaurant, but I can't say much more," said Moss, a Lambert Commercial Real Estate broker who specializes in the sale and leasing of restaurants and other businesses.
"A lot of people are looking at that property, and I've got a waiting list if something happens and this deal doesn't work out," he added. "We've gotten more inquiries now that the vaccines are out there."
According to Lambert Commercial's website, the 5,145-square-foot building, which sits on a two-thirds-of-an-acre parcel at the intersection of 21st Street and 11th Avenue, is listed for $995,000.
The landmark restaurant was designed and built by Vero Beach pioneer Waldo Sexton more than 70 years ago, and for decades was a thriving eatery that attracted crowds of locals and visitors, including the Brooklyn/Los Angeles Dodgers during their annual spring-training stays here.
After years of success under different operators, the restaurant fell on hard times at the start of the Great Recession in 2008 and mostly struggled since then.
Those struggles prompted Sexton's descendants to put The Patio on the market – for the first time – last spring, shortly after its most-recent tenant, Orlando restaurant manager Bill Brown, closed its doors in April.
"I think the run was coming to an end, anyway," Moss said at the time, "but the coronavirus certainly didn't help."
Michael Sexton, Waldo's great-grandson and president of the company that owns the now-shuttered restaurant, said in May the family preferred to lease the historic property to another restaurateur – seeking $6,500 per month in rent – but also was prepared to sell at the right price.
"The place is a part of our family's legacy and, as much as we'd like it to remain such, it's difficult to carry," he said then. "So, we thought this was a good time to test the waters and try both routes – putting it up for sale or lease – and see what happens. We'll entertain all offers we consider reasonable."
Apparently, a potential buyer made the Sextons a reasonable offer.
"I read where a Yale professor believes we'll see a golden age of restaurants after everyone is inoculated and the pandemic is behind us, just as we saw after the Spanish Flu of 1918," Moss said.
"When that pandemic ended in early 1920, we had the Roaring '20s, which saw a boom in hospitality, restaurants, nightclubs and fashion," he added. "People had been indoors so long they couldn't wait to go out.
"We could see it happen again when this pandemic ends."