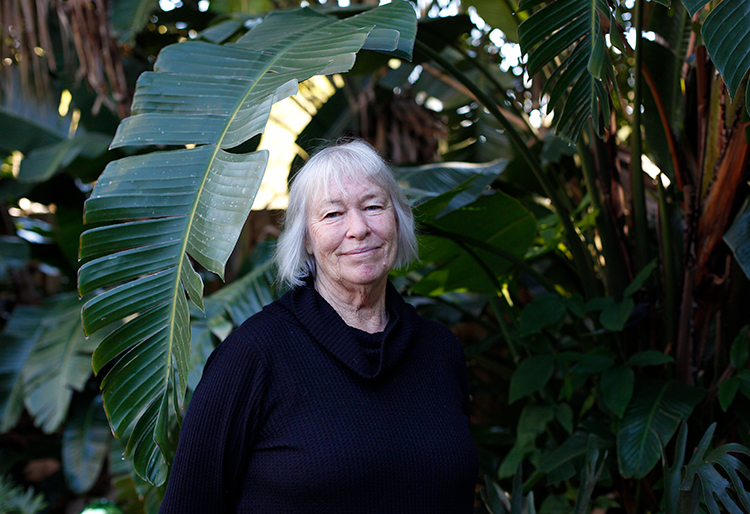 "Bloom where you are planted" has become a motto of sorts for artist Myrna Renkert. She didn't start out as a clay artist, but it will be hard to believe that when you see her vibrant and contemporary line of jewelry on view Feb. 5 to Feb. 27 at the Flametree Clay Art Gallery.
Born and raised in upstate New York, Renkert began her artistic life in the fiber discipline of batik in the 1970s, winning awards and acclaim.
When a mid-life crisis came knocking at the door in 1998, she and her late husband Bill packed up and moved to the small Puerto Rican island of Vieques. The couple had previously owned and operated a restaurant in Rochester for three years, but soon learned that it "wasn't that much fun."
So, they left the frozen north and moved to the small Caribbean island, where they worked at a high-end guest house, restaurant and bar. While there, she would take long walks on the beach with her puppy and discovered large amounts of sea glass that she eventually turned into a profitable jewelry line.
"In Vieques, I had sea glass all over the house," she says with a laugh. "My husband asked me what I was going to do with it, so I figured out how to make earrings from sea glass. I wore them to work and people would buy them right out of my ears. That was so weird; I would never do that."
But as more people continued to stop her on the street, she explored it further and soon established a profitable business.
To qualify for a highly sought-after "Certified Artisan" ranking, which in Puerto Rico gives artisans a $50,000 tax exemption, she was required to incorporate a second genre to that of 'body adornment.' So Renkert began making leather handbags festooned with sea glass and was able to achieve the ranking.
In Vieques, they became friends with Michael Glatz, who would end up moving to Vero Beach before they did.
When her husband fell ill, it was Glatz who urged them to move to Vero, where it would be easier to take Bill to Mayo Clinic in Jacksonville. The couple took his advice and moved here in 2014. He needed constant care in the final four years of their lives together, but Renkert didn't think twice about helping him. They had been life partners for 38 years in every meaning of the term, and it had been Bill who nurtured the artist in Renkert.
"I didn't think I was a good enough artist," she says. "Although I won a number of awards for my batik work in the '70s, I needed more validation. I guess I'm insecure about it."
Bill passed away two years ago, but, says Renkert, "it's not a sob story; it's just a fact. In many ways, he set me free. He was the one who pushed me to pursue my art. But it's hard to do what you want to do when you have someone who needs you."
Renkert was left with a pile of medical bills that insurance would not cover, and she also needed a project to help soothe the trauma of losing her husband. She had hoped she could count on her sea glass jewelry to help financially, but soon discovered that it was not as popular in Vero Beach.
Glatz, who had opened the artsy Coffee House 1420 on 14th Avenue in downtown Vero Beach, suggested she branch out. He introduced her to his friend, clay artist Maria Sparsis, a Flametree founder and member of Indian River Clay Studio.
"Maria dragged me into the clay studio," Renkert says. "She made me a sucker for clay."
Renkert took classes with Sparsis and discovered a strong emotional connection with the tactile experience of working with clay.
"Going into the studio and working with clay was a form of therapy for me," Renkert explains. "I could work hours and hours and not deal with what was in the other room. I went through a hard time after my husband passed away."
After pouring herself into the new medium, she discovered that it was much more challenging than she had anticipated. Still, though, her artistic aesthetic took hold. What resulted was a line of clay and porcelain jewelry imbued with color and clean design. There are also a few coffee mugs, which Glatz happily displays in his coffee shop.
"Her work is very elegant looking and different than what one sees on a daily basis," Sparsis says. "We had a sale at IRC in November. She was one of the people who showed there and did very well."
Flametree co-owner Leah Cady thinks Renkert's work is so stunning that she invited her to exhibit at the gallery.
"Her jewelry is very unique and modern," Cady says. "It looks simple but they're very time consuming, especially if you paint them."
Cady explained that Renkert frequently uses porcelain, which is a clay that is lighter in weight, making it better to use with jewelry. However, she says, artists generally don't like working with porcelain because of its unpredictability; they don't know how it will turn out after firing.
"With batik, I actually had a better grasp of how things would turn out," Renkert says. "I understood my dyes and the process. Whatever I put into it, I got out of it. With the clay, you really never know what you're going to get out of the kiln."
It has become a kind of Zen-like metaphor for life. For Renkert, the kiln is like the symbol for the crucible of life – you never know what kind of change will be wrought. The glazes, colors, finishes and even shapes can change.
"Whenever the kiln door opens, I'm surprised," she says. "I took out a mug today, half of it was shiny, half wasn't. I said, 'Why does this happen?' My studio manager said, 'I have no idea.' And she's been doing this forever. So, I think it's a curiosity. It has a life of its own."
Myrna Renkert's work will be shown side by side with that of painter Regina Stark in a collaborative exhibition at the Flametree Clay Art Gallery, comprising works by a dozen artists, each paired up with artists of other media. For more information, visit FlametreeGallery.com.