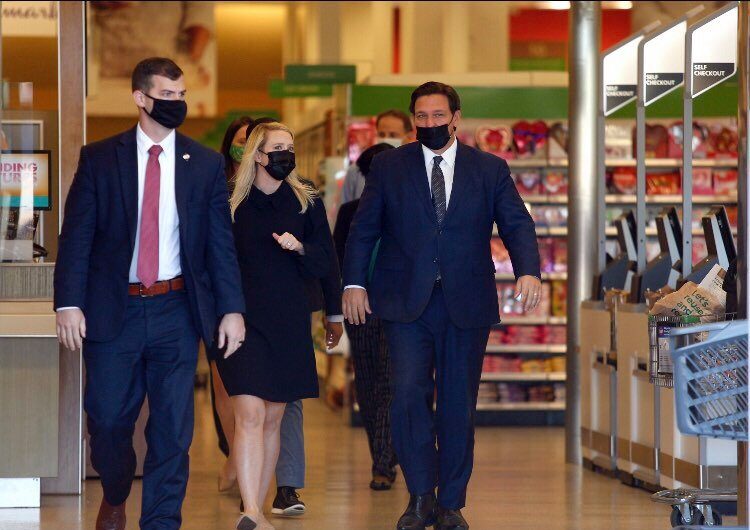 Gov. Ron DeSantis announced Tuesday that eight Publix Supermarket pharmacies in Indian River County and 11 in St. Lucie County will be providing COVID-19 vaccines for residents as early as this week.
DeSantis also responded to criticism from President Joe Biden administration officials, who on Monday said Florida had only distributed half of its COVID-19 vaccine supply. Counties including Indian River have seen a slow rollout of the vaccine.
This morning I was asked to address recent comments from the White House about Florida's vaccine allocation. Here is my statement ⬇️ pic.twitter.com/imwvT67sRo

— Ron DeSantis (@GovRonDeSantis) January 26, 2021
"The insinuation that Florida is underutilizing vaccines is totally disingenuous. Florida is number one in the country among the top 10 most populous states for vaccine doses per capita," DeSantis said in a statement released on Twitter. "Additionally, Florida is averaging more than 300,000 first doses per week, but we are not going to divert second doses away from our seniors. If the implication is that we should be giving those second doses away to other people, that is not the way the FDA has prescribed the series."
DeSantis also said that as of Tuesday, Florida was the only state in the nation to have more than 1 million seniors vaccinated.
Florida is the only state in the country to have more than 1 million seniors vaccinated – with more every day! #SeniorsFirst pic.twitter.com/MedHQS6iyW

— Ron DeSantis (@GovRonDeSantis) January 26, 2021
The governor visited Vero Beach to talk about the latest phase of his vaccine program to include locations at local Publix stores. The program's extension comes after other Publix pharmacies across Florida have already begun administering the Moderna vaccine to those eligible.
Residents can start scheduling appointments on the Publix website after 6 a.m. Wednesday, and vaccine shots will be given starting Thursday, according to the Publix website.
.@GovRonDeSantis says 8 Publix store locations in Indian River County and 11 in St. Lucie County will now provide COVID-19 vaccines. Residents can sign up Wednesday and Friday mornings on the Publix website. #VeroNews pic.twitter.com/BVOpSaQ9uz

— Nicholas Samuel (@JournalistNickS) January 26, 2021
"It's important to know this is by appointment only. Get on there and get it. Most appointments go quickly," DeSantis said during a news conference in front of the Publix store located at Treasure Coast Plaza, 415 21st Street, Vero Beach. "This is good progress. It puts (the vaccine) in even more communities. Now we have it from Palm Beach (county) on the east coast of Florida all the way up to St. John's (county). We've got a handful of counties on the southwest Florida coast."
State officials launched the pilot project with Publix earlier this month as a way to get the COVID-19 vaccines to more seniors, who are considered most vulnerable to the virus. The Florida Department of Health and Cleveland Clinic Indian River Hospital have also been offering vaccines to those ages 65 and older, although online appointments are usually booked within minutes.
DeSantis said the Publix partnership started with more than 22 stores in three counties – Citrus, Hernando and Marion. The project has since grown to include 261 Publix pharmacies in 20 counties, now including Indian River.
Florida residents who are eligible to get the vaccine at Publix pharmacies are healthcare personnel with direct patient contact, residents and staff of long-term healthcare facilities and those ages 65 years and older, according to the Publix site. Those who make an appointment must provide proof of residency.
As of Monday, the cumulative amount of COVID-19 cases in Indian River County rose to 9,391, while the death toll increased to 218, according to a Florida Department of Health county report. The county has had 12,764 people get their first COVID-19 vaccine doses, while 706 have gotten both doses, according to Monday's data from a county vaccine summary.
Residents who get both doses are considered to be "fully immunized," health officials said. There have been 414,083 COVID-19 related deaths across the U.S. as of Tuesday, according to the World Health Organization.
News of DeSantis' arrival brought both those in support and against the COVID-19 vaccines. Members of the Indian River Freedom Coalition stood in the Publix parking lot holding up signs that read "COVID-19 vaccine makers are exempt from liability."
"We want to make sure it's not mandated," coalition member Ruthie Kuvlesky said. "We're losing our personal health freedom."
Vero Beach resident and retired Registered Nurse Ellen Flanagan said she was at the Publix pharmacy earlier when DeSantis' appearance took her by surprise.
Flanagan, 82, lives around the corner from the Publix at Treasure Coast Plaza. Flanagan said she and her husband, Ray, also 82 and a retired Navy veteran, haven't gotten vaccinated because the appointments with the county are usually booked within minutes.
Flanagan said she was delighted to hear that local Publix pharmacies would be offering the COVID-19 vaccines.
"He brought good news," Flanagan said. "Vaccines save lives."