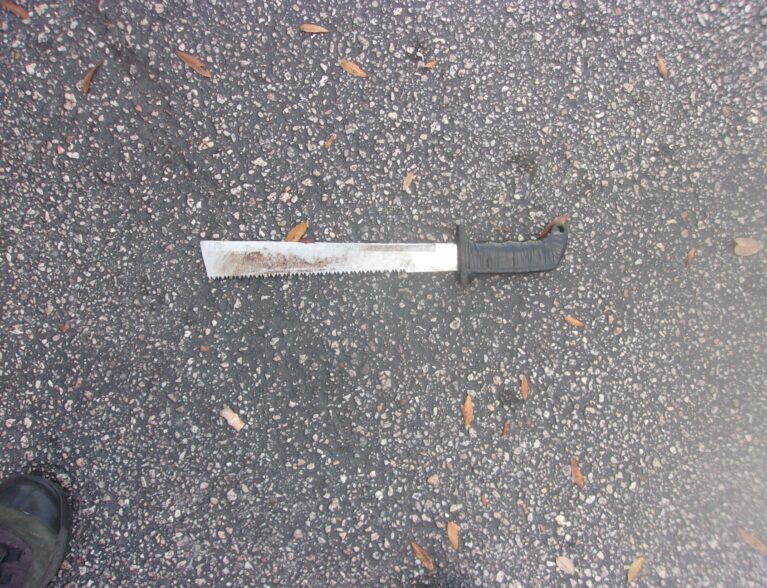 INDIAN RIVER COUNTY — A 47-year-old man was shocked with a Taser after officials said he pulled out a machete and threatened a sheriff's deputy at a business plaza.
"This incident demonstrates the ever-present danger that law enforcement faces every day. The act of threatening an officer with a deadly weapon is a decision that could end in tragedy for those involved and the surrounding public," Indian River County Sheriff's officials said in a statement. "This could have been a deadly encounter, but Corporal (Michael) Dilks' training and quick action in this situation resulted in a safe resolution for all."
The suspect, Dwayne John Gordon, described as homeless, was charged with aggravated assault on an officer, resisting arrest with violence and loitering or prowling. Gordon was held Monday at the Indian River County Jail without bond.
The incident unfolded early Monday when Dilks responded to reports of a business burglary alarm in the 1300 block of U.S. 1, west of 8th Avenue. Some of the businesses in the plaza include Rita's Italian Ice & Frozen Custard, Papa John's Pizza, Five Guys restaurant and Leslie's swimming pool supply store.
The exact time of the incident was not immediately available.
Deputies said Gordon walked from behind the closed buildings. When Dilks approached Gordon, Gordon pulled out a machete with a 12-inch blade from his waistband, sheriff's officials said.
Sheriff's officials said Gordon was confrontational and threatened Dilks. Dilks deployed his Taser, shocking Gordon.
Dilks took Gordon in to custody. Sheriff's officials said Gordon has active warrants out of Georgia.
Gordon was booked in to the county jail.