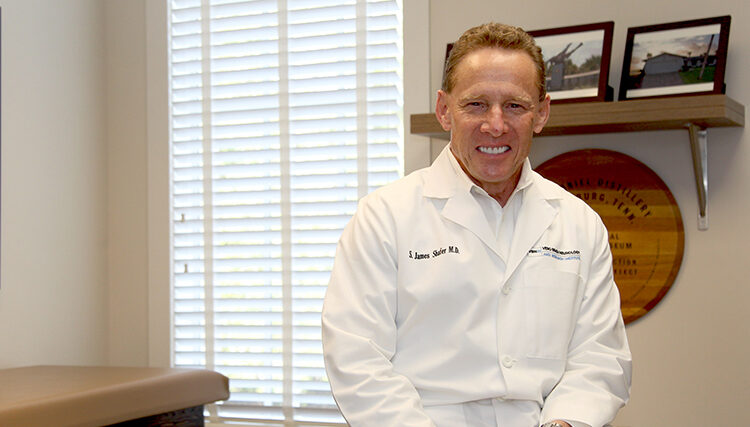 Dr. S. James Shafer, founder of Vero Beach Neurology and Research Institute in Vero Beach, doesn't believe in just managing a neurological disease, but instead is a proactive advocate. In some cases, he advises patients to literally fight back for their quality of life.
Such is the case with many of his patients suffering from the debilitating effects of Parkinson's disease, which brutally attacks one's motor skills, balance, speech and sensory functions.
Interestingly, these are the same motor skills that boxers train to perfect. That's exactly why Dr. Shafer recommends that Parkinson's patients box to improve their motor skills.
"While most people rightfully equate boxing with a cause of Parkinson's and not a treatment, studies have shown that non-contact boxing dramatically improves hand-eye coordination, agility and daily functioning for patients," said Dr. Shafer. "For someone who knows they are never to get better, putting on boxing gloves and punching a bag gives them the opportunity to fight back."
Dr. Shafer teamed up with Gus and Macy Curren, owners of House of Champions Gym in Vero Beach, about four years ago to offer the Rock Steady Boxing Program to area patients.
The program was founded in 2006 by a young patient who wanted to challenge his disease through exercise and hired a boxing trainer to develop a personal training regimen designed to gain strength and agility. He noticed drastic improvement and formed a nonprofit to help bring the program to others. Today there are more than 600 affiliates worldwide, serving 3,600 patients.
"Locally, we currently have about 50 patients who train at the gym, although we've had several hundred participants over the past few years," explained Dr. Shafer. "The exercises combine physical activity and the learning of new skills, requiring the brain to adapt to new challenges. Rock Steady Boxing is designed for Parkinson's patients but is open to anyone suffering from a movement disorder. We have participants from all over who are referred to us from numerous practices. Many seasonal residents make signing up for the program one of their first priorities. Not only is it fun and socially engaging, but it also increases independence and self-confidence as well as the physical improvements."
Parkinson's is a brain disorder that leads to shaking, stiffness and difficulty with walking, balance and coordination. According to the Parkinson's Foundation, nearly 1 million people were living with Parkinson's disease in the United States in 2020, more than the combined number of people diagnosed with multiple sclerosis, muscular dystrophy and Lou Gehrig's disease (Amyotrophic Lateral Sclerosis).
Another 60,000 Americans are diagnosed each year, and worldwide over 10 million people suffer from the disease.
Symptoms generally develop slowly over years and differ from one person to another. Some patients will notice a slight shaking or tremor in a finger, hand or chin while resting, loss of smell, one side of the body moving slower than the other and loss of balance.
Others will have difficulty moving or walking due to a stiffness in the body, arms and legs, causing them to shuffle their feet. As the disease progresses, cognitive functions including forgetfulness and trouble with concentration may arise. An estimated 50 percent to 80 percent of those with the disease may experience dementia.
"Unfortunately, there is no cure for Parkinson's disease," said Dr. Shafer.
"Symptoms can be managed with dopamine-based medications and physical therapy. The biggest change in treatment within the past decade is in the advancement of deep brain stimulation (DBS) procedures that enable surgeons to go into the brain, map its circuitry live and then zap little areas to stimulate and ablate parts of the brain that control the movement."
During DBS surgery, the surgeon places thin metal wires in the brain and those wires send electrical pulses to the brain to help control motor symptoms. The electrical signals interrupt the abnormal signaling patterns in the brain that cause the motor control issues. While it's not a cure for Parkinson's and does not stop the progression of the disease, many patients experience a significant reduction in their symptoms.
Shafer, a Vero Beach High School graduate, graduated summa cum laude at the University of Florida and received his medical degree from the University of Miami at Jackson Memorial Hospital in Miami, followed by an Internal Medicine internship at Jackson Memorial Hospital.
He completed his residency in Adult Neurology in 1997 at the University of Florida at Shands Teaching Hospital. He is affiliated with Cleveland Clinic Indian River Hospital, where he serves as department chairman of Neurology and Psychiatry and medical director of the IRMC Stroke program. He is the founder and medical director of the Multiple Sclerosis Center of Vero Beach that has cared for thousands of MS patients worldwide.
He and his team of investigators and study coordinators at Vero Beach Neurology & Research Institute conduct clinical trials in therapeutic areas including MS and Parkinson's disease from their offices in Vero Beach.
"We're always looking for a better treatment or ultimate cure for Parkinson's disease," said Dr. Shafer. "I'm convinced that there is no pill or surgery than can replicate the benefits for Parkinson's patients that are received from participation in the Rock Steady Boxing program.
"The workouts basically wake up the brain and I've seen patients who couldn't walk when they came in, become mobile again. There's no doubt medical treatment is always necessary, but this is one way for them to fight back."
Dr. Shafer and House of Champions Gym are co-sponsoring an online seminar on Parkinson's disease on Feb 16. The event is open to all and features Michael S. Okum, MD chair of neurology, professor and executive director of the Norman Fixel Institute for Neurological diseases at the University of Florida Health Collage of Medicine. Information and registration can be found at the Alzheimer's and Parkinson's Support Group website: www.alzpark.org. Dr. Shafer can be reached at Vero Beach Neurology Research Institute, 772-492-7051.