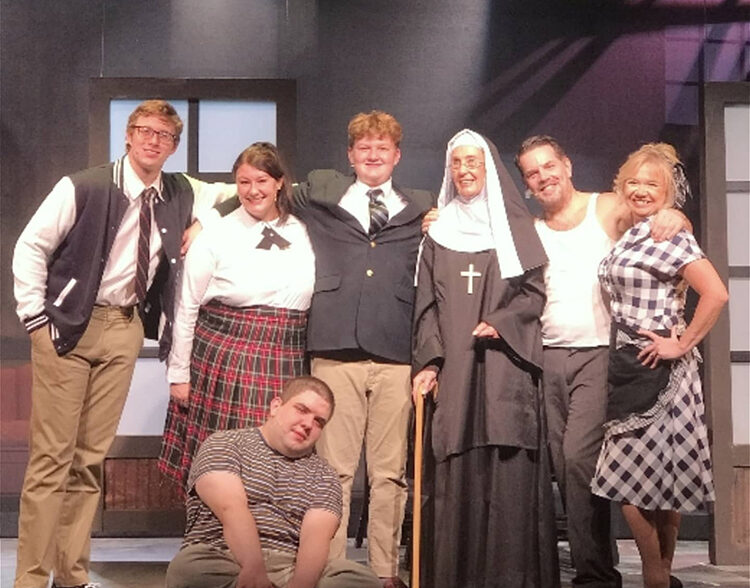 As we crawl out of our caves, we're finding a lot more to do. At the top of the list this weekend is the comedy "Over the Tavern," on stage through Sunday at the Vero Beach Theatre Guild. The Chicago Tribune has called the play "a hilarious and touching depiction of 1959 Americana" and a "laugh-out-loud comedy."
Set in the Eisenhower years, it concerns 12-year-old Rudy, who rebels against his parochial school's Sister Clarissa. Directed by Alex Martinez, the show's opening last week received a standing ovation from its entertainment-thirsty audience.
The Theatre Guild's artistic director, Jon Putzke, said it's got a good buzz going on and is edging close to sell-out status. "They are such a strong, energetic cast, I found it really fun," Putzke said. "We have a great season-opener on our hands."
Patrons will notice a lot of effort made to keep them virus-safe. Half the seats have been removed, rows have been adjusted to 6 feet apart, carpeting is gone, the lobby tripled in size and there is plenty of room outdoors for social distancing.
Also, there's no paper program, it's all-digital. Moreover, audiences must wear their masks. "Over the Tavern" performs 7:30 p.m. Thursday, Jan. 21, and Friday, Jan. 22; and 2 p.m. Saturday, Jan. 23 and Sunday, Jan. 24. Tickets are $15 to $30. The Vero Beach Theatre Guild is at 2020 San Juan Ave. Call 772-562-8300 or visit VeroBeachTheatreGuild.com.
The 30th Annual Fellsmere Frog Leg Festival opens today, Jan. 21, and runs through Sunday, Jan. 24. Last year, the Southeast Tourism Society designated this festival as one of its top 20 events. The event offers food, carnival rides, entertainment and vendors.
The food part of this includes frog legs, gator tail (do they really taste like chicken?), plus a host of typical festival fare. Buy tickets for $1.25 each or $20 for a bundle of 18. Then trade those tickets in for food or rides.
Rides will cost three to four tickets; food will cost four to 10 tickets. If you love the rides, you'll be interested in the $20-$25 for all-you-can-ride armbands. Games are cash only. Music entertainment includes "Hairpeace" 6 p.m. to 8 p.m. Thursday, "Cobblestone Road" 6 p.m. to 8 p.m. Friday, "Golden Ukes" 1 p.m. to 3 p.m. Saturday, "Justin Mason & Blue Knight" 4 p.m. to 7 p.m. Saturday, and "Blue Cypress Bluegrass" 1 p.m. to 3 p.m. Sunday.
Admission to the festival is free, and parking is free. All guests are asked to wear face coverings and to practice social distancing. Organizers are also encouraging those who are more vulnerable to COVID-19 to stay home. There are also drive-through/takeout options for the dinners. The Fellsmere Frog Leg Festival will be held at 22 South Orange St., Fellsmere. Call 772-571-3022 or visit FrogLegFestival.com.
A new exhibition opens Saturday at the Vero Beach Museum of Art. "Poetry of Nature: Hudson River School Landscapes from the New York Historical Society" runs Jan. 23 to May 2, 2021.
It comprises more than 40 paintings by 25 artists of the 19th century. The exhibition explores the famed Hudson River School, a group of New York City artists who painted highly romanticized visions of American landscape along virgin areas in the Catskills, Adirondacks and White Mountains.
Admission to the galleries is $8 general, $7 seniors and free to children under 17 years of age. It is also free to museum members. For those who want to learn more about the genre, consider streaming "Glorious Marvels of the Land," a lecture featuring historian and curator Karen E. Quinn.
She will speak, in part, on the Hudson River School's significant role in the unique American vision and its decline after the Civil War. The lecture, which will be streamed 4:30 p.m. Monday, Jan. 25, is part of the VBMA's International Lecture Series.
Livestream broadcast single lecture tickets cost $80 for museum members and $95 for non-members. You can also see the lecture at the museum for the same price. Seeing it at the museum will also get you entrance to the galleries so that you can view the work.
When you visit the museum, be sure to leave time to view "Chul Hyun Ahn: New Light," an unusual light art exhibition on view through April 30. Facemasks required, temperatures taken, social distancing observed and hand sanitizers available. The Vero Beach Museum of Art is at 3001 Riverside Park Dr. Hours are 10 a.m. to 4:30 p.m. Wednesdays through Saturdays, and 1 p.m. to 4 p.m. Sundays. Call 772-231-0707 or visit VBMuseum.org.