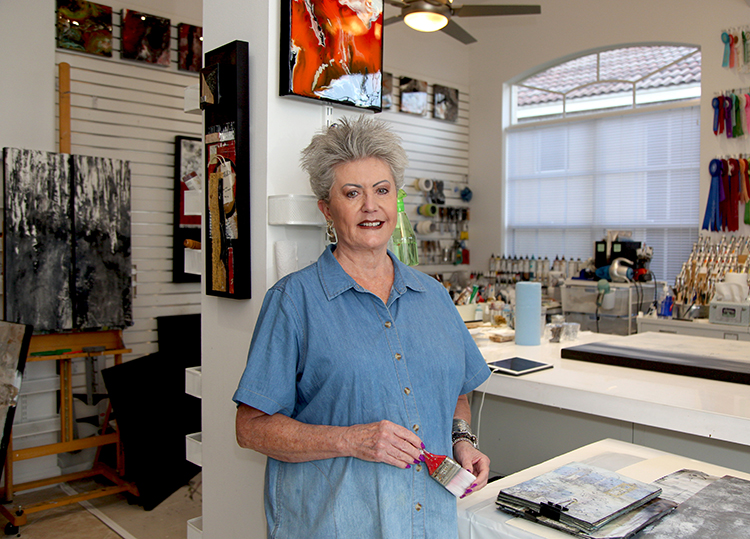 On display through January, the work of mixed-media painter Carol Staub is in a special exhibition at Gallery 14, alongside that of ceramic sculptor Walford Campbell, mixed-media sculptor Mia Lindberg and painter Sandy L. Ford.
In preparing for the exhibition titled Fabulous Four, Staub knew that she would have to up her game to show well alongside the offerings of her "fab" colleagues. More than with fellow painter Lindberg, however, Staub's work shares a number of the qualities usually reserved for sculptors, including the surface finishes and textural flourishes that Staub describes as "painterly."
Standing before her diptych, "Just Beachy," in Gallery 14's central display room, Staub says "it's very inspiring to see other people's work."
"I love Walford's work," she says, indicating the three vessels by Campbell that are grouped on pedestals in the center of the room. Something about them suggests fleshy female forms – their generously modeled curves, the earthy brown stains they wear, and the smoothed-down dabs and light score marks on their bodies that attest to Walford's hand-built technique.
Staub then proceeds to praise Lindberg's work. Two of the latter's ceramic vessels bookend Staub's diptych.
"Those Who Wait" is a tall cylinder capped with an array of seal corals that fairly spring from its lid. Its washed-out aquamarine and buff-colored surface looks as though the object has rolled about in the surf for a couple centuries, gaining an incrustation of salt and sand. Its similarly colored companion in the show, "Sea Pod," is a rotund lidded vessel with a gold-washed pumpkin finial.
"To me, they are very beachy," says Staub, who marvels that the colors in both her painting and Lindberg's sculptures contain the same blue hues. They did not plan it that way; the use of blue is novel for both artists. According to Staub, she and Lindberg saw each other's ocean-themed works for the first time in late December, when the show was hung.
"This is different for her. Usually, Mia uses earthy neutral colors, as do I," Staub says.
The blues in her own "Just Beachy" are cerulean, ultramarine and blue-toned Payne's gray.
Says Staub, "To me it's definitely a beach, abstracted into my world. I should have called it 'Lila,' because Lila told me she wanted 'beachy colors,' and I was up for the challenge."
Lila Blakeslee is another of Gallery 14's resident artists. Of late, she has also painted some sand and surf scenes. In large paintings like "Bahama Bay" or "Caribbean Sea Spray," Blakeslee shows us what the beach looks like. In "Just Beachy," Staub shows us how the beach feels underfoot.
Mounted side by side, its two panels have matching compositions with slight variations in each. Viewing the painting is a little like seeing a stereoscope card writ large. Your eyes want to bounce back and forth from left side to right and back again, gauging the differences between the pictures.
The top third of each canvas bears a watery-looking expanse with a crunchy irregular path of ivory colored surf beneath it. The bottom two thirds of each painting bear an inky indigo circle of pigment about the size of the bottom of a quart-sized paint can. In each painting the circle is placed a little left of center, accompanied by a spill of small gravel that makes its way to the bottom edge of the canvas.
"Those are rocks that you might find in an aquarium," notes Staub, who says that she added them to the painting last.
"It's a challenge to me to take something like pebbles, and make it work in a fine art piece. They can end up looking really crafty."
Staub says that for her, the original purpose of the non-art materials she uses matters not when she is working in her studio. She is in a constant dialog with the art she is making, and the groove she is in tells her what to do next.
"One step for me leads to another. I never know where I'm going, but I know how to get there.
"If that makes any sense."
Stepping away from her beach painting to an adjacent wall where three square canvases hang, Staub says, "This is more me."
Hung in a tight row, the canvases relate to each other as a single artwork, and seem to have been painted as such. Staub titled them "The Trio," even though each canvas is priced to sell as an individual work ($2,000 each, or three for $5,000).
Their predominant colors are black, white and red, and use a variety of media, including acrylic paint, paper and specialty mediums that produce different surface textures: a cracked egg pattern here, a lava flow there.
For all the materials she is prone to attach, smear, glue or brush onto her canvases, Staub's compositional sense can be quite formal. Each of the paintings in "The Trio" is a gridded composition, with an emphasis on vertical elements. In the central primarily black canvas, evenly spaced, crackled white stripes might remind you of bars that seem to warn you that no illusionistic space will be found behind them, or in "The Trio" as a whole. So, you'd best make do with the work as an object that occupies the same reality as you.
Affixed to the center of this composition, three black cylinders echo the orientation of the bars; above them is a horizontally placed bundle of furled book pages.
The paintings to the left and right of this central canvas are mirror bookends. They are primarily composed of torn paper collaged to the canvases' surface. A freely brushed black stripe runs down the center of each composition, which also bears a vertical grouping of red and black cylinders.
Staub describes "The Trio" as "an exercise in simplicity and intrigue."
A couple of snippets of text are readable on these rolled pages, including "I failed miserably the first time I tried to fly the kite." Do these hold a clue to the artist's intent?
"Not in this painting," says Staub. For her, completing a work of art is a joint effort: She makes the art, and it is up to you, the beholder, to interpret it. That could be a chancy proposition, depending upon the viewer. But then, taking chances with her art is a big part of Staub's practice.
With proud assurance she says, "I'm a master signature member of the International Society of Experimental Art, which is right up my alley. And that's what 'The Trio' is to me. You are not going to see this anywhere else; I am sure of it."