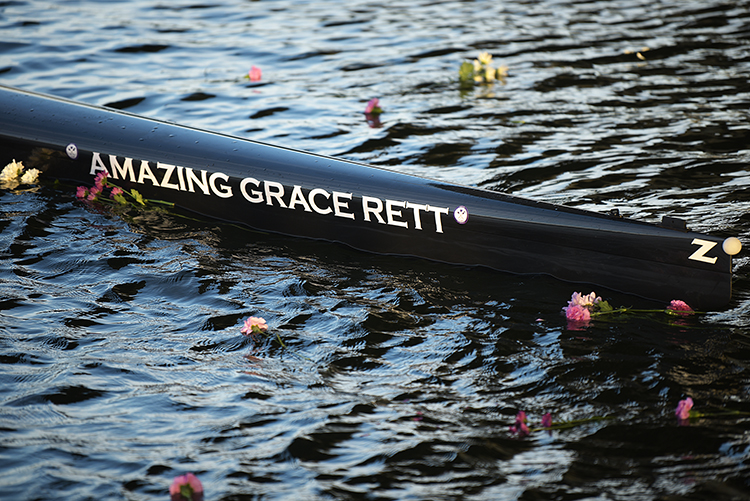 Update:
Grace Rett's spirit and enthusiasm still lights an inspiration for young rowers in Vero Beach. Members of the Vero Beach Rowing Club and Vero Beach police gathered Friday afternoon to remember the 20-year-old college rower killed in a two-vehicle crash last year at the base of the Merrill P. Barber Bridge.
"She was an inspiration for our daughter," said 48-year-old Vero Beach resident Jill Diniz, a board member for Vero Beach Rowing Club. Diniz's daughter, Zadie Diniz, 15, Vero Beach, is one of the captains for the club's varsity rowing team.
"Her memory continues to inspire other rowers," Diniz said.
Members of the Vero Beach Rowing Club team traveled in the new "Amazing Grace Rett" vessel from a pier near Riverside Cafe to the west end of the Barber Bridge. The event was part of the Vero Beach Rowing Club Grace Rett Memorial.
And they're off! The Vero Beach Rowing Club Grace Rett Memorial pays tribute to Holy Cross Rower Grace Rett, who was killed in a vehicle crash on this day last year in #VeroBeach. #VeroNews pic.twitter.com/U7V8XtDIBs

— Nicholas Samuel (@JournalistNickS) January 15, 2021
The rowers traveled back to a fishing pier under the bridge, where a group of about 50 attendees tossed carnation flowers toward the vessel. The club's Director of Rowing Brian Colgan spoke to spectators about Rett's involvement in college, high school and in the community, including her being an AP scholar, playing the cello in the orchestra, being part of the choir and attending weekly bible study classes.
Attendees at #GraceRettMemorial event toss flowers near the "Amazing Grace Rett" boat to honor her memory. Attendees then sung the hymn "Amazing Grace." #VeroNews. pic.twitter.com/BtcyzhG5pN

— Nicholas Samuel (@JournalistNickS) January 15, 2021
Vero Beach police Lt. Matt Harrelson, one of the first responders at the Jan. 15, 2020 crash, said it was important for him to be at the memorial to pay respect to the crash victims – including Rett and eight others who were seriously hurt.
"We want to let them know we're still thinking about them," Harrelson said. "We want to be there for them emotionally and spiritually."
Police Patrolman and Traffic Homicide Investigator David Farquharson said he was the first person on scene of the collision. Farquharson said he attended the memorial event to show support for the families impacted by the tragedy.
"It was a horrible incident," Farquharson said. "Tragedies can (happen) in a fraction of seconds. Nothing is promised in life unfortunately."
Melissa Ellison, a board member for the Vero Beach Rowing Club, said the club still has close ties to College of the Holy Cross, in Worcester, Massachusetts, where Rett was a sophomore. Ellison said college rowers set great examples for young rowers when they come down to the city for winter training.
"They are great role models for our kids," Ellison said. "They have great discipline and work ethic."
Today, we remember Grace Rett '22 on the one-year anniversary of the tragic event that took her life and seriously injured her teammates – and left our campus community in shock and grief. Grace was a bright light who touched and inspired so many in our community. pic.twitter.com/3bmNEzsbID

— Holy Cross (@holy_cross) January 15, 2021
Earlier story:
VERO BEACH — A flower ceremony is planned for Friday under the Merrill P. Barber Bridge to remember Grace Rett, a rowing team member from Massachusetts who was killed in a two- vehicle crash near the bridge last year.
The Vero Beach Rowing Club Grace Rett Memorial will take place at 5 p.m. at a fishing pier under the bridge, club officials said. Rowers will take off in the "Amazing Grace Rett" boat – the club's new vessel named after Grace Rett – in the Indian River Lagoon.
The west end of the bridge, which intersects with Indian River Boulevard, is the site where the deadly collision occurred one year ago today. The crash also left eight others seriously injured, including other rowing team members from Massachusetts and two drivers.
Vero Beach rowers will drop flowers in the river by the boat as it travels from the pier to the west end of the bridge, and then back to the pier. Vero Beach Police Department officers and other first responders will also be in attendance, club officials said.
Vero Beach Rowing Director of Rowing Brian Colgan was expected to speak at the event. The club noted that no guests will be allowed at the Toffey Boathouse before or after the event because of COVID-19 public health restrictions.
Rett, 20 and a promising student-athlete, was in town with College of the Holy Cross Women's Rowing Team for winter training. The sophomore had celebrated her birthday one day before the wreck.
Rett was known for her hard work, athletic agility and having an ambitious goal of furthering her faith around the world. Several days before the crash, Rett was featured in a news program for breaking the world record for indoor rowing.
Fatal crash
Traffic signs with flashing lights alerting motorists of their speed sit near north and southbound Indian River Boulevard, just several feet away from the Barber Bridge intersection. A flashing, yellow arrow traffic signal notifies southbound drivers to use caution before making a left turn onto the bridge.
The safety improvements were installed last year after a southbound silver van – carrying Rett and other rowing team members – turned to head to the bridge and collided with a northbound red Dodge pickup. Indian River Boulevard has a posted speed limit of 45 mph; it was unclear how fast each vehicle was traveling.
Several motorists called 911 after witnessing the early morning Jan. 15 wreck.
The Holy Cross Crusaders rowing team had arrived in town a day prior and was headed to practice with Vero Beach Rowing Club on the Indian River Lagoon. Rett, a front-right seat passenger in the team van, was taken to a local hospital, where she was pronounced dead, Vero Beach police previously said.
The six rowing team members in the van were taken to a trauma center in Fort Pierce with serious and critical injuries. The team coach and van driver, Patrick Joseph Diggins, of Massachusetts, and the pickup truck driver, Ronald Edward Wolf, now of Vero Beach, were also hospitalized for their injuries.
Those with injuries eventually recovered, and everyone was released from the hospital by Jan 28, 2020.
The investigation
A Vero Beach traffic crash report showed Diggins failed to yield the right-of-way to Wolf. Several witnesses told police that lights on both sides of the street were green.
But, they said there was no green arrow for Diggins to make a left turn, police said. Police determined there was no criminal intent in the deadly crash and issued Diggins a traffic citation.
Diggins announced his retirement from College of the Holy Cross – where he was employed for 34 years – last February. Wolf filed a federal lawsuit last October against the college, saying he sustained "severe, catastrophic and permanent injuries to his body."
Vero Beach remembering Rett
Several other community events were held last year to remember Rett and to pray for the healing of others involved in the crash.
A community vigil was held Jan. 19, 2020, at Riverside Park. Vero Fitness held a fundraiser the next month where residents participated in a 62-hour indoor rowing event.
Proceeds went to Rett's family and toward medical costs for the crash victims.
Photos by Brenda Ahearn