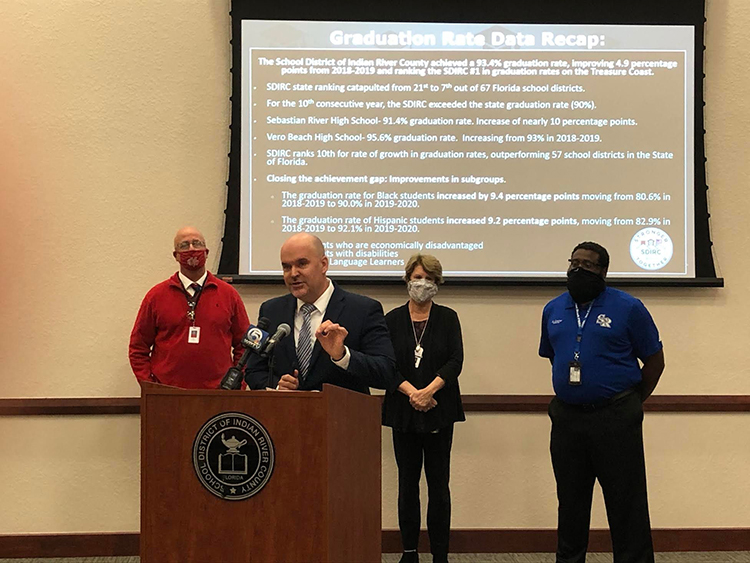 Despite the COVID-19-curtailed school year, the Vero Beach and Sebastian River High classes of 2020 combined to give Indian River County the 7th highest graduation rate in the state.
The public high school classes of 2020 achieved a graduation rate of 93.4 percent, according to the annual report released last week by the Florida Department of Education.
That was nearly 5 percentage points higher than 2019 when Indian River County's high schools ranked 21st in the state with a graduation rate of 88.5 percent, state records show.
The recent high was 92 percent in 2018 when Indian River ranked 8th out of the state's 67 counties.
Florida's high school graduation rate increased by 3.1 points to 90 percent in 2020 compared to 2019, the state report shows. Indian River's neighboring counties also improved their results.
The St. Lucie County School District graduation rate increased by 2.8 points to 93.2 percent in 2020, while the Brevard County School District's rate rose by 2 points to 90.3 percent.
However, the state Education Department waived mandatory algebra and language arts tests as a graduation requirement in 2020 because the pandemic caused the cancelation of spring testing season.
Schools Superintendent David Moore conceded the waived tests may have led to higher graduation rates but said the climb up the state rankings mattered because all 67 districts got the same deal.
"Does it help some? Yes it does," Moore said about the waived tests.  "But the School District of Indian River County moved from 21st to 7th."
The goal is to move Indian River County into the top 10 in the state for all academic performance measures within five years, Moore said.
"We're on track with that," Moore said. "I've been telling the community to get used to it. This is where we belong."
Moore held a news conference Friday to praise the two high school principals, Shawn O'Keefe at Vero Beach and Chris Cummings at Sebastian River, as well as the seniors, parents and teachers.
Sebastian River High's graduation rate jumped nearly 10 percentage points to 91.4 percent in 2020, compared to 2019.
Vero Beach High's graduation rate rose by 2.6 points to 95.6 percent. O'Keefe said it was the fifth straight year the school's graduation rate improved.
"This is the class we sent home statewide on March 17," O'Keefe recalled. "For Vero Beach High School, that was 700 seniors.
"Though they were at home, these seniors were at a very vulnerable point," O'Keefe said. "But we kept in contact with them with communications on almost a daily basis to make sure they were reaching their goals of graduation."
Even as the graduation rate went up during his first year, Moore said he's trying to build on the district's system for monitoring and promoting student's academic progress.
"Our goal is to maintain and continuously improve on this," Moore said. "It isn't something that fixes in a year."