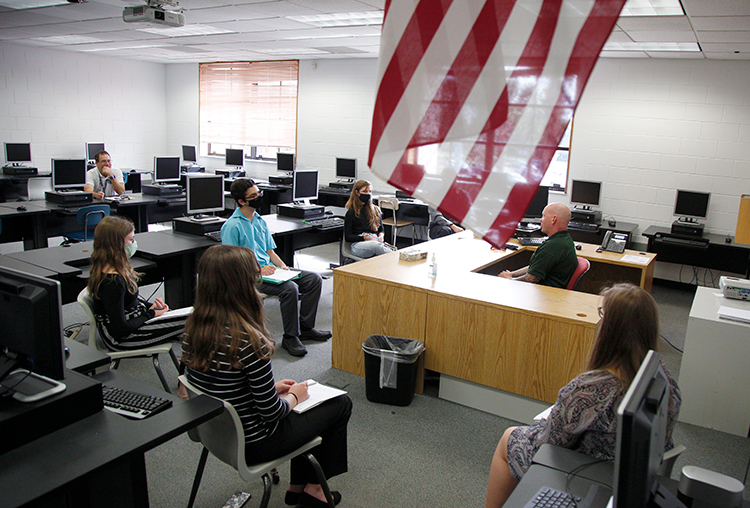 Active listening is the basis of the Laura (Riding) Jackson Foundation's Teens Listen program, which was launched three years ago from a collaboration prompted by Jonnie Mae Perry, CEO of the Gifford Historical Museum and Cultural Center. In that venture, students interviewed Gifford Pioneers, some of the oldest members of the community.
Louise Kennedy, LRJF executive director, explained that the students' interactive conversations are meant to aid them in honing their interview skills while bringing history to life.
The program most recently introduced more than 40 Sebastian River High School students to six military veterans, offering the teens a chance to listen to what veterans have to say about life in the military, while also providing them with a better understanding about what it means to serve your country.
Working with the Veterans Council of Indian River County, the LRJF enlisted veterans from different branches of the service who had served during military conflicts from the Vietnam War to more recent deployments in Iraq and Afghanistan. The students came to the interview session armed with questions specific to the veterans they would interview.
Questions ran the gamut from what it was like to fight in the jungles of Vietnam to how their military experience helped with their civilian careers. The veterans didn't disappoint, answering with stories from close calls to interactions with water buffalo.
The students' confidence in their interview skills was visibly elevated as they came to see the veterans as real people dealing with incomparable situations. As they became increasingly invested in the stories shared, many of the teens gained enough confidence to venture off script.
"You don't realize how little you know about someone or something until you sit down and have an intimate conversation. The students came in with preconceived ideas of what it means to be in the military, and through their conversations, they learned a ton. They got to hear the real, human side of being in the service," said Kennedy.
"It humanized an experience in a way that a textbook never can. You can read about Operation Desert Storm, but when you have human beings who sit there in front of you and tell you about prisoners of war and about how scared they were, you break through barriers."
Lt. Col. Carroll Oates, U.S. Army Ret., said that for many veterans, sharing their stories fills a need to keep serving and giving back. While the focus of the Veterans Council is on providing support to veterans, they realize that interacting with the next generation of potential service members and the citizens they protect is also important.
"We're out there so they can understand what the country is about. This [Teens Listen] is an extension of the classes the Veterans Council does in the schools to teach children about the Pledge of Allegiance, the Star-Spangled Banner, women in the military and all the other things that the military represents," said Oates.
Citing the African proverb, "When an old man dies, a library burns to the ground," Kennedy stressed the importance of preserving the stories of past generations before it's too late to capture their living history.
The oral history project guides teens through the interview process, providing them with such skills as listening, making interpersonal connections, and learning to research and document. It provides a way for them to reflect on discoveries through the written word and interact with a variety of demographics in the community.
The long-term goal, said Kennedy, is to produce videos of the recorded interviews that will be developed into a local documentary film, along with a physical book.
Kennedy is in the process of training students at Saint Edward's School, Vero Beach High School and eventually the Charter High School in the program, which is open to local students in grades 9 through 12. That includes developing pre-interview planning, personal interaction techniques, active listening and disseminating information in a reflective document.
In addition to Gifford Pioneers and veterans, prospective interview subjects include Women in the C-suite (women who have broken through the corporate glass ceiling as senior executives), "river folk" and others who have had an impact on local history.
Kennedy pointed out that many in the younger generations lack face-to-face interaction and conversation skills because of their connection to their phones, which limits eye contact and in-person communication. She added that the pandemic has furthered that divide.
"During COVID, people feel isolated. We're trying to drive connection by pulling together people who would never ordinarily have a chance to meet and talk. We're trying to build bridges."
Teens Listen is one of several student programs the LRJ Foundation offers to foster student writers, upholding the mission of the nonprofit to nurture local writers through a series of literary offerings, writers' groups, summer camps, workshops and poetry festivals.
The foundation is also responsible for preserving the historic home of the late poet Laura (Riding) Jackson. Last February, the 110-year-old house and pole barn were relocated from the Environmental Learning Center to the Indian River State College campus.
Because of the pandemic, LRJF has continued its Teen Writing Workshops via an online writing academy platform that is being piloted at VBHS and should be ready to roll out to the greater community soon.
Kennedy is also excited about the launch of Teens Digital.
"This program meets students where they are," she explained. "They will be mapping our community with photographs and audio recordings of their own lives, and we'll be sharing that interactive map with the community."
Adult Writing Workshops offered via Zoom launch on Jan. 23 with Robert Macomber on Successful Writing Projects. On Feb. 20, Bill Maxwell will talk about How to Write for Newspapers and Magazines.
For more information, visit lauraridingjackson.org.
Photos by Kaila Jones