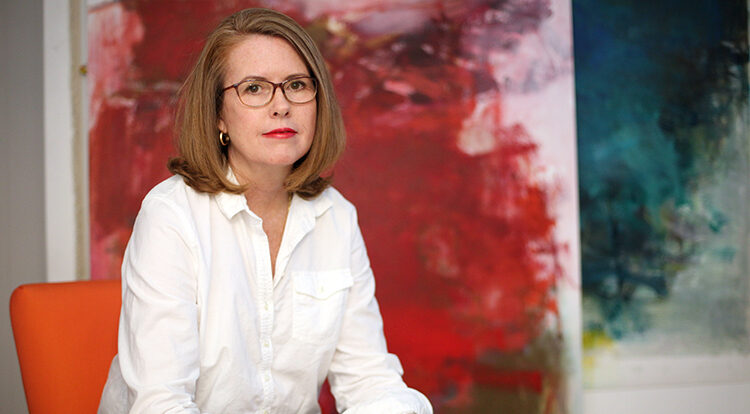 The abstract paintings of Fort Piece resident Leslie Stokes are on display in Vero Beach now through Jan. 29 at the Center for Spiritual Care. Leslie Stokes: An Abstract View is an exhibition that includes large acrylic and oil paintings on canvas, as well as intimately sized mixed-media paintings on canvas, wood and paper.
"We live in a world where we are just bombarded with everything, all kinds of ideas," says Stokes.
"You can try all day to come up with something original, but for me, I just love to paint. I think it's the satisfaction of making something, doing something with the paint and the surface – it's really about the surface."
The varied ways in which this painter applies pigment to surfaces are visually luscious, comprised of subtle variations of color combined with meaty, textural passages of brushwork. For the eye attuned to expressive abstractions, these painting are beautiful in their balance of disparate campaigns of application and media. In fact, the more rough and raw they get, the better admirers of Stokes' practice seem to like them.
Stokes relates that when she and Warren Obluck, the Center's arts coordinator, were viewing her work, he asked of one painting in particular, "Would it bother you if I said this painting is beautiful?"
She replied that it didn't bother her a bit. For Stokes, questions of beauty, or anything having to do with an emotional response to her work, are of no importance.
She says, "I know how I feel about it. I can't make you feel how you are going to feel about it."
In this regard, the larger paintings in the show are perhaps the most nourishing to the soul. One of them is a work that Stokes had to use her talent for problem-solving to accomplish.
Titled "Part of a Whole," the painting is displayed as an un-stretched canvas that hangs loose from its top edge, which is fastened to a strip of wood nailed to the gallery wall.
The painting was executed on the unprimed back of a painting on canvas that Stokes had abandoned.
She explains that at "about 60 inches tall and 56 inches wide," the proportions of the canvas are a little short of square. That posed a compositional problem for her.
"I couldn't make the painting work. I got very frustrated with it. I was painting outside. I flipped it over, located a can of furniture stain, and went from there."
Against the beige of the raw canvas, Stokes applied crudely truncated swathes of the black dye, soaking it deeply into the material in some places, and in others brushing it on in delicate wisps.
She finished the piece with charcoal that she applied in a dark cloud at the right edge of the canvas.
"It's pretty rogue. It's rustic and yet powerful, because it's really, really black, and the surface is really imperfect with drips and scribbles," she says.
"Everything else in the show is nicely stretched and framed, but that is the beast in the room."
Stokes' painting "Gris," at 72 inches high by 60 inches wide, was created from her desire to use up a jar of acrylic paint whose light, purplish-blue hue she found unappealing. She mixed it with other colors to achieve a palette composed of grays and brown, and again used compressed charcoal for this painting's velvety blackness.
Two of the brighter paintings in the room are 16-inch-square works on birch panels.
"Convergence" is composed of charcoal, marble dust, oil paint and cold wax medium, applied not with a brush but with a printmaking brayer, and manipulated with clay-sculpting tools. It and "Pressure," composed of oil stick, oil paint and cold wax medium, evoke atmospheric clouds of gas or liquid.
The composition of "Convergence" suggests a blue fog gently drifting across a dimly seen landscape. "Pressure" features a mist of red that appears to be rising from the bottom of the composition to the top.
In viewing these accomplished paintings, it might not occur to you that Stokes also holds a day job. In addition to her being an artist, she is the regional retail banking director for Marine Bank and Trust.
Stokes finds that making art and banking have some important commonalities.
"A lot of banking is about observation, learning information and being able to communicate," she says.
"I've done both for all these years."
That is, Stokes has been both a fine artist and a banker for some 30-odd years, ever since she took her first job as a teller.
Stokes went to college at the University of Kentucky, where she received a B.A. in Art History; she minored in studio painting. She got into banking on the advice of her father, who worked for the U.S. Secret Service as an agent for the Department of the Treasury. According to his daughter, Lester Wise was a conservative, business-oriented and very serious man.
Says Stokes: "The whole time I was in school, my father said, 'If you are going to be an artist, you should work part time in a bank, because you can pick up some business skills that you are not getting in your school curriculum.'"
While Stokes fought her dad's recommendation "all the way through school," her employment experiences after graduation left something to be desired: benefits. Early on, she "loved" working at a small museum in Lexington; but when the museum ran into financial trouble a year into her tenure, it cut staff health insurance. That's when Stokes realized she needed a back-up plan.
Take heart, artists! Stokes says that banking is an industry that can be learned without a degree. If you work hard and learn everything you can, you too can have a steady job – with benefits – as a bank department director.
Best of all, says Stokes, "it's a people business. That is why I continued and that's what keeps me in banking. It's the people."
She credits her people and communicating skills, as well as her artistic talent and can-do drive, to her mother.
"I grew up with a paintbrush in my hand. It was just something I always did because my mother is an artist. She goes by the name Maggie Wise."
During her daughter's childhood and young adulthood, Wise was a studio artist and a high school art teacher. While her daughter was a young teen, Wise attended night classes at Eastern Kentucky University to earn her MFA. It was a courageous move for a married mother of two and established career woman. And an excellent example for her daughter, who accompanied Wise to class.
While Stokes could not participate in her mother's courses, she enjoyed listening to the professor and watching the adult students paint and draw.
"My mom is very free spirited, creative. She was also into politics. She was a city commissioner and was responsible for bringing the Toyota Camry plant to Georgetown, Kentucky, in the mid-1980s."
No wonder Leslie Stokes decided to have it all.
And she stands ready to refute the sneering claim that an art degree has no "real life" use.
It does, she says. "Absolutely."
The Center for Spiritual Care is open by appointment only. Phone 772-567-1233 for an appointment to see Leslie Stokes: An Abstract View.