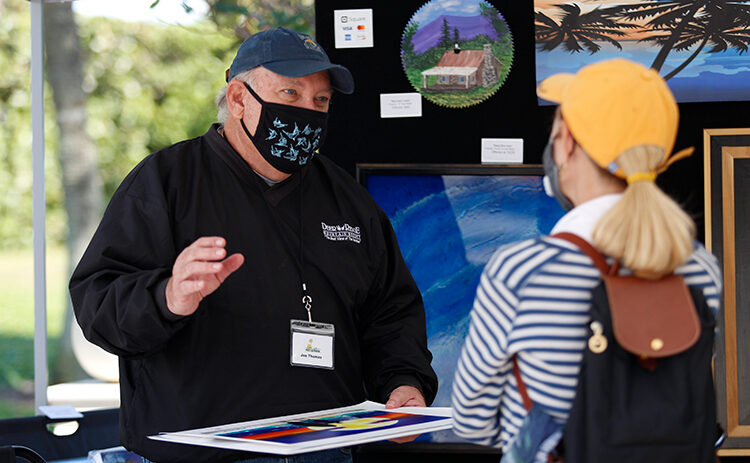 A gorgeous day filled with bright sunshine took the chill out of the nip in the air as the Vero Beach Art Club hosted its first Art in the Park Fine Arts & Crafts Show of the new year last Sunday at Humiston Park.
Display tents along the sidewalk featured the full gamut of artwork by VBAC members, including paintings in oil, watercolor and pastel, collage works, photography, ceramics, jewelry and assorted crafts.
"There have been less people all during COVID, but that doesn't necessarily mean less sales," said jewelry artist Susan Gancher. "And after all that time inside, it's a delight to be outside and communicating with people again."
Pragmatically, she added that the pandemic has forced people to slow down a bit, which hasn't been a bad thing either. She explained that rather than rushing to complete pieces for various shows, it has allowed artists to take as much time as they need to create their works.
It's been a wild year for the Vero Beach Art Club, which was the first of Vero's art institutions to be affected by the COVID-19 shutdown in mid-March.
The VBAC was midway through day two of their three-day Under the Oaks Fine Arts & Crafts Show, where 200 artists and craftsmen had painstakingly set up their booths at Riverside Park, when organizers were informed that the show needed to be shut down at the end of the day. It was understandable, as the acclaimed annual show draws upwards of 50,000 visitors, but still heartbreaking.
"It's sad; this is their whole livelihood," said Alicia Quinn at the time. At that point, she couldn't know that artisans would likely lose a full year's worth, or more, of shows.
Under the Oaks is also the club's largest fundraiser, providing monies for local scholarships and enrichment programs that promote art through education.
They, of course, were not alone – then or, indeed, in the months since March 15. Just that weekend, Riverside Theatre was forced to bring down the final curtain on their elaborate production of "La Cage aux Folles," and the Indian River County Firefighters Fair and Sunset Saturday Night Concert were also canceled.
Additionally, the Vero Beach Art Club Annex held a ribbon-cutting ceremony during the March 6 First Friday Gallery Stroll, and then quickly had to shutter those doors. On the plus side, it gave them an opportunity to relocate the Annex from the Corner Shoppes complex off Old Dixie to 14th Avenue in the space previously occupied by Tiger Lily Studio & Gallery.
COVID has not yet finished its disruptive streak. The 33rd annual Art by the Sea Fine Arts & Crafts Show, held each January, has been canceled this year. That three-day show, held at the Vero Beach Museum of Art, features artwork by VBAC and VBMA members.
But all is not lost.
Art in the Park shows will continue to be held Sundays from 10 a.m. to 4 p.m. on Jan. 17 (an added date), Jan. 31, Feb. 14 and Feb. 28, March 28, and April 11 at Humiston Park.
And, if all goes well, the 70th annual Under the Oaks Fine Arts and Crafts Show will take its rightful place.
For more information, visit verobeachartclub.org.
Photos by Kaila Jones