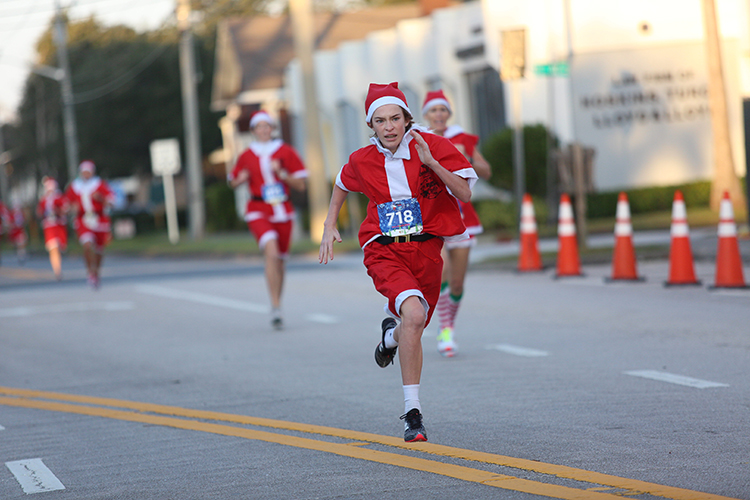 Hundreds of Santas were sighted in Vero Beach just a few short days before Christmas would be here.
Running down Main Street and grinning from ear to ear, Santas in red suits and beards came out to spread good cheer, trading in jolly bellies and lacing up running shoes for the third annual Run Run Santa 1-Mile Fun Run.
The Santas took off from Pocahontas Park to help raise money for the Indian River Healthy Start Coalition's Babies and Beyond Program, which assists women and their families before, during and after pregnancy.
Changes were made to ensure everyone's safety, said Brittany Streufert, event organizer with Mike Acosta of Power of Pizza Charities. Runners were grouped for rolling starts, and the after-party was modified to a social distancing affair, with Santas receiving to-go treat bags and awards.
"As the pandemic has progressed over these past couple of months, a lot of the charities just aren't receiving the funding that they were before, because they can't hold their events," said Streufert.
"With ours being outdoors, we have a little bit more flexibility. We've seen a lot of outdoor races have great success during the pandemic. Plus, who doesn't have a soft spot for Santa?"
Many of those who ran in both Viera and Vero as part of the Santa Challenge were hoping that twice as many runs would increase their chances of making sure they were on Santa's "nice" list.
Nicholas Holmes from Milwaukee, Wisc., broke a course record, with a time of 4:44:09 as overall winner. Mary Lunn of Vero Beach took honors for the women at 6:10:62.
For more information about the Babies and Beyond Program, visit irchealthystartcoalition.org.
Photos by Kaila Jones