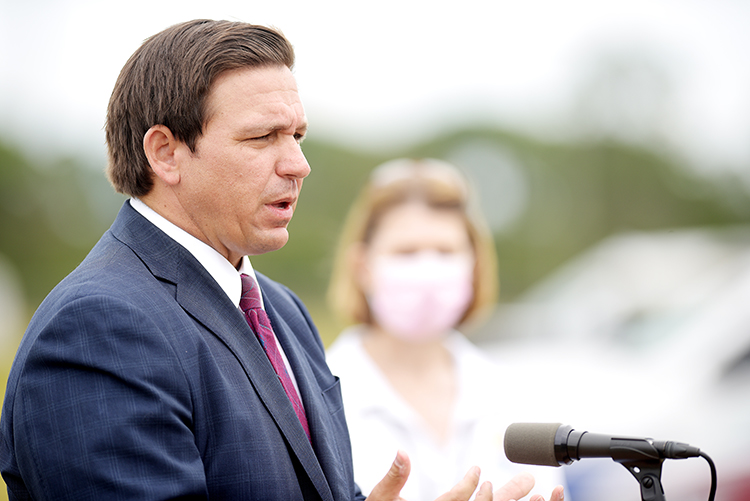 Florida will receive roughly 250,000 extra doses of the COVID-19 vaccines next week, Gov. Ron DeSantis said Thursday as the demand for the shots steadily increases throughout the state.
The extra doses will be split between Pfizer and Moderna vaccines, DeSantis said during a news conference at the Indian River County Fairgrounds & Expo Center, used as a drive-thru vaccination site. DeSantis greeted residents as they waited in their vehicles to receive medical shots, before he addressed news reporters later.
The Florida Department of Health in Indian River County has already received a little more than 2,000 additional Pfizer doses, spokesperson Stacy Brock said. The health department has been giving the Moderna vaccine to residents.
It was unclear how many additional doses will arrive at Cleveland Clinic Indian River Hospital, another agency administering the vaccine.
"If you're giving shots into people's arms, we want to make sure you have the vaccines that you need," DeSantis said regarding the Indian River County vaccination sites. "The good thing about what they're doing here — they're making it very efficient for seniors to come through here. (Residents) are able to get their shots sitting in their cars, go park (nearby) and will be monitored (by first responders) for 15 minutes."
ICYMI: .@GovRonDeSantis says Florida will get roughly 250,000 additional doses of COVID-19 vaccines next week. #VeroNews pic.twitter.com/Xk20jBkpg9

— Nicholas Samuel (@JournalistNickS) January 7, 2021
DeSantis' appearance came on the same day Florida added nearly 20,000 new COVID-19 cases, according to Florida Department of Health data. Indian River County verified nearly 130 new virus cases Thursday, the health department county report shows.
The additional doses means more residents have the chance to protect themselves against COVID-19. The virus has claimed 22,817 lives across the state, including 166 people in Indian River County.
Health officials administered 500 doses Wednesday to residents, and plan to give 500 more Thursday, County Commissioner Peter O'Bryan said.
DeSantis recommended Indian River County administer the vaccinations seven days a week when health officials have an adequate supply of doses. The vaccines are for residents ages 65 and older.
A shortage of the doses has caused appointment slots for residents to fill up quickly.
The health department Tuesday announced new vaccine appointments for Wednesday and Thursday at the Indian River County Fairgrounds. O'Bryan said 1,000 slots were already booked within minutes of county officials announcing the new appointments.
The same situation occurred Thursday afternoon when the health department announced new vaccine appointments for Friday. All slots were filled within minutes.
All available COVID-19 vaccine appointments have been claimed. We will announce new dates and times when we receive additional vaccine.
•Please continue to check back on the Indian River County website (https://t.co/ivUXb9mnh5) as new appointments become available.

— Indian River EOC (@IndianRiverEOC) January 7, 2021
"The biggest problem we face with future scheduling is we don't know when or how many vaccines we're getting," O'Bryan said. "We're hoping to have 500 doses a day for four days."
Residents can get notified about vaccine appointment availability by signing up for the Indian River County Alert program. Those who want more information on vaccine appointments can also visit the Indian River County website.
"We ask that everyone have patience," O'Bryan said. "We'll get to everyone eventually."
Getting the vaccine
Those who already have appointments to get the COVID-19 vaccines at the Indian River County Fairgrounds must use the 58th Avenue entrance.
"I think it's fantastic," said retired Indian River County Commissioner Dick Bird after getting the vaccine dose. "The organization is really commendable."
Residents will drive to the check-in tent, then travel to another tent nearby where they will get packets of information on the vaccines. The motorists will drive to a third tent for screenings, and then to a fourth tent where they will receive the vaccine.
Health officials will direct motorists to park in an open field nearby, where they will be monitored for 15-to-30 minutes by first responders. Health officials said they are not aware of any residents in the county who experienced severe side effects from the vaccines.
A woman holds out her arm to get vaccinated at the IRC Fairgrounds. Emergency service officials monitor the patients for any severe side effects. #VeroNews pic.twitter.com/dugPO5brol

— Nicholas Samuel (@JournalistNickS) January 7, 2021
Photos by Brenda Ahearn and Kaila Jones