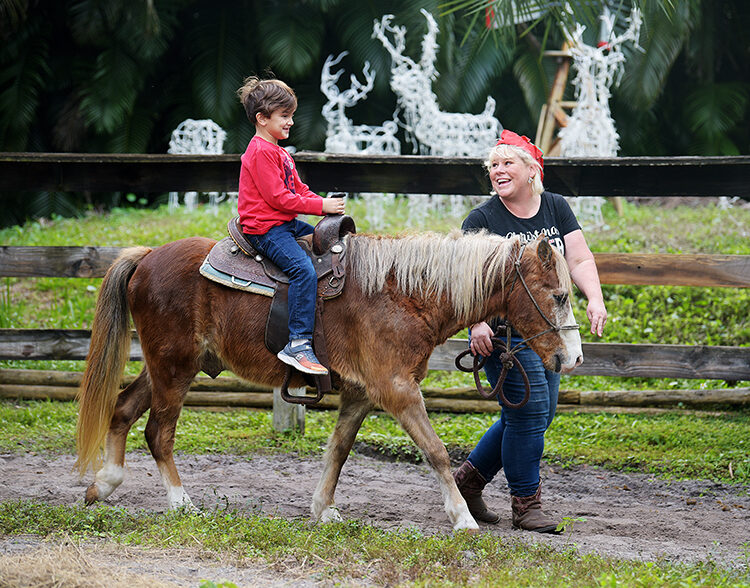 Families flocked to LaPorte Farms recently for the 23rd annual Cowboy Christmas, which featured a flurry of activity – if no real snow – as youngsters made their way around the farm, making friends with its varied critters.
Having grown up on a farm, Laura LaPorte founded the facility in 1994 to share her love of animals, while also providing them a sanctuary. Proceeds support the nonprofit's mission to "provide a safe environment for all people, regardless of age or ability, to interact with animals while enjoying nature and bringing lifetime memories."
"I love Christmas," said LaPorte. "This is my way of giving to the community."
LaPorte noted that Cowboy Christmas is their primary fundraiser, and that they hope to rescue two camels, a hedgehog, porcupines and sloths. She added that people playing a small part in making that wish come true was better than any present found under the tree come Christmas morning.
The farm had been decorated with care, with hints of holiday magic floating in the air lit by more than 80,000 twinkling lights.
A variety of trees were themed for a special purpose, including a Blue Lives Matter tree, one honoring lost loved ones, a memory tree, one decorated with fishing lures and a centerpiece tree, decorated with burlap and bandanas and topped with a cowboy hat.
In addition to the usual menagerie of animals – llamas, turtles, horses, goats, ponies, birds and other barnyard critters – two of Santa's reindeer stopped by for a visit. Children oohed and aahed at the antlered creatures, before moving on to feed other animals, take pony rides, have their faces painted, or practice lassoing bulls and milking cows.
Parents got in some last-minute shopping at vendor tables, snuck in a few family photos, and treated everyone to such goodies as cotton candy, s'mores and fried bologna.
To the delight of one and all, a very merry Santa rode in on horseback, before families were loaded up for hayrides back to their cars.
January events at LaPorte Farms include a Jan. 9 Kids Fishing Tournament and a Jan. 16 Special Needs Western Hoedown & Drumming Circle. For more information, visit laportefarms.com.
Photos by Brenda Ahearn