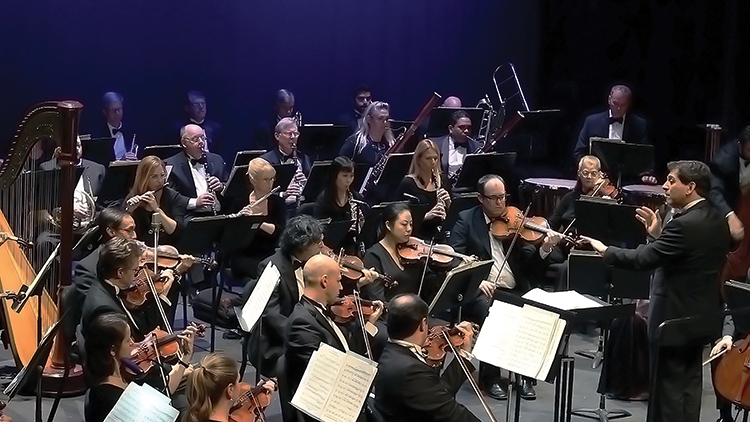 The difficulties caused by the pandemic in 2020 are continuing to take their toll in 2021 among arts organizations around the world. That includes the Atlantic Classical Orchestra, which continues to experience canceled concerts and limited job options for its talented musicians.
The ACO, under the direction of music director David Amado, had headed into 2020 on a high note. The celebratory year marked the 30th Anniversary of the orchestra's founding in Vero Beach. Over the course of those three decades, the acclaimed orchestra had also expanded its reach into Palm Beach Gardens and Stuart.
During the 2020 anniversary season, the ACO was able to perform three of its Masterworks Concerts and two concerts in the Chamber Series, all to rave audience reviews, before the coronavirus brought the season to a screeching halt.
"We were just coming out of the concert in March, and then all of a sudden, boom – COVID hits," says Cindy Roden, ACO executive director. The statewide shutdown forced the cancelation of their final Masterwork and Chamber concerts.
"And then we were waiting to see what was happening."
Like everyone else, they were hoping the situation would have improved by now, but clearly it hasn't. She says it wasn't until around Thanksgiving that, for the safety of patrons and performers alike, they made the difficult decision to cancel all four of their 2021 Masterworks Concerts.
"One great irony the pandemic has brought is that it has both increased our need for the nourishment of live music, while prohibiting us from gathering to hear it in the way we have come to expect and enjoy. But with careful planning, and with safety measures in place, we can and will present great live music," Amado affirms.
By enacting strict safety precautions, the ACO will soon be bringing audiences the music they have been craving. Locally, they will continue to offer the 2021 Chamber Concert series in partnership with the Vero Beach Museum of Art. Chamber Concerts will also be performed in Stuart and, for the first time, in North Palm Beach.
"It, of course, cannot be like music B.C. [before COVID], but it can be transformative, nourishing and deeply satisfying," says Amado. "The ACO is committed to providing great music safely, because we understand that what we do can be an important part of staying well-balanced and sane in normal times, and is desperately necessary in these abnormal ones."
Roden explains that the concerts at the VBMA will be held in the Holmes Great Hall rather than the Leonhardt Auditorium to better enable social distancing.
"The museum is being wonderful. They're taking all the ticket orders because we don't want to oversell. When people come, they will have their temperature taken, they will have to wear a mask, and we'll have everybody spaced out in parties. So, if there's a party of two they can be together, but they'll be 6 feet away from the next party," Roden explains.
"We're excited about the Chamber and continuing our partnership with the Vero Beach Museum; they're just so wonderful to work with. It will just be really nice for everyone to come back," she adds. "Music is so healing, and just to be able to experience that live music; to sit back and let it engulf you, wash over you, feeling it. It's hard because we've been away from live music so long. It's a great way to start off the new year."
Among other safety precautions for the hour-long concerts, the repertoires will feature all string players.
"We tried to make it as easy as possible. There's no piano involved, so there's no moving big parts. We looked at using just string instruments, and David came up with a beautiful repertoire," says Roden.
They will also be unable to host their traditional food and wine receptions afterward.
"We'd love to do more, obviously, and if the situation presents itself, we definitely will. We just cannot bring the full orchestra together this year," says Roden.
"It's just nice to be able to present something, so that people can have the music, we can once again let the musicians share their gifts live with the world, and to give people something to look forward to. It's going to be a wonderful afternoon respite of beautiful music. And we're excited to be on stage, definitely."
She notes that as the landscape of COVID changes, they may bring in other musicians, but adds "it's hard to plan something when you really can't plan. The good thing about it is it's caused us to be more creative and more open to change."
She notes that their musicians have had a particularly difficult time of it, adding that a number of them are music teachers, and they have had to transition to teaching classes online. Others have played at smaller private events, such as weddings, or with symphonies in some of the bigger cities, where there are more opportunities.
"In the beginning, when we were first on lockdown, some of our musicians sent us some things about what they were doing at home. Gosh they're so talented!" says Roden.
Several of those ACO at Home pieces are available for viewing under the Watch Listen and Learn section on their website and more are in the works.
"They're short little pieces. There's one on there by our bassist, Doug Ferreira; he does a 'Little Piece from Heaven.' It's him playing five different instruments and he melded them all together into this cute little song," says Roden.
"It's amazing because they're able to showcase some of their talents. You know, like who knew he was able to play all these different instruments? It's amazing to see what they're capable of; especially some of the younger ones who are really good with video. And it's fun to see them in their home element."
Their all-important Benefit Concert fundraisers, held each December, also fell victim to the coronavirus, making their current fundraising campaign even more critical. Even with Masterworks concerts, ticket sales only cover 30 percent of their $1.2 million operating budget.
In this critical year, they have enacted an "Emerging Brighter and Stronger" campaign to raise $1 million toward sustaining this gem of an orchestra.
For those already subscribed to the 2021 Masterworks concerts, the ACO is offering a refund or application toward the 2022 season. Another option is to "pay the music forward" by donating the subscription cost to the "Emerging Brighter and Stronger" fundraising campaign.
"We're very grateful for the opportunity to perform, and we're grateful for those who are supporting us at this time. People have been very kind, calling and sending notes saying how much they miss us and that they love the ACO. It's really been an amazing outpouring of sweetness and lots of love for the ACO," says Roden. "ACO will prevail; it's 30 years old and we'll make it through the pandemic. And we're excited about 2022. We're already planning it."
For more information, visit atlanticclassicalorchestra.com.