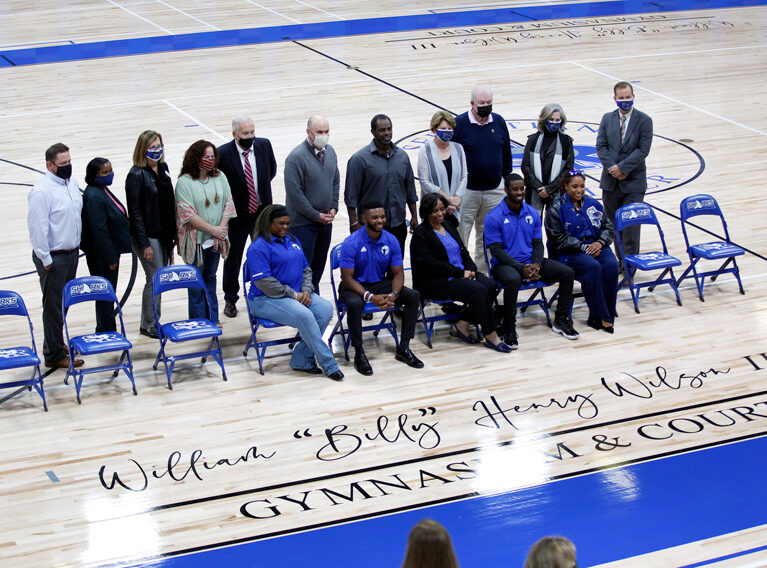 Update: 
Some described the late Billy Wilson as a legend. Others remembered the former Sebastian River High School assistant principal and sports coach as a man filled with love and laughter that spread throughout the school courtyard.
Now, students and staff will be able to see Wilson's name imprinted on the gym floor. More than 100 people gathered Monday night at the school to witness the unveiling of the newly named facility – William "Billy" Henry Wilson III Gymnasium & Court.
"I'm humbled just to see all these people come together, to see everyone my dad touched," said William Wilson IV, Billy Wilson's older son. "I'm thankful for the school district. It's a special moment for me and my family."
The gym dedication and unveiling ceremony was held at 6 p.m. at Sebastian River High School. Several speakers paid tribute to Wilson, including School District of Indian River County Superintendent David Moore, Sebastian River High School Principal Christopher Cummings and school board member Dr. Peggy Jones.
Attendees sat outside at tables – with seats spaced apart – in the courtyard. During the dedication ceremony, Wilson's niece, Brandi Lucas, recited a poem called "This Gymnasium," which noted Wilson's passion and commitment toward Sebastian River High School, its gym and basketball court.
"When you enter this building, there is no room for fear. Because when you step onto this court – now and forever – Billy Wilson will be near," Lucas said during the poem, which was written by Wilson's mother Kathryn Wilson. "If he were here today, he would remind us all that basketball is not just a game, but so much more. Always give it your best when you enter the door."
Sebastian River High School's band and ensemble performed musical selections. Then, attendees made their way to the front of the gym for the ribbon cutting.
William Wilson IV stood alongside his brother Wesley Wilson, Kathryn Wilson, Brandi Lucas, and aunt Yolanda Lucas as he cut the huge blue ribbon with scissors. The Wilson family then walked inside and looked down in amazement at Wilson's name emblazoned on the basketball court floor.
"I think my dad would be proud. He deserves the recognition," said Wesley Wilson, Billy Wilson's younger son. "When you name a school after someone, it shows the impact that person had on the school."
Attendees were able to look at the new court from the gym's second floor.
A plaque with a picture of Wilson – also known as "Mr. Sebastian River High School" – now sits on a wall at the gym entrance. The plaque recognizes Wilson for his leadership role at the school for 26 years.
"This event was a culmination of everything he has done," William Wilson IV said. "His name will be here permanently. His impact will always be known long after we're gone."
Earlier story:
SEBASTIAN — Billy Wilson's community impact – and now namesake – have been imprinted on the campus of Sebastian River High School, where he was a former assistant principal for 26 years.
The school's gymnasium and basketball court were renamed last month in honor of the educator and well-known athletic coach. Wilson died unexpectedly from health-related issues last October at his Winter Beach home. He was 57 years old.
A dedication and unveiling ceremony for the gym and court – in Wilson's honor – will be held from 6 p.m. to 7:30 p.m. Monday at Sebastian River High School. The campus is located at 9001 Shark Boulevard.
Join us for our gymnasium and basketball court renaming dedication in honor of the late "Billy Wilson III" @SDIRC_SUP @Bass_SDIRC @SDIRCStrategy @innovateSDIRC @VBHSNation @SDIRC_myhre @CristenM_PIO @IRCSchools @TeachersRock100 @Will_Wilsoniv "You Can't Hide That Shark Pride!" pic.twitter.com/ai54wvWo21

— Sebastian River HS (@SRHS_SHARKS) December 19, 2020
The dedication ceremony will take place in the school's courtyard, followed by the basketball court unveiling, officials said. School officials said seating will be available, but space is limited.
Those planning on attending are required to wear protective masks to prevent the spread of COVID-19, officials said.
Wilson died less than a month after his father William Henry Wilson, a popular Hall of Fame track and field coach for Vero Beach High School. The elder Wilson was 81 years old.
The father-and-son duo coached track together at the school when the teams won back-to-back state championships in 1989 and 1990.
Billy Wilson and his father coached a countless number of athletes in Indian River County for several decades, including his own two sons William Wilson IV, 29, and Wes Wilson, 28, both of Jacksonville. William Henry Wilson coached Billy Wilson when the younger Wilson played as a receiver on the Vero Beach High School football team.
Billy Wilson started coaching track and field at the school in 1986. He also coached basketball at the campus.
Billy Wilson also taught physical education and driver's education for eight years at Vero Beach High School. He became assistant principal at Sebastian River High School in 1994 and retired July 31, 2020.
Photos by Kaila Jones