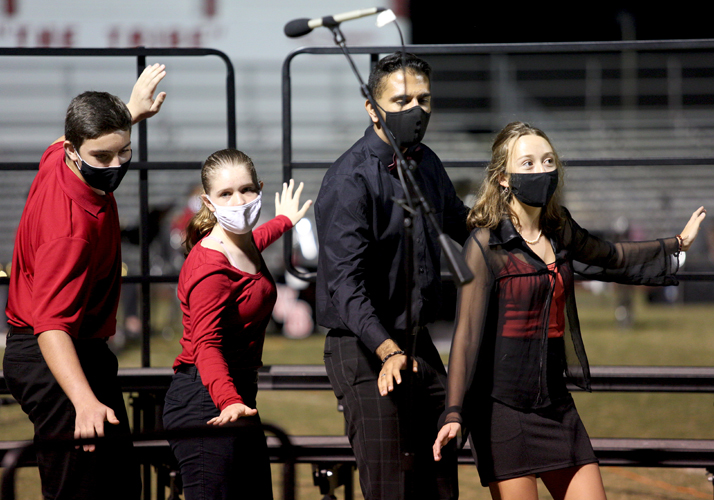 The Vero Beach High School Performing Arts Center took their seasonal concert outdoors this year, presenting "The Holidays Come to the Citrus Bowl." And, while the acoustics couldn't match those of the VBHS Performing Arts Center, the enthusiasm of the performers and audience alike helped to make the season bright.
"For many of our students, not all of them, this is the first live performance they've put on since March, so they are excited. This is a little different for us and a little different for you, but I think that's the theme of this year – a little different," said Page Howell, director of bands and department chair, welcoming an estimated audience of 750 to 800 proud parents, siblings and friends.
"This is about these students on the field, because part of getting a comprehensive and well-rounded arts education is performing. Live music and theater are an important part of the high school experience, and we are very proud and very thankful that we're able to perform for you tonight. So, on behalf of our whole department, we thank you for being here."
The musical presentations were each introduced by holiday-themed costumed members of the VBHS Drama Troupe – including, of course, Santa and his sidekick, Buddy the Christmas Elf.
The program included pieces performed by the VBHS Symphonic Band, Voices of Vero, Philharmonic Orchestra, Chorale, Concert Orchestra, Combined Choirs, Jazz Band, Women's Choir, Men's Choir and Fighting Indians Band, as well as flag routines by the Color Guard, concluding with a combined holiday sing along.
Impressively, the choral groups were all able to expertly project their songs through face masks.
"Out of all the performing arts groups, choirs have been dealt a big blow with COVID," said Howell, explaining that research indicates vocal aerosol transmissions are considerably worse than by instruments. "But our choir director decided that the kids need to sing. We're trying to preserve as much normal for the kids as we can, and she felt like they could pull it off with masks. All of us have taken huge safety precautions this semester."
Howell said discussions began in August about how to handle their traditional December concert during this most unusual year. He credited the outdoor concept to Karen Wiggins, PAC director, and the round robin-style blueprint of the performance on the field to associate band director Jessica Russell.
"We want to thank everybody that came to the concert; it meant a lot to the students," said Howell. "Their faces lit up when they saw all those people there. That they were able to perform was a big deal for our students. Starting when we come back from the winter break, we are going to start having some performances, both virtual performances and live performances, as things hopefully clear up with COVID and get back to normal."
Photos by: Kaila Jones
Click HERE to see more or buy photos