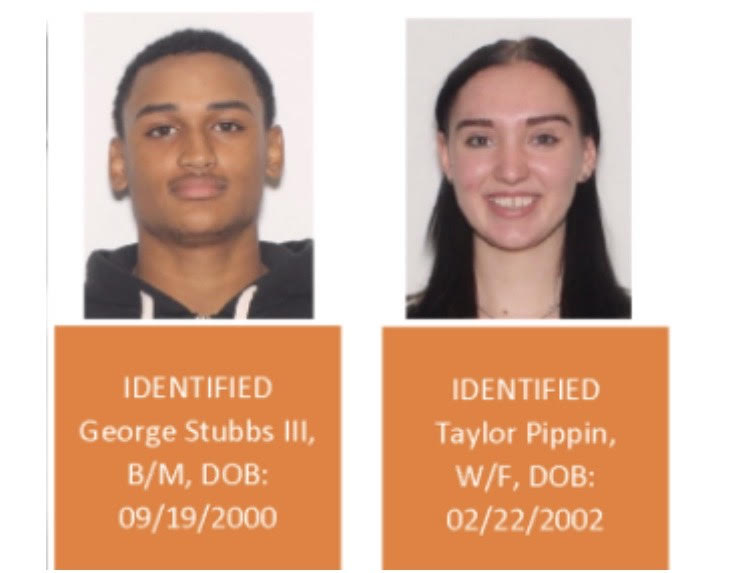 VERO BEACH — A couple was jailed after police said they attacked and pointed a gun at a motorist's head during a road rage incident earlier this month.
Police arrested George Stubbs III, 20, of the 4000 block of 41st Square, Gifford, on charges of aggravated assault with a deadly weapon, battery with prior conviction, possession of marijuana and possession of drug paraphernalia. Taylor Pippin, 18, who lives with Stubbs, was charged with battery.
Stubbs, jailed on Tuesday, was held Wednesday at the Indian River County Jail on $20,500 bond. Pippin, jailed on Dec. 17, was released the same day from the county jail on $1,500 bond.
The incident unfolded Dec. 6 after Stubbs and Pippin confronted a vehicle in a parking lot that "cut them off" just moments before in traffic. Police spoke with a man and woman who were riding in the second vehicle.
The couple said they were traveling eastbound on 20th Street earlier in a blue Dodge Caravan heading to pick up cigarettes. The pair went to Grocery Express, 4209 20th Street, just east of 43rd Avenue.
A four-door silver vehicle, driven by Stubbs, pulled into the parking lot shortly after, reports show. Stubbs got out of the vehicle, approached the couple and said their Dodge cut them off in traffic, police said.
The woman driving the Dodge got out and apologized, unaware of the earlier traffic incident, reports show. Police said Pippin approached the woman and pushed her, causing the two to fight.
Stubbs then pulled the woman by her hair and pointed a gun at her head, reports show. The woman's two young children, including a 3-year-old, were in the vehicle and saw what happened, police said.
The woman was able to pull away, get in her vehicle and drive from the parking lot. Police obtained surveillance footage from Grocery Express, which corroborated the woman's version of the incident.
Police on Dec. 15 asked for the public's help to locate Stubbs and Pippin. Pippin turned herself in to the county jail two days later, police said.
Officers found Stubbs Tuesday at a Motel 6 in the 8800 block of 20th Street. Inside Stubbs' room, officers found marijuana in a Ziplock bag, a digital scale in a box, and a loaded, semi-automatic Glock 9 mm handgun in a purse, reports show.
Stubbs, who was with Pippin, admitted he owned the narcotics, police said.
Stubbs has an arraignment at 8:45 a.m. Jan. 29, 2021, court records show. Pippin has an arraignment at 8:30 a.m. Jan. 12, 2021.