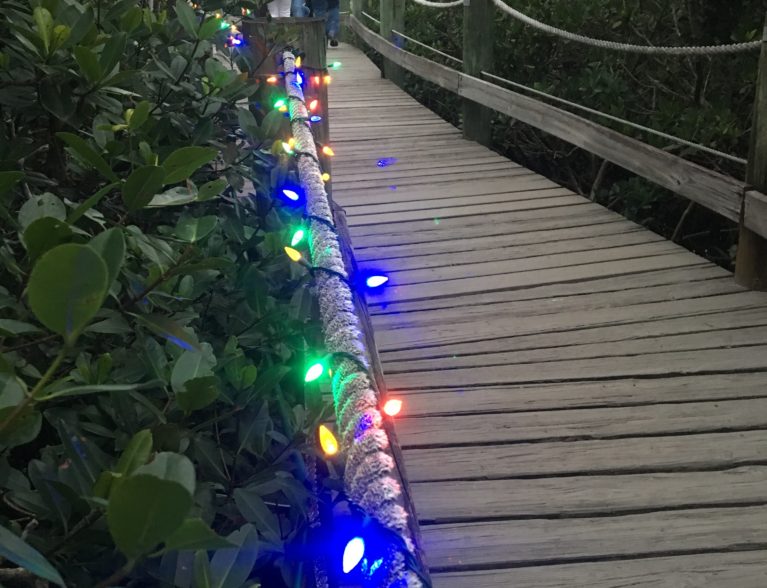 The joyous events coming up this month prove the pandemic cannot dampen the celebratory spirit of the holiday season. Granted, if you don't take the online approach, you need to use a mask and practice social distancing, but the spirit will still shine through. Maybe you can get with the spirit and pick up a mask with a merry Rudolph the Red-Nosed Reindeer image or a jolly white beard attached. You can even find masks that light up for the holiday. You can find scads of them at Etsy.com.
Become enchanted with canoe trips through lighted mangrove tunnels in the "Winter Green Night Lights" event running Thursday, Friday and Saturday evenings (6 p.m. to 9 p.m.) through Dec. 19 at the Environmental Learning Center. Even though the annual event has been scaled down a bit from previous years, said ELC executive director Barbara Schlitt Ford, it's still quite the treat. "It's super magical," Ford said. "We have mangrove tunnels lit up with white holiday lights and canoe guides that paddle you through there. Guests just relax." The canoes hold the guide plus two guests and are scheduled every 30 minutes. The rides take 20 minutes. Life vests are provided. And, yes, you have to be fit enough to get in and out of a canoe on your own. But even if you can't do the canoe part of the evening, there are still plenty of things to do. High on the list is the bonfire where s'mores will be enjoyed. You can either bring your own s'more fixings or, for $5, buy a reusable plastic S'more Goodie Bag which has a whole Hershey's chocolate bar, giant marshmallows and graham crackers. Sticks will be provided. In addition, there's a Fair House Scavenger Hunt designed to invite you to explore a little bit of the ELC's 64-acre campus. There are also two art galleries, interactive exhibits and the Nature Nook, which is a perfect place to find unusual fun environment-themed gifts from books, to clothing, to jewelry and more. "It really is a special vibe," Ford said. "Even if you don't want to do the canoe, come and experience it. We feel like it's a safe way for people to celebrate the holidays, get out and connect with nature and have the holiday spirit infusion." Special events include: a menorah lighting at 6 p.m. Thursday, Dec. 10; a homeschool holiday market from 10 a.m. to 2 p.m. Saturday, Dec. 12; and a recycled plastic flower making workshop at 11 a.m. Dec. 12, which costs $5 to attend. Admission is free. Canoe trips are $10. The Environmental Learning Center is at 255 Live Oak Dr., Vero Beach. Call 772-589-5050 or visit DiscoverELC.org.
Ballet Vero Beach will host its holiday fundraiser online this year. And what a great event it's going to be. Dubbed the "Digital Tea Up for the Nutcracker Watch Party," the online gala invites you and loved ones to gather around the warmth of the glowing computer screen to enjoy live performances, a documentary about the highly anticipated film "Nutcracker on the Indian River," a silent auction, a raffle, meet-and-greets with some of the terrific creatives involved with Ballet Vero Beach and, for locals who can swing by the company's offices, a swag bag filled with bubbly, chocolates, teas and ballet "tchotchkes." Ballet company artistic director and CEO Adam Schnell said this event is already gaining interest all over the continent. "Basically, it's a pivot on our normal December fundraiser, but we morphed it and it's reaching more people," he said. "We can reach more people who can't join the preview party. The whole world is your audience so you have to step up your game and rethink some things." The film of the company's annual "Nutcracker on the Indian River" comes out later in December. Schnell said patrons at this online gala will have an even better chance of personal chats with dancers and choreographers. "Because of the capability of Zoom, we can send five people into a separate 'break-out' room so they can have more intimate conversations." The cost to attend the Digital Tea Up for the Nutcracker Watch Party is $100 per household. However, if you're not in town and can't pick up the swag bag, the cost is $75 per household. Funds raised will go to the company's education and community outreach programs. The Digital Tea Up begins 4 p.m. Sunday, Dec. 13. Call 772-905-2651 or visit BalletVeroBeach.org.