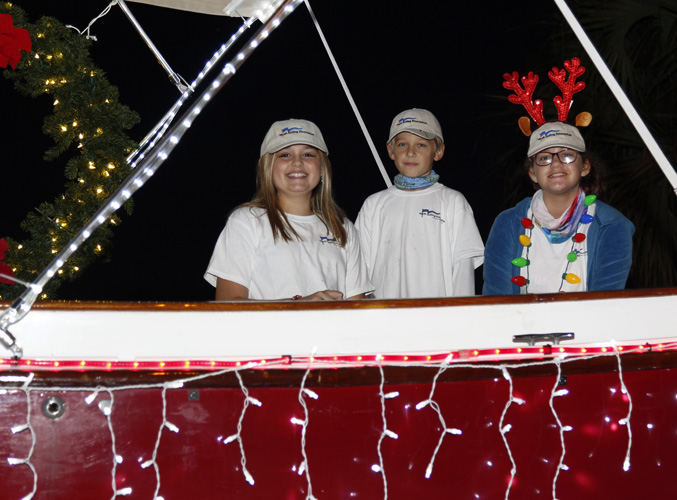 A Christmas miracle took place last Saturday evening with the 2020 Vero Beach Reverse Christmas Parade, presented by the Sunrise Rotary Club.
Cars lined up for miles waiting to wend their way along Aviation Boulevard to the airport where they could take in more than 40 stationary floats and displays that would normally have traversed Ocean Drive on the first Saturday of December.
When the announcement was made that the annual Christmas parade, sponsored by the Oceanside Business Association and Sunrise Rotary Club, would be canceled due to the pandemic, Todd Darress, Sunrise Rotary parade organizer, said they just couldn't let that happen.
"With everything else being topsy turvy in 2020, why not the Christmas Parade?" said Darress.
He and his fellow Rotarians didn't just think outside the box; they completely reinvented it.
"This parade has never been canceled. The Reverse Parade gave people a safe place to go, especially those that haven't been able to get out in the community during COVID. So many other things have been canceled this year," said Darress.
He noted that as one of the four largest events held in the county, they didn't know what kind of crowd to expect – it was a big one. Cars began lining up at 5:30 p.m. and it was nearly 9 p.m. when the last ones made their way through.
The reinvented format gave everyone a seat – in their own car – without anyone blocking their view.
The full contingent of the Vero Beach High School Fighting Indians Band started things off, from flutes and tubas to flag corps and cheerleaders, setting the tone for what was to come.
As parade-goers passed by they viewed a manger, active and veteran military groups, the Learning Alliance's Moonshot Moment Reading Rocket, the Treasure Coast Community Health duck and his friends, a lighted Christmas tree dangling from a crane, sharks in the water near the Vero Beach Lifeguard Association float, Crossover Mission's youth basketball players shooting hoops with lighted balls, Indian River County Sheriff's Officers having a rocking Christmas, and even a flamboyance of flamingos pulling a sleigh.
The last stop along the parade route was perhaps the most important of all, with Santa and Mrs. Claus atop the DuBose & Son's Jewelers' sleigh, with Santa bidding passersby, "Happy Christmas to all, and to all a good night."
Judges Tony Young, Wesley Davis and Dan Danaher determined first-place winners in three categories: Organization – Grall-Dugan Beach Party; Business – DuBose & Son's Jewelers', Inc.; and School – Vero Beach High School Fighting Indians Band.
Afterward, the Vero Beach Lifeguard Association planned to roll over to Walking Tree Brewery for a Santa Fix to raise money to purchase an ATV. With many rescues occurring outside guarded areas, explained Erik Toomsoo, VBLA president, reaching victims quickly on an ATV can mean the difference between life and death.
"It's a critical piece of equipment," said Toomsoo. "We have 4 miles of beach in the city and only 600 yards of guarded area. It's really important that the lifeguards have the tools they need to effect rescues."
The parade is an extension of Sunrise Rotary's mission to create continuous improvement through service to the local community and internationally. Local charitable projects include Adopt-A-School, Rotary Youth Leadership Awards, Growing Healthy Kids, Backpacks for Children, Pre-K Book program and scholarships.
Their 10th annual Florida Craft Brew & Wingfest is currently scheduled for February. For more information, visit floridacraftbrewandwingfest.com or sunriserotaryverobeach.org.
Photos by: Kaila Jones
Click HERE to see more or buy photos