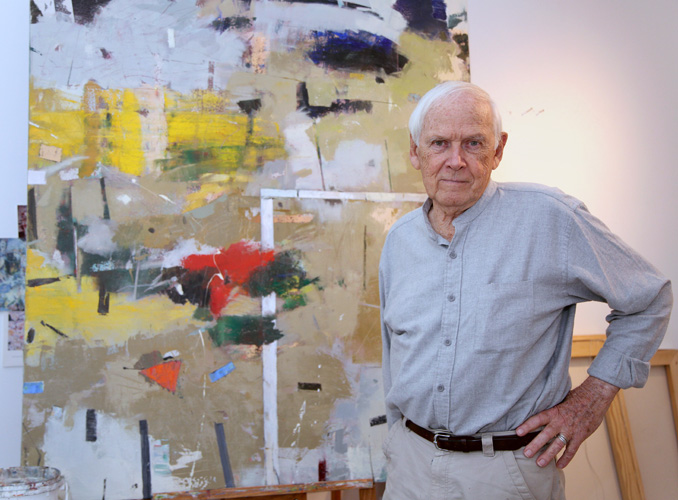 This December at the Center for Spiritual Care you can hear the angels – I mean, angles – sing at the art exhibition "Gustaf Miller: Angular Explorations."
Continuing through Dec. 31, the show features 31 recent works in semi-abstract style by Miller, executed in watercolor, collage, acrylic paint, ceramic and wood. The media and subject matter are just as varied.
Pieces are from Miller's continuing series of freighters, buildings, cubist heads, the horse-like abstractions Miller calls "Carrybacks," and masks. The small sizes of the artworks (measuring 10 inches square at the largest) are hung with enough space around them to make each piece viewable as a discreet work, instead of one among the many.
This night be the most expansive little show you will see this season.
"I've always done small pieces along with my larger pieces," says Miller.
"There are not usually this many in one grouping. Warren Obluck (the Center's arts coordinator) came up with the idea for a show of just my small works."
There is one large, freestanding sculpture in the show, which stands on a low plinth in the center of the gallery. "Checkered Building" is a whimsical wood sculpture whose right angles, graphic patterning and nod to things found in real life, echo in the two-dimensional works on display, works like the acrylic and collage on panel architectural paintings "Dark Wall," "Side Wall" and "Block Build."
"All the little architectural things are very much related to the larger things I've done in sculpture, that I became known for in Boston," says Miller. He is referring to his successful representation at Clark Gallery in the Boston suburb of Lincoln. Its former director, Meredyth Hyatt Moses, is also a Vero resident.
The current show has been two years in the making, says Miller. Everything included in Angular Explorations, except "Checkered Building," was created within the past 24 months.
"But he didn't buckle down till this summer," interrupts his wife, artist Janvier Miller, who is not shy about joining her husband's interview.
Miller counters, "Well, I already had half the show done."
Janvier gives him a look.
In exasperation Miller says, "Well, I did! I did 15 in the six months we were in Connecticut."
That is where the couple spent summer through fall this year. For the record, Miller says that the remaining half of the show was created during 2019.
Janvier continues, "One of the things Gus did to prepare for this show was he got a dozen 10-by-10 panels, and he laid them all out on the table, and he took a roller and put a base coat on all of them. Then he has a box of scrap papers, and he started laying scraps down on top of the panels. That's how he started."
Says Miller, "Well, I often start the small paintings by putting a few pieces of paper down, the collage- like stuff, and just seeing what that looks like. I can paste it down or rearrange it, or the door opens and blows the paper all around."
He chuckles, and says, "It evolves. I never start with a sketch of exactly what I am going to do."
Miller identifies some of the show's artworks that he particularly likes, pointing out "Gray Fellow," a framed collage on paper that he created in November 2019. The 'Fellow' of the title refers to a squarish head composed of several rectangles of multicolor paper, perched atop a green neck. A black parallelogram stuck on one side of the head is its nose; in proximity to that feature is a round eye and a slim red triangle of a mouth. Their placement suggests a head seen in profile, facing to our right.
To this writer, the head bears an odd resemblance to Federico da Montefeltro, the Renaissance era Duke of Urbino, whose famous profile portrait was painted by Piero della Francesca. Except that the duke is facing the other way and wears a hat, his profile resonates with Gray Fellow's. Each has a blocky head and a stuck-on looking nose, which in the duke's case looks that way because it was notched at its top by a sword in battle.
"It's not a duke," says Miller, bluntly, while conceding that his creation's sniffer looks detachable, like "a metal artificial nose." The idea seems to appeal to him.
"Gray Fellow" is paired in the show with "Feather Hat," an even more improbable physiognomy whose profile – if it is a profile – could be read in either direction. That head, also a collage on paper, wears a roof-like black hat with a small, jaunty feather standing atop it.
The economy with which Miller uses his materials to suggest these heads is typical of most of his work, in which a subject is placed in the center of the composition, and surrounded by just enough detail to give it a sense of place.
"Red Freighter," a college on panel of which Miller is fond, exemplifies this. Measuring only 7 inches by 9 inches, the artwork portrays a ship head-on, with a dark red hull and bright red superstructures, the boxy components of which can also be read as Krazy Kat-style heads. Centered in the composition, the freighter is flanked by glimpses of boats moored right and left, afloat on a sea suggested by a sliver of painted newspaper.
Although he says he has been depicting "boats" in his art for the past 15 years, Miller's regard for ships, especially freighters, dates back to his childhood and to his father's paintings of two "mothball ships."
"They were from the Second World War. They had all these excess ships after the war was over. There were probably 200 little freighters, and they parked them in Haverstraw, N.Y., on the Hudson River. They were sitting there rusting."
Haverstraw is slightly over 9 miles north of Miller's childhood home in Nyack.
"He did a couple of paintings of that subject; I happen to own one of them. It was a large, blue-hulled freighter. I think it's one of his best paintings ever. But, yeah, that made me interested in boats. I was probably 10 years old when he painted them, around 1950."
Miller could be speaking about the character of his own practice when he says of his father, "He had a nice, direct style. He wasn't overly fussed with facility, but he'd wind up with some really refined areas."
Other ship-themed artworks in the exhibition would do Miller's father proud, including "Bright Hull," an acrylic with collage on panel, and the dangerously listing ship that is the subject of "Tipped," a collage on paper measuring only 8 inches high by 7 1/2 inches wide.
If you are familiar with Miller's work, you might think of it as being substantially bigger that the artworks on display.
After all, big paintings are big. If an artist wants to get an audience's attention, he does room-commanding paintings, and Miller has time and again shown himself up to the task of going large.
That is not to say that his going small is somehow "lesser than." The main take-away from this show is that Miller applies the same thoughtful execution to his small compositions as to his large ones. Large or small, his artworks are complete expressions of Miller's aesthetic process.
Miller says that there is a practical side to the creation of modestly sized artworks.
"To do small work makes it more affordable for a lot of people, for one thing. It's a challenge to do a bunch of small ones. You can cover many more ideas more quickly by working small. Usually I start with a smaller one, and then enlarge on that idea, and get bigger."