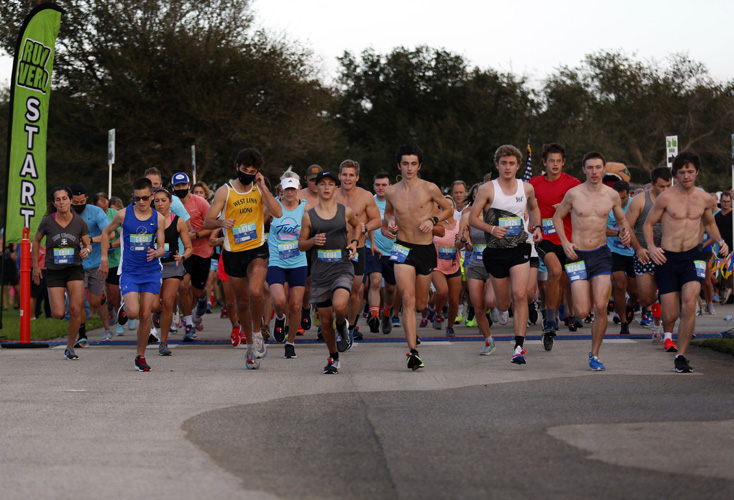 Aided by generous sponsors and an abundance of volunteers, a smaller than usual but no less enthusiastic crowd turned out for the 13th Annual Thanksgiving Day Trot Against Poverty at Riverside Park to benefit United Against Poverty.
Considering the pandemic, UP offered a virtual 5K option through the Thanksgiving weekend, for the first time inviting those who didn't feel comfortable participating in person, or who were visiting out-of-town family members, with an opportunity to support the cause.
"It's not as large this year, but everybody is social distancing and people are respectful of one another," said board member Barbara Butts, as roughly 740 participants milled about before the race. "They're happy to be outside, to be together and it's Thanksgiving. Everybody's involved; it's a family day."
Tiny tots, some assisted by their elder siblings, were the first group to "shake their tailfeathers," starting things off with the Children's 1/4-mile race for ages 6 and under. Runners took their mark soon after, with joggers and walkers pushing strollers or striding alongside their pups, bringing up the rear.
As a reward, participants enjoyed another delicious Sweet Potato Pancake Breakfast, whipped up by UP volunteers using donations of batter from Marsh Landing, and sipping juice from Natalie's.
"We're very grateful that we could do it; we're excited," said Barbara Lowry, board member. "United Against Poverty really stepped up to the plate with COVID. When other organizations weren't able to keep their doors open, we took on some of their roles so people could be served."
As an example, she said the Department of Children and Family Services, which has its office in their UP Center, has been closed since March 1.
"So, we set up a safe and secure computer lab and manned it with knowledgeable people, so people had access to benefits. That was a huge help," said Lowry.
When the pandemic hit, UP purchased a refrigerated Mobile Market truck, which they have been taking to communities where people have limited access to food.
"Our biggest challenge is that we have more and more people coming for crisis care. We have people who have never needed assistance before coming to our campus. We need to direct them to the proper places to fulfill their needs," said Lowry.
"United Against Poverty does not provide cash. However, due to COVID, there have been many funders who are providing financial assistance and they rely on us to qualify the applicants. So that's another role that we've taken on that we didn't do before."
Additionally, Lowry said their Member Share Grocery is now open seven days a week, and with ample space to keep people safely distanced, they have restarted their in-person classes.
Proceeds from the event support the mission of United Against Poverty to "inspire and empower people living in poverty to lift themselves and their families to economic self-sufficiency."
For more information, visit upirc.org.
Photos by: Kaila Jones
Click HERE to see more or buy photos