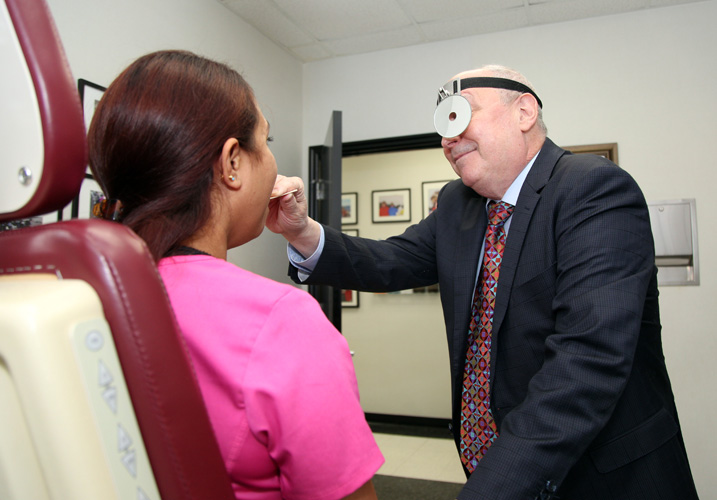 The transition from a healer to a patient was a humbling experience for one local physician whose diagnosis with non-Hodgkin's lymphoma pushed him into the unfamiliar role of a patient relying on experts to achieve remission and save his life.
Dr. Marc Lieberman has been practicing ENT (ear, nose and throat) and facial plastic surgery in Vero Beach since 1987 and is highly respected throughout the medical community. When he had a persistent pain in his neck so severe that he couldn't sleep at night, he saw a doctor and tried some conservative treatments like oral steroids and exercises. When he got no relief, a nerve block was performed. When that didn't help, his orthopedist recommended an MRI. "I honestly thought I had neck arthritis or a disc issue," Lieberman explained. That visit started his journey down the frightening cancer rabbit hole.
The Tuesday before Memorial Day, Lieberman had the MRI. On the following morning he got a call from both the radiologist and the doctor and was told it wasn't an injured disc causing his pain. Instead, the doctors had found a mass that required more testing.
"My immediate reaction was to get this worked up and diagnosed as fast as possible," Lieberman says. "I called my wife, who was in Mexico at the time, and told her what was happening. She managed to find a flight home and was with me that Thursday when I went to Vero Radiology, where they performed nine MRIs, three CT scans and a PET scan.
"I am very aware that if it weren't for my connections in the medical community, I never would have had these procedures done so expediently. Lining up those tests would take the average person six weeks or more."
Dr. Lieberman went to Cleveland Clinic Indian River Hospital on Friday for nine CT guided needle biopsies of the neck, a bone marrow aspirate and two bone biopsies. By Saturday he received the devastating news from the pathologist that the mass was a lymphoma of some type.
Because of his long-term relationships, his final diagnosis took less than two weeks. Since earlier treatment is linked to better outcomes, Dr. Lieberman considers himself blessed for a rapid diagnosis.
Non-Hodgkin's lymphoma is cancer of the blood system, specifically the lymphocytes – a type of white blood cell. The cancer is rarely found in just one area of the body, and in Dr. Lieberman's case, it was in his neck, bones, bone marrow, lungs and abdomen. Untreated, the disease is fatal.
Although Dr. Lieberman occasionally diagnoses lymphoma in one of his own patients, it isn't a disease he treats. Rather, it's a world away from common ENT problems like ear, sinus and throat infections and plastic surgeries like eyelid lifts, facelifts and skin cancer reconstructions that he does routinely.
One might think a doctor with such a diagnosis would bury himself in research and read up on everything regarding the disease, but that wasn't the case with Lieberman.
"I put all my faith in my doctors and was willing to do anything they said to recover and beat this cancer," he recalled. "I honestly didn't want anything to interfere with my focus on fighting and recovery. I didn't read anything. I didn't ask questions. I didn't look at the numbers. I didn't want any unsolicited advice from friends, acquaintances and family. I didn't even want to know the side effects of the treatment I would be undergoing.
"I know all too well that patients often develop side effects through the power of suggestion, and I didn't want negativity of any kind to enter my mind. My only question was, 'When do I start?'"
Lieberman's wife, Nancy Gould, on the other hand, was a tenacious advocate for her husband throughout the process. "Marc was very stoic about the diagnosis and seemed to bury his head in the sand, just focusing on the eventual recovery. It was hard sometimes as I was the one who had to ask all the questions and deal with all the concerns from family and friends," she says. "We made it through as a team, however, and we both strongly believe that his positive attitude contributed to his recovery."
Dr. Lieberman entrusted his care to oncologist Dr. Jennifer Byer with Florida Cancer Specialists. Coincidentally, she had been his patient since she was about 3 years old and reminded him that he had pierced her ears when she was 5. "Talk about a role reversal," he said with a laugh. "Now my life was in the hands of a former patient and I had to follow instructions from the little girl I treated and drove to Sunday school."
He embarked on a series of six outpatient chemotherapies spaced three weeks apart, spending all day in a chair at Florida Cancer Specialists with an IV connected to a port in his chest dispensing chemo into his bloodstream.
After treatments 2, 4, and 6, he was admitted to Moffitt Cancer Center in Tampa for a different kind of chemo which required him to spend five days hospitalized. "Basically, they would inject poison into my blood the first day, then let it cook and do its job, and then give me medication to make sure it exited my body before I could be discharged," he explained.
Having been told by his oncologist that the treatments might be intolerable and that less than 80 percent of patients receiving this regimen of chemo finish on schedule, he remained resolute in his focus to do whatever he had to do to finish on time.
"The worst side effect I experienced was extreme fatigue," recalled Dr. Lieberman. "I've always prided myself on working as long as it took to accommodate my patients' schedules. While I used to work as much as 14 hours a day, all I could work during treatment was two to four hours a day. I let my patients know that I was sick, and to help with my practice I hired a wonderful temporary physician, Dr. Katya Bailor. She is board certified in both ENT and facial plastic surgery, just as I am. She worked out so well that she is now practicing full time in our office."
Dr. Lieberman completed all of his treatment on time and was in remission by October, just as he told everyone he would be at the onset of treatment. "I learned a lot about being on the receiving end of the doctor/patient relationship," he says. "I chose to put my complete trust and faith in my physicians. That may not be the pathway for everyone, but it allowed me to focus on only the recovery.
"I also learned about the difficulty of the testing," he expounded. "I had no idea that while a CT scan may take minutes, an MRI can take over an hour. If one is claustrophobic, it can be very difficult to lay perfectly still in a tube while the machine makes incessant banging noises.
"I'm sure I'll have a lot more empathy and compassion for those enduring these diagnostic procedures in the future. I've also learned that not all doctors see their patients within 15 minutes of their scheduled appointment as I try to in my office. And throughout my ordeal, I have learned the necessity of having patience."
Moving forward, Dr. Lieberman will have to be screened for recurrent lymphoma every three months for the first two years, and then every six months for life. If he makes it two years without a recurrence, there is a 98 percent chance he will be cancer free in five years, which is when the disease is considered cured. Because of the chemotherapy, he is immuno-compromised until May 2021, and he has to be uber-conscious about taking precautions against COVID-19 and infections in general.
"I consider myself blessed, with all the support from my family, patients, acquaintances and friends," Lieberman says with tears in his eyes. "I think the hardest for me was reading the get-well cards. It was that outpouring of love and the magnitude of prayer that kept me strong. My doctors were phenomenal, and their expertise coupled with blessings from above have given me the chance to live, love my family and watch my baby grandson grow. I am the luckiest man in the world."
Dr. Lieberman is Board Certified in both Otolaryngology/Head and Neck Surgery and Facial Plastic and Reconstructive Surgery. He received his undergraduate degree with honors from the University of Pennsylvania and went to Robert Wood Johnson Medical School. His surgical internship and residency were completed in Otolaryngology and Communication Sciences at SUNY Upstate Medical Center in Syracuse, New York. His fellowship in Facial Plastic and Reconstructive Surgery was concluded in Washington, D.C.
Dr. Lieberman's office is at 1600 36th St., Suite A, two blocks from Cleveland Clinic Indian River Hospital. The phone number is 772-569-7800.