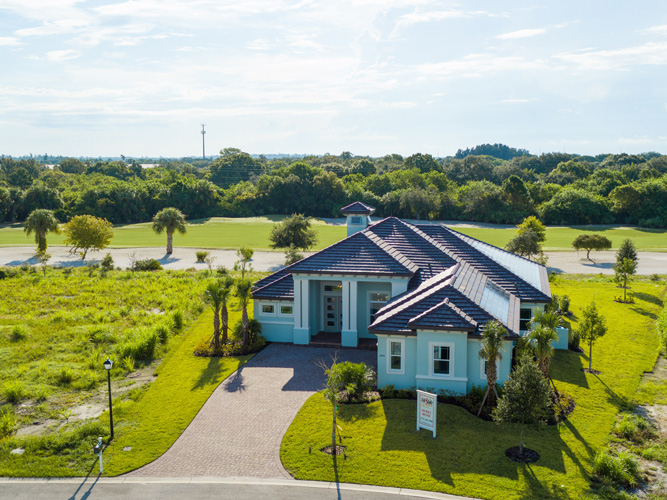 A Brevard builder founded by two schoolteachers with $10,000 between them in the 1980s that expanded to Indian River County in 2014 has come up with a line of "high-performance," clean-air homes in response to the coronavirus pandemic.
"The emergence of COVID-19 has forced us all to confront the importance of clean indoor air and the role it plays on long-term health," says Karen Kicinski, daughter of company co-founder Larry Hufford. "From this point forward, LifeStyle homes will be built with clean indoor air at the forefront in an effort to improve the health and well-being of our customers."
The key component of the company's new health-conscious program is a high-efficiency HVAC filter paired with a germicidal UV light device that kills airborne microorganisms. Also included are anti-microbial spray foam insulation, paints with no volatile organic compounds, and a humidity-sensing air controller that introduces metered amounts of filtered fresh air as needed to reduce humidity inside the tightly sealed homes.
"The clean-air program was something we were thinking about before covid, but when covid came along we kicked the project into high gear," says Jordan Luhn, son of cofounder John Luhn. "With people working from home and kids out of school and everyone spending more time at home in general, we knew we really had to do this and get it out there."
LifeStyle Homes, now run by cousins Kicinski and Luhn, currently is building houses in a dozen subdivisions, including three in Indian River County. In addition, the company has a sizable "build on your lot" custom home program that accounts for about half of the 120 or so houses it completes annually.
All new homes contracted for since Oct. 1 will be HealthSmart homes, the company's name for its new product. Luhn says homebuyers have responded enthusiastically to the clean-air design and the company has sold about 20 of the homes so far.
"It has definitely sparked a lot of interest," Luhn says. "Customers whose homes were already under construction have come back and asked if we can retrofit the technology to their houses. If the houses aren't too far along, we have been doing that."
The new clean-air features have been added to a suite of more than a dozen energy-efficiency components that have been hallmarks of the company's homes since 2010. All of LifeStyle's houses come with "a guaranteed Home Energy Rating System score of 60 or below," according to Kicinski and Luhn, meaning energy bills will be at least 40 percent lower than for a conventional house.
LifeStyle also offers optional solar energy packages that more than 10 percent of its customers sign on for that further reduce home energy costs.
The company was started by Larry Hufford and John Luhn in 1984 when they scraped up $5,000 apiece and got a construction loan to build a 1,360-square-foot model home in Palm Bay that other builders "thought was too big for the market at that time."
Basing their approach to business on Stephen Covey's "7 Habits for Highly Effective People," the former schoolteachers viewed their company as a classroom where new homebuilding ideas could be learned and tested, according to Kicinski and Luhn.
Success and expansion followed, continuing up to the housing crash in 2008. In 2010, the company launched its SunSmart energy-efficient homes as a way to stand out and attract customers in a dismal new home market.
That led in 2011 to a stint on ABC's "EXTREME MAKEOVER: Home Edition," which selected LifeStyle to build the show's first solar-powered "extreme" home, constructed in 155 hours in Cocoa.
Today the company is building homes priced between about $350,000 and $1.5 million on customers' lots and in nine Brevard subdivisions and three Indian River County developments, including two in country-club communities.
LifeStyle is building 18 homes at Pine Valley in Indian River Club, some with golf course views. The three- and four-bedroom homes have base prices ranging from $478,900 to $574,900. Four homes have been sold so far.
In Huntington Place, located at the intersection of 57th Street and 58th Avenue, the company has sold about 30 homes and has 10 lots left, with 14 plans to choose from – all with the complete suite of clean-air and energy-efficient HealthSmart and SunSmart features. Base prices for the three- and four-bedroom homes range from $351,900 to $418,900.
Directly across 58th Avenue, LifeStyle is near completion on a model home in the Preserve at Bent Pine, where it has 30 lots.
"The model will open in early December," Kicinski says.
Homes with three or four bedrooms, two, three or four baths, and two- or three-car garages start at $478,900 and go up to $566,900.
The land the preserve sits on was acquired by an out-of-town developer in 2016, according to Debra Dremann Ushkowitz, who handles the developer's operations in Indian River County. When complete, the subdivision will include 134 homes.
"We chose LifeStyle as a building partner because of the company's commitment to community and high-quality architecture, as well as their dedicated approach to cleaner, energy-efficient homes," says Ushkowitz. "They were a perfect fit."
The Preserve at Bent Pine has no formal connection to the adjacent Bent Pine Golf Club, but homeowners will be eligible to join, according to Club Manager Hugh O'Donnell, which will make the homes more appealing to some buyers.
The popular club, which celebrated its 40th anniversary this year, has about 260 members. It offers championship golf with no tee times, golf tournaments, a golf shop, golf instruction, fine dining, social events and classes, but O'Donnell says the best thing about it is the members.
"No doubt about it," he says. "It really is like one big family here.
"People who buy homes [in the Preserve] can go through the regular membership process to join." n