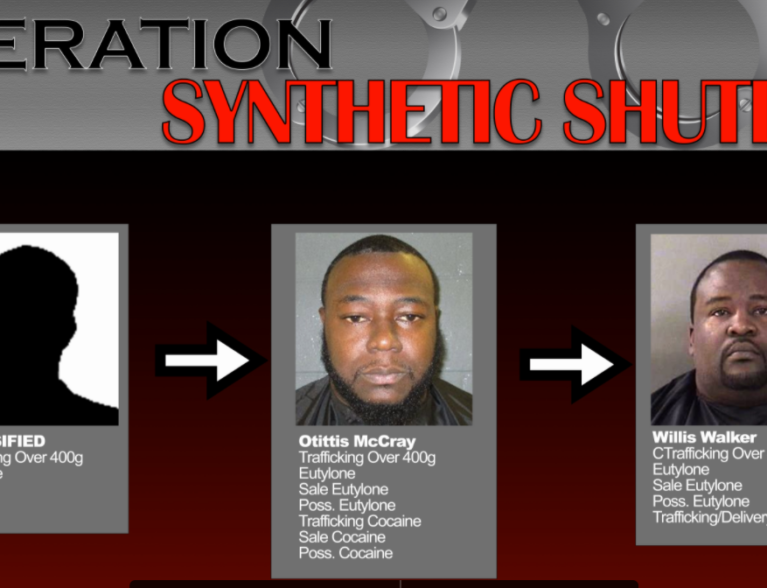 INDIAN RIVER COUNTY — A year-long undercover drug trafficking probe netted 36 arrests, along with the seizure of firearms and drugs, including the synthetic narcotic eutylone, officials said.
Deputies made the announcement in a Facebook post late Monday, the day the multi-agency investigation concluded. Sheriff's officials showed a PDF document with the pictures of the men and women arrested, along with their charges.
Most of the individuals faced various charges, including trafficking eutylone, trafficking cocaine, sale of eutylone, possession of ecstasy and more. Deputies noted some of the suspects are drug dealers responsible for near fatal or fatal overdoses of eutylone in the county.
Synthetic Shutdown_all-in-one_chart_LOW
Two main targets of the operation were Willis Renaurd Walker, 38, of the 4500 block of 35th Avenue, Gifford, and Otittis Durmaine McCray, 34, of the 4400 block of 56th Lane, Vero Beach, deputies said. The identity of the third main target was listed as "classified."
But, not everyone listed on the PDF document was arrested on drug charges. The document, along with jail records, showed two men each were only charged with driving with a suspended license.
Deputies were not immediately available to explain the discrepancy.
The lengthy investigation began when deputies noticed an influx of eutylone, or bath salts, in the county, sheriff's officials said.
Eutylone emerged in the U.S. illicit drug market in 2014, according to the Drug Enforcement Administration. Reports of use of the synthetic drug spiked from 2017 to 2019.
The narcotic comes in powder, capsule, tablet or rock form, deputies said. Eutylone is linked to cardiac-related deaths, officials said.
Deputies worked with several organizations throughout the drug probe. Those agencies were the Drug Enforcement Administration; St. Lucie County Sheriff's Office; Sebastian Police Department; the Bureau of Alcohol, Tobacco, Firearms and Explosives and Homeland Security Investigations.
Law enforcement officials searched 10 residences during the probe. The drug searches yielded the following:
More than 3 kilograms of eutylone
Nearly half a kilogram of cocaine
Approximately 1,000 ecstasy pills
11 firearms in possession of convicted felons
7 vehicles, including a motorcycle, used to transport the drugs
Nearly $50,000 in cash from drug sales
The sheriff's Special Investigations Unit has already received information that the investigation caused a drought in synthetic drugs in the county. Deputies thanked the outside agencies for helping to make Operation Synthetic Shutdown a success.
Deputies said they anticipate more arrests as evidence is processed.