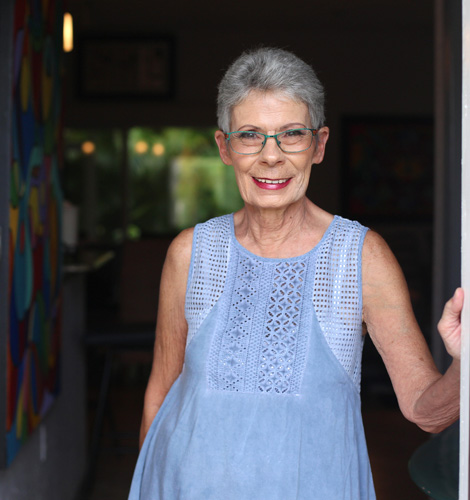 Honesty and bold joy are at the heart of the works by artist Paula Marker. You can see that in the two works she currently has on view in the "Out of the Box" exhibition running through Nov. 29 at Raw Space Gallery in downtown Vero Beach, hosted by the nonprofit Keeping the Arts Alive.
The rows of cheery, well kept city dwellings in her "Boston Brownstone" impart a sense of place and belonging. The buildings nestle, shoulder to shoulder, in a verdant area. Warm, welcoming lights emanate through the minutely illustrated windows, and friendly rooftop gardens stand ready for visitors.
Quite different is her explosive "Dragon Lady II," a multi-media creation comprising an acrylic, mannequin torso and glue. On the torso, she has painted a fierce dragon's face, ready to roar fire.
Those two are just a touch of Marker's artwork. Her eclectic works include vibrant abstracts, landscapes and florals, realistic and humorous animal depictions, figuratives, photography and sculpture. Most recently, she has started writing and illustrating a children's book for her grandchildren.
"My art … I'm not sure I can describe how important it is to me. It is good for my soul," Marker says. "If I try to think of a world without art, it just seems very bare and blank and colorless."
Marker's works in "Out of the Box" fit perfectly with the theme of the exhibition, says Camy De Mario, co-founder of the exhibition organizer.
"She's a great person, very honest and very kind," De Mario says. "I was very pleased she signed up. ('Dragon Lady II') really struck me. The day she dropped it off, and I saw the 3-D effect, I was really impressed."
Marker's uninhibited creative expression and vivid use of color should feed into a "great career," De Mario adds.
That should come as no surprise because the artist herself is a study in openness. Ask her age and she quickly shares, "I'm 68. Getting old, but not there yet."
She's also refreshingly open and honest about how art became a salvation to a childhood that was both innocent and turbulent.
Born in El Paso, Marker's family moved to Topeka, Kan., where she grew up. Although she has plenty of memories of tornado warnings and spending nights in a basement, she enjoyed the freedom of growing up in a small Midwest town. She and her brother and sister could explore the woods, play in forts, and walk to the store.
"We had the freedom to be kids," she says. "Halloween was great. We could go trick-or-treating all by ourselves. I remember the popcorn balls."
But her mother's psychological illness also meant burdens and growing up too fast.
"My mom was a bipolar manic-depressive," she says. "I needed to be close to help and be part of her life.
"It was difficult at best. I don't remember how many times she tried to commit suicide. After she and my dad divorced, they were married for 25 years, I was the one left. She wanted my brother. But that's OK. It makes us who we are."
Marker turned to art to escape. Growing up, she always had a pad of paper and a pencil with her. She says she would draw whatever would hold still long enough for her to study.
Eventually, though, Marker had no time for her art. As a young woman of 20, she married then had two children, a son and a daughter, and worked for 25 years as director of telecommunications for a Topeka medical center. She was also taking care of her mother, who eventually became quite ill with emphysema and ultimately succumbed to it.
About two months after her mother's death, her husband, a registered nurse, got a call from a headhunter offering him a job in Naples, Fla. They jumped at the chance.
"I could pretty much leave if I wanted to," Marker says. "It was like the world had been taken off my shoulders. I know that sounds dramatic, but that's what it felt like."
The move to Florida reinvigorated her love of art. That's where she discovered color, she says. She has had no formal training and, in fact, when she tries to follow an instructor on YouTube tutorials, says she ends up with works that look like a five-year old did them.
"I have my own way of doing things, my own style," she explains.
After seven years in Naples, the couple wanted to be near family, so they moved back to Kansas and lived in the college town of Lawrence.
She took a job as an instructor at a paint 'n sip gallery, but that didn't work out.
"You had to follow a very strict set of rules for the paintings," she says. "I couldn't do it."
After a few more Kansas winters, she and Chip returned to Florida.
"We decided to try this coast," she says. "My husband had a Navy friend from Vero Beach, so we checked it out. We liked it and here we are. Vero Beach has a very Midwest feel to it as far as the tempo and lifestyle, yet it has great weather and beaches. The people are friendly and with all the craziness that's been going on, it just feels comfortable."
She says that her artwork has continued to grow more and more free.
"A lot of it has to do with a confidence level," she explains. "I wasn't afraid to experiment with different media."
Especially bold is her mannequin series, of which "Dragon Lady II" is a part. She came up with the idea for that series when a friend in Lawrence closed his clothing store and had a large collection of torso mannequins.
"I'm like, oooh, I have to have those," she recalls.
"I'm not sure if my art has ever really tempered back. You should see my house. It's like a gallery. There is nothing in my house that isn't my artwork. Even now, if I'm not working on something my husband says, 'you need to find a project.'"