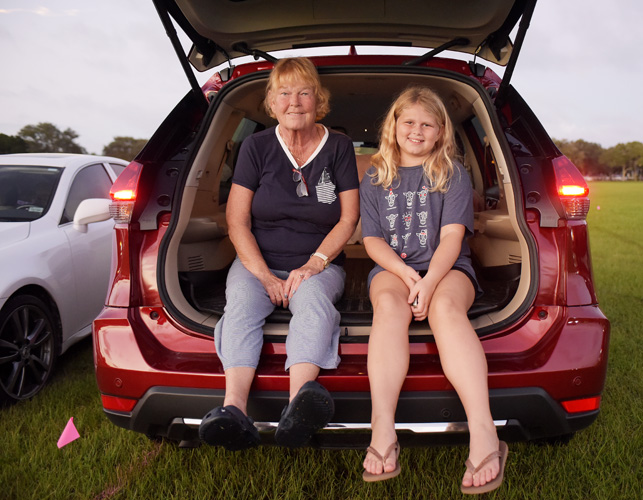 The Gifford Youth Achievement Center joined one of this year's hottest trends by hosting a Drive-in Movie Night at Riverside Park last Friday evening. The Bernard Egan Foundation was the presenting partner.
Stephanie Nelson, GYAC marketing coordinator, said she got the idea after reading an article about the city of Eustis in Florida, which is constructing what they're billing as the world's largest drive-in movie theater.
"It said the trend was changing because of COVID. That with people not able to gather inside, the demand was increasing exponentially for opportunities for people to be entertained in nontraditional settings," said Nelson.
Like many nonprofits, GYAC has had to cancel awareness and fundraising events and was looking for an alternative format.
"We're losing opportunities to gather as a community and share our story," said Nelson.
Nelson said the choice of movie was serendipitous. After learning that Riverside was only available on Nov. 13, she checked to see if there was any significance to the date.
"And when I looked it up, it happens to be World Kindness Day," said Nelson. "I just thought, well that's pretty cool, because for an organization that does everything that they can to help the community, it was very fitting that that was the date that was available."
While looking over the movie options available, she noticed "A Beautiful Day in the Neighborhood," starring Tom Hanks as Mr. Rogers.
"In the trailer, there's a quote from him that says, 'It only takes one person to inspire a world of kindness.' And I thought, that's it!" said Nelson.
"The stars all aligned," agreed Angelia Perry, GYAC executive director, noting that they limited the capacity to a maximum of 100 vehicles and quickly sold out.
No good drive-in is without food, so they reached out to The Source, a nonprofit that provides hope and support to the homeless, and they brought their Dignity Food Truck to the event.
GYAC provides year-round educational programs for vulnerable students in the Gifford community and surrounding areas.
"We are doing well; we have not had any outbreaks or students that have tested positive," said Perry. "We have limited our enrollment to allow for social distancing in the classrooms. In spite of COVID we're still here and providing services to our students, their families and the community."
GYAC has continued its longtime partnership with the Treasure Coast Food Bank, twice-monthly providing items donated by TCFB to food insecure residents throughout the county.
"We are able to continue to provide that service to folks who could use a little help right now; who could use a little kindness right now," said Perry.
GYAC volunteers and staff have set up a mobile pantry, packing up boxes and putting them into the trunks of an ever-growing line of cars. They are currently serving between 200 and 300 households each month.
"We want to thank the community for coming out and supporting us," said Perry. "We all could use a little kindness and who better to emulate than Mr. Rogers. We think the movie is appropriate for World Kindness Day and we just wish everyone lots of kindness in their life."
For more information, visit gyac.net.
Photos by: Brenda Ahearn
Click HERE to see more or buy photos