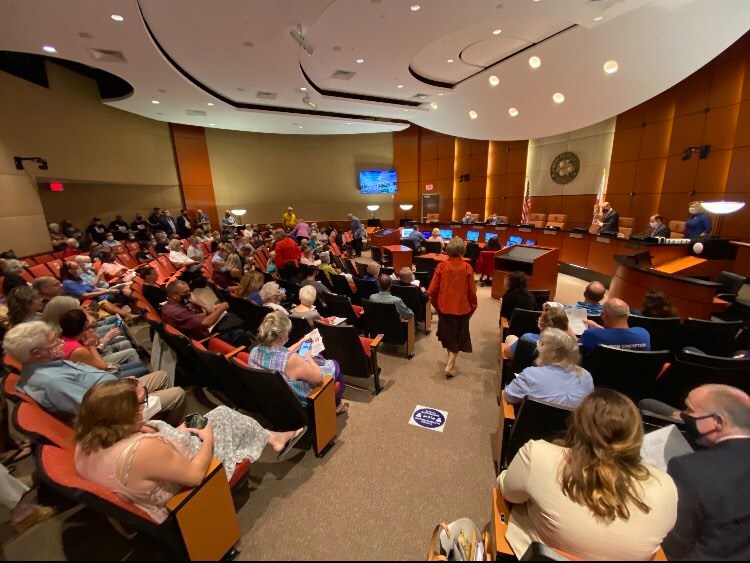 The Indian River County Commission voted 4-to-1 Tuesday to extend its mandatory mask ordinance until January 19, but ditched levying fines or penalties for violators.  
The law, first adopted in July, requires workers at restaurants and other businesses open to the public, as well as all visitors to county offices and riders on the Go-Line, to wear masks or face a $25 fine. But a recent executive order issued by Gov. Ron DeSantis suspended the imposition of fines and penalties by local governments against violators of COVID-19 ordinances, prompting County Administrator Jason Brown to recommend the mask mandate be allowed to expire.  
Commissioners decided instead to keep the measure in place, minus the penalties.
"There has been a resurgence in COVID cases," said newly-elected commissioner Laura Moss. "I don't see it as a negative that penalties are withdrawn.  No citations have been issued within the county.  We don't need enforcement coming down on this."
Joining Moss in extending the mask law were commissioners Susan Adams, Peter O'Bryan, and newcomer Joe Earman.  Joseph Flescher, the commission's new chairman, cast the only 'no' vote.
"I can't support, with a clear conscience, any kind of regulation that we can't enforce," Flescher said.
According to Indian River County Health Department administrator Miranda Hawker, the number of COVID-19 cases and hospitalizations have been ticking up in the county in recent weeks. There were more than 4,400 cumulative virus cases in the county as of Tuesday, according to the Florida Department of Health dashboard.