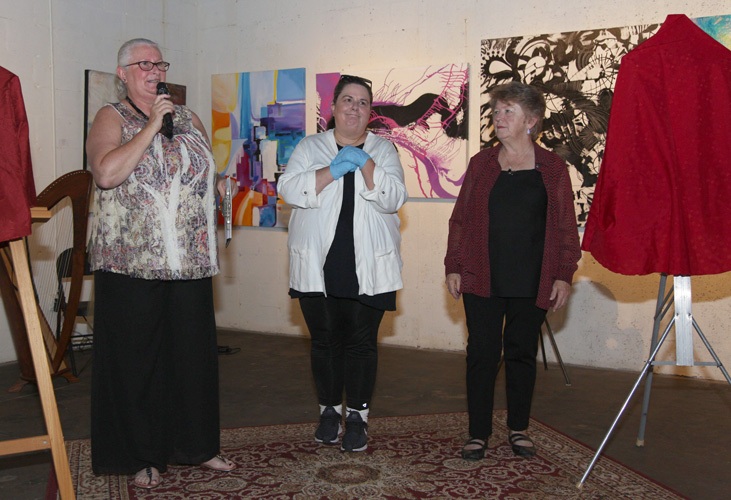 The trio of artists – Judy Burgarella, Camy De Mario and Beth Siebert – who created the new nonprofit Keeping the Arts Alive hosted a VIP reception last Thursday, the evening before the official opening of their monthlong show at the Raw Space Gallery: "An All-Inclusive Out-Of-The-Box Art Exhibition & Sale."
Guests at the VIP event, which included donors, prize-winners, government representatives and special guests, enjoyed a first peek at the more than 200 artworks on display as they listened to music by harpist Patricia Liguori, sipped on wine and relished the expansive hors d'oeuvres spread donated by Travis Beckett of Wild Thyme Catering.
"We were overwhelmed by the response of the artists that applied for the show. We still had people calling today, but we had to say no," said De Mario.
"It couldn't have gone any better. The artists themselves were amazing," said Burgarella. "We left the rules very broad, so we got some big, beautiful works that people couldn't even get into other shows because they were too big. We hardly had time to brush our teeth this past month, but we had fun."
Two portraits painted by Burgarella were unveiled at the VIP reception and will be on display at the gallery for a while before they go to their final homes. The Vero Beach Municipal Airport was gifted a portrait of Amelia Earhart, and the Vero Beach City Hall will be graced with a lovely portrait of the late Alma Lee Loy.
State Rep. Debbie Mayfield spoke lovingly of Alma Lee Loy and her many accomplishments and contributions to the community, as did Vero Beach Mayor Tony Young.
"It captures her beautifully," said Young. "As somebody who loved the community as much as she did and who we all love, it's a great compliment. And for us to have that in City Hall is something that is priceless, because she was part of our culture."
The local charity Little Birthday Angels, which provides festive celebrations to homeless children, will receive a percentage of art sales, along with any monetary donations and/or donations of unwrapped Christmas gifts.
Events scheduled throughout the month include tributes to law enforcement, first responders and medical professionals, art demonstrations and classes, poetry and book readings, an open mic night, ghostly stories on Friday the 13th, and both children's and adult Christmas parties.
The show will be closed Tuesdays and Wednesdays except during Thanksgiving week, when it will be closed Wednesday and Thursday. For a full schedule, visit keepingtheartsalive.com.
And the Winners are:
Best of Show: Minakshi De, "Solitude"
First Place Awards:
Oil: Stevee Greeff, "Gazing"
Acrylic: Kathleen Richter, "Siamese Cat"
Watercolor: Russ Hahn, "Rainforest Rhapsody"
Mixed Media: Daniela Zaharia, "Treasure Coast"
Sculpture/3-D: Christiana Cassella, "32963"
Pencil/Pastel/Charcoal: Sandy Lillis, "Owl"
Photography/Print: Tiffany Allen, "Snowy Egret"
Jewelry/Fiber: Tracy Burgarella, "Circles Of Life"
Portrait/Nudes: Robin Woodward, "Tom Boy"
Abstract/Pouring: Elise Geary, "Phoenix Rising"
Out-of-the-Box: Liliana Crespi, "Copricapo"
Most Thought-Provoking: Christopher Gunkel, "New Moon Child"
Photos by: Kaila Jones
Click HERE to see more or buy photos