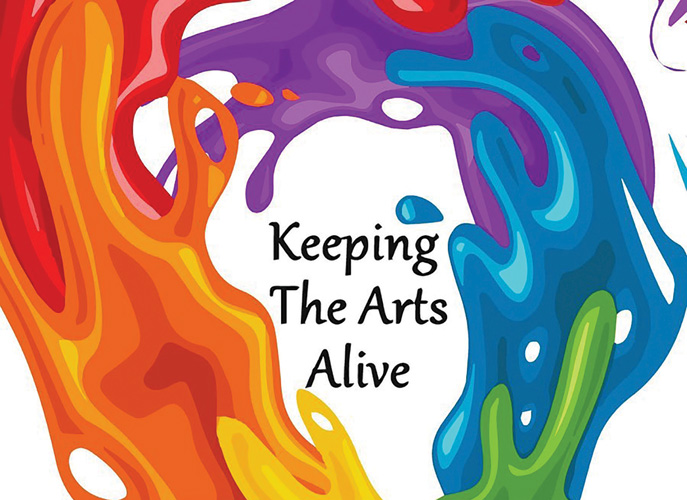 We all need some nurturing right now, and there are many opportunities in the artistic and cultural arenas. One in particular, "Keeping the Arts Alive," has a month filled with events designed to inspire and thrill. The events and exhibition will be held in the very cool Raw Space Gallery. In all, more than 60 artists will participate in the month-long show "Out-of-the-Box," with works by local and international artists. There will be artsy events associated with the exhibition. This week, artist Beth Siebert will demonstrate "artistic pouring" techniques from 2 p.m. to 5 p.m. Thursday, Nov. 12 and again 11 a.m. to 2 p.m. Monday, Nov. 16. Additionally, this weekend's events should tickle a wide range of tastes. In particular, to celebrate Friday the 13th, organizers are bringing in Pam Morley to do psychic readings and tarot card readings from 4 p.m. to 7 p.m. Friday, Nov. 13. Also on Friday, Larry Lawson will talk about some spooky happenings in the area. Lawson, a retired police detective, is founder of the Indian River Hauntings and founder of the Florida Bureau of Paranormal Investigation. "Being a cop, I investigate," he said. "This is the greatest mystery in the history of man. We go from a skeptical approach. We'll tell people some of the legends and what we've found in our inquiries on the beach in Vero Beach." Lawson said he does a lot of work in Fellsmere, which has had "some incredible things we haven't been able to explain (including) voices and plenty of people still seeing (Vero Beach pioneer) Old Waldo Sexton hanging around." The most paranormally active spot in Vero Beach, he said, is the Historic Driftwood Resort, which has a number of stories of guests experiencing eerie happenings like footsteps and door handles shaking "as if someone wants to come out." Also happening this weekend will be "Poetry Readings" from 2 p.m. to 5 p.m. Saturday, featuring poetry readings by the Laura Riding Jackson Foundation. There will also be an open mic so be sure to bring your own verses as well. The gallery will also be open every day but Tuesday. Raw Space Gallery is at 1795 Old Dixie Highway, Vero Beach. call 305-213-9411 to reach the gallery, or, to reach the programmer, visit KeepingTheArtsAlive.com or call 772-584-9169.
Kindness is at the heart of the Gifford Youth Achievement Center's "Drive-In Movie Night." The movie, "A Beautiful Day in the Neighborhood," centers on how the lovable Mr. Rogers made a difference in the heart of a curmudgeon. And, it takes place on National Kindness Day, which was pure serendipity, said GYAC marketing director Stephanie Nelson. "It was kind of fortuitous how it all came together," she said. She also has brought on board Dignity Food Truck, part of a Christian outreach serving the needs of the homeless and at-risk community. The movie will be projected onto a 40-foot inflatable screen in the large grass field in Riverside Park. There will be both large speakers and FM radio access, which you can get on your car radio. Guests are invited to either stay in their cars or bring chairs and blankets and spread out next to their car. Be sure to bring masks and to remain socially distanced, of course. You can also bring food, but this is a family-friendly event, so no alcohol, please. Moreover, the park has regulations about smoking, so if you must smoke, please do it in your car. GYAC, a community-based organization promoting education and recreation, is doing this purely as a community outreach and as a way to help bring people together while still maintaining smart anti-COVID practices. "It's a one-time event for now," she said. "We want to see how it's received. We may do it again." Chances are, that's going to happen because after Friday's event was announced, it sold out quickly. However, there is a waiting list, which you can get on by calling Nelson at 772-794-1005. Riverside Park is at 3200 Riverside Park Dr. Admission is $10 per carload. For more information, visit GYAC.net.
The Vero Beach Yacht Club will hold its annual "Blessing of the Fleet" at 2:45 p.m. this Saturday. All boaters are invited to participate in this centuries-old tradition. No registration is required. Just steer your boat to line up north of the Merrill P. Barber Bridge at Mile Market 137. From there, you will proceed past the dock to be blessed by a rabbi, a priest or a minister. Be sure to monitor Channel No. 72. For more information, visit VeroBeachYachtClub.com or call 772-231-2211.