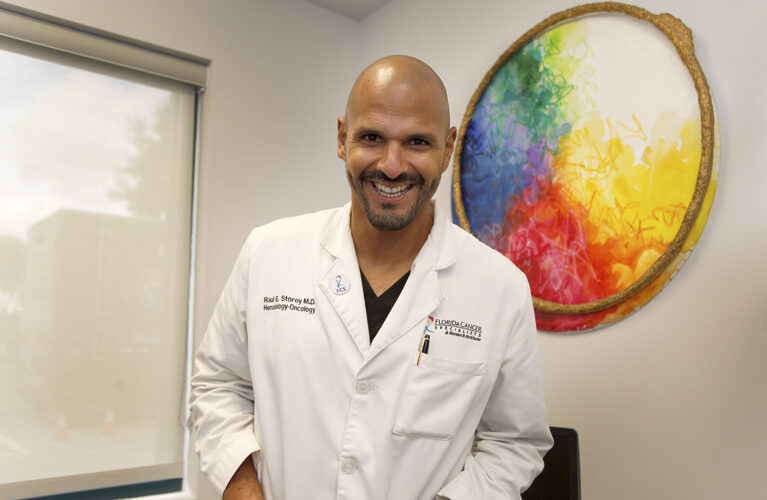 Chemotherapy and radiation treatments have produced impressive anti-cancer results, extending and saving many lives, but they can also be responsible for a type of trauma that some cancer patients dread more than they fear their cancer – hair loss.
Local oncologist Dr. Raul Storey, with Florida Cancer Specialists in Vero Beach, is keenly aware of this problem and is taking some "outside-the-box" steps to help.
The Oncology Pharmacist bluntly states "the psychosocial ramifications of chemotherapy-induced alopecia – or hair loss – must not be underestimated. Alopecia is the most traumatic effect of chemotherapy, according to 47 percent of breast cancer patients surveyed [and] 8 percent said they would reject chemotherapy because of alopecia alone."
Indeed, the publication further reports that "some women report that losing a breast due to a mastectomy would be less traumatic than losing all of their hair" – and it's not only women who feel that way.
Memorial Sloan Kettering Cancer Center adds, "Hair loss can lead to isolation, especially when you don't know anyone else in your peer group going through the same experience. Our hair is a unique part of our identity. Suddenly losing it as a result of cancer treatment can be distressing for both men and women."
The National Institutes of Health agrees: "Despite advances in the treatment of the many side effects associated with chemotherapy, alopecia remains an issue that is difficult to resolve. Chemotherapy-induced alopecia (CIA) is a condition that can have profound psychosocial and quality-of-life consequences, resulting in anxiety, depression, a negative body image, lowered self-esteem and a reduced sense of well-being."
Generally, women are more concerned about scalp alopecia, while men tend to be more concerned about body hair alopecia.
BreastCancer.org explains the mechanics of this by saying "hair loss occurs because chemotherapy targets all rapidly dividing cells – healthy cells as well as cancer cells. Hair follicles, the structures in the skin filled with tiny blood vessels that make hair, are some of the fastest-growing cells in the body. If you're not in cancer treatment, your hair follicles divide every 23 to 72 hours. But as the chemo does its work against cancer cells, it also destroys hair cells."
Meanwhile, according to the American Cancer Society, radiation therapy can also cause hair loss. Sometimes, depending on the dose of radiation, the hair does not grow back.
As of now, according to the Mayo Clinic, "no treatment exists that can guarantee your hair won't fall out during or after chemotherapy. Several treatments have been investigated as possible ways to prevent hair loss, but none has been entirely effective.
These treatments include scalp cooling caps as well as applying Minoxidil (Rogaine) directly to the scalp before and during chemotherapy, but the Rochester-based institution reports neither treatment is likely to prevent hair loss completely.
How serious is this problem?
NIH reports that some cancer patients opt for treatments with "less favorable outcomes" than chemo and radiation while others "may refuse treatment" entirely.
It is precisely this dilemma that led Storey "to create a new project" which he admits may not address the "root" cause of the problem but could very well offer a fashionable temporary fix while a clinical cure is developed.
"I've partnered with a fashion designer in Miami," Storey explains, "and we both were inspired to create statement head pieces. Right now it's basically turbans and head pieces" for women but "there's going to be new collections for men as well. The first collection targeted women, but the coming collection is for men."
The company – the Goddess Society – is, according to Storey, "a social-impact type of project. We are aligned with a foundation called First Decent. First Decent is a nationwide organization that creates amazing outdoor experiences for patients who are going through cancer treatment or are cancer survivors under the age of 40."
"They take them on these wonderful experiences like rock climbing, hiking, surfing, water rafting because all those experiences have proven to help create that sense of a supporting community, helping with anxiety, depression and helping with all the different coping skills that patient's going through cancer need to improve."
Storey proudly adds that part of the proceeds for every turban or other piece of designer fashion head gear sold on the Goddess Society website goes to First Decent.
Anyone can visit the website, WeAreGoddessSociety.com, click on the 'medical headwear' link at the top of the page and view the most recent fashion offerings for those currently experiencing chemo or radiation-induced alopecia or hair loss.
Dr. Raul Storey is a medical oncology and hematology specialist with Florida Cancer Specialists here in Vero Beach at 3730 7th Terrace, Suite 101. Both WebMD and Vitals.com give him a 5-star rating. The phone number is 772-567-2332. n