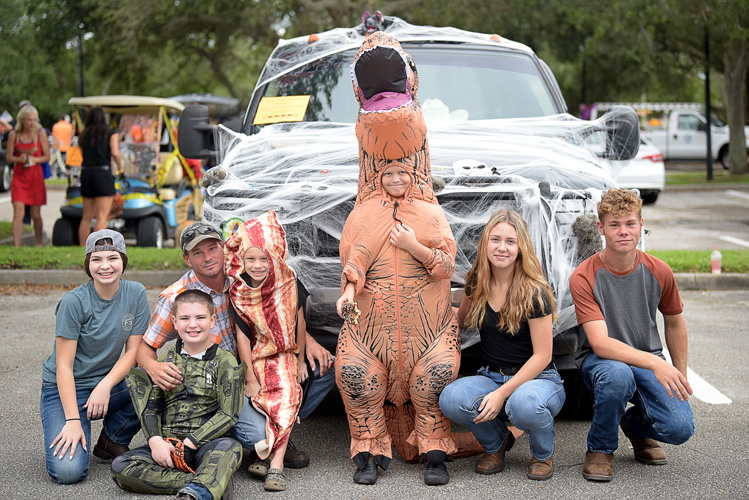 In light of the pandemic, the City of Vero Beach Recreation Department introduced something new this year, presenting the 62nd annual Halloween Parade as a Halloween Car Parade. They pulled off this trick, along with goodie bags filled with treats, to the delight of children and adults alike.
Participants decorated their cars and paraded along Beachland Boulevard from Riverside Park to Sexton Plaza, where they were met by a crowd of Halloween fans anxiously waiting to see this year's apparitions.
In place of the traditional costume contest, the outfitted vehicles were judged by Recreation Department staff, with winners awarded prize bags filled with extra-special spooky treats.
The Halloweenies were definitely creative, with a lineup that included a golf cart full of superheroes, a giant spider, Olaf from "Frozen," "Men In Black" escorting an alien with the help of a few secret agents, and Vero Vintage Volkswagens filled with skeletons and Cheech and Chong.
There was also a mermaid-eating shark, a Jeep pirate ship and its crew, a witch and wizard, a "monster" truck with a load full of ghouls, and skeletons out for a joyride in a classic convertible.
Mary Lou Brown, aka the mermaid, said it was her first time participating in the Halloween parade.
"The Rec. Department is fantastic. Kudos to everyone involved," she said. "Childhood is precious, and we need to protect it. Some of that is protecting health, but some of it is protecting what you do in life. You have to have some fun."
"With the coronavirus, we wanted to be as safe as possible and socially distance," said Gaby Dwyer, parade supervisor. "We just wanted to try to get back to normal a little bit while being responsible and as safe as possible."
Dwyer explained that Halloween is a time for fun, allowing us to dress up and be someone or something else for a few hours, and that the car parade gave families an opportunity to do an activity together.
"It's more of a family project if they have to decorate the car."
Photos by: Brenda Ahearn
Click HERE to see more or buy photos