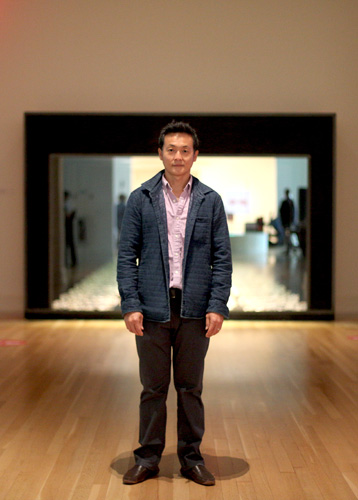 A new exhibition at the Vero Beach Museum of Art will both brighten your day and leave you with the impression of having bumped into eternity with no ill effects. The artworks on display in Chul-Hyun Ahn: New Light might not be the next best thing to a near-death experience, but they do fit conveniently into a busy schedule. And there is time to experience the show more than once; it continues through April of next year.
"His work is very different, as you see," says VBMA curator Anke Van Wagenberg.
Ahn's work is neither sculpture nor painting. It is not installation art, nor is it a sideshow hall of mirrors. It is none of these things and yet all of them at the same time.
Ahn's work is described as "light art." As one of a handful of light artists working mainly in the U.S., Ahn incorporates light into his pieces as an active element.
He is careful to distinguish his work from that of his colleagues.
"Many people say my art is 'light art,' but I am more interested in creating the illusion of space in my work. I use light just to reveal the space."
Ahn does that revealing in a manner familiar to a traditional painter in oils or a sculptor in marble. His artworks either hang on the wall or rest, sans pedestal, directly on the floor. New Light comprises a dozen wall pieces and a freestanding floor piece. All the artworks on display take the form of shadow boxes that contain a light source and two mirrors that face one another. In some of these works, the artist adds geometric forms, cut from reflective or translucent film, to the inside surface of the top piece of glass (a two-way mirror), which reflects the forms repeatedly in the mirror fixed to the back of the box.
Ahn is candid about the technique, one that has been used in magic acts for decades.
"The idea throughout my work is that of expanding space. Into infinity, and beyond infinity … technically, there are two mirrors that bounce forever to make an illusion of infinity."
One of the most convincing of these pieces is located in the center of the Stark Rotunda. To a visitor approaching from the museum's main hallway, the work presents itself as a low, circular parapet of pre-cast concrete tile, from which a mysterious glow emanates.
Moving close enough to peer into the structure might give you a vertiginous thrill. Aptly titled "Well," the illusory space within appears to plunge to the center of the earth itself. The tube of light that rises from the center of that depthless darkness serves to enhance the dizzying effect, rather than allay our basophobia (fear of falling).
For the Trekkies among us, it's a little like standing at the top deck in the engine room of a galaxy class starship and looking down at its warp core. Except where the warp core is blue, Ahn's light source slowly changes colors. The artwork is so mesmerizing that you won't notice the color changes until you force yourself to pay attention.
Van Wagenberg says that Ahn created "Well" specifically for the VBMA exhibition. It is the newest piece in New Light, which contains works from the past six years.
Three small wall-mounted works share the rotunda space with "Well." Although these are dated 2019, they are part of Ahn's continuing Forked Series, in which fluorescent tubes create the lines and define the space in the artwork. They are the only works in the show where the light source is directly visible; the others employ hidden LEDs (Light Emitting Diodes).
Pointing to two neighboring works, Ahn says, "this one is #41 and that one is #39. I started with #1 like, 15 or 17 years ago."
If those artworks remind you of Dan Flavin writ small, you are right – sort of.
Flavin was a minimalist artist whose art focused on fluorescent tubes. Not specially made ones, mind you, but the kind that people used to be able to buy in hardware stores by the carton. Flavin's first fluorescent light pieces were made in 1961, and his last shortly before his death at age 63, in 1996.
"The first time I used fluorescent lights, people talked about Dan Flavin," says Ahn.
"I did not know about him, and began to research his work. Actually, I later made a piece I called 'After Dan Flavin.' The difference between his works and mine is that I use mirrors in conjunction with the lights, to create an illusion of deep space."
Like Flavin, Ahn at first used fluorescent lights in his work, but as LEDs became a readily available commodity, sometime around 2005, Ahn began to rely on them.
Did the mirrors in his work come first, or the lights?
"I started to use mirrors in my work first. Two mirrors facing each other making infinite space. I at first put them in a small, open-topped box. Ambient light came in through the top of the piece. Then I covered all the interior sides of the box with mirrors and looked inside a peephole to see the result. I could not see anything, because no light could get into the box. I realized that it was necessary to have light inside the box. So, I accepted a light source as one of the elements in my work."
Born in the port city of Busan, South Korea, Ahn was educated at the prestigious Chugye University for the Arts in Seoul. He emerged from that institution with a BFA and a penchant for painting in a geometric abstract style. The young artist came to the U.S. in 1997 and studied English in Michigan for a couple of years. He moved to Baltimore in 2000 upon his acceptance for graduate study at Maryland Institute College of Art (MICA), where he was awarded an MFA in 2002. Ahn has conducted his career from Baltimore ever since, fabricating all his pieces in his studio there with the aid of an assistant who, like Ahn, is an American whose life began in South Korea.
Why did Ahn, who travels internationally to supervise the installation of his exhibitions, select Baltimore as home base?
He says, simply, "Baltimore is affordable, compared with other cities."
Ahn also acknowledges his city's varied art museums and acclaimed art school. Ahn is represented by C. Grimaldis Gallery in Baltimore.
Perhaps the work by Ahn in the current show that most blurs the line between time and space is located against the back wall of the darkened Stark Gallery. It replicates a life-size, converging railroad track. The piece is unquestionably unlike the often colorful, geometric abstractions in the rest of the row.
Created in 2012, it is the largest piece Ahn has ever made, its size determined by the largest commercially available piece of glass he could buy.
"The track came from a decommissioned railroad museum. I was lucky that they were willing to cut the rails down to the length I needed, 30 inches. The stone came from a railroad track. I tried to make it pretty real."
Ahn evidently did his homework. The rails appear to be the standard 4-feet, 8.5-inch gauge of both U.S. and Korean rail lines. The similarity is no coincidence. American businessmen built Korea's first major rail line in 1896, and that track width has been maintained in South Korea ever since.
As has the romance of the rails. Remember when you were a kid, and put a penny on the rail to be flattened by the next diesel engine that came along?
"Not only in America, but also in Korea we do that. And if you put your ear on the rail, you can hear vibrations from miles away," says Ahn.
Ahn continues, "Immediately, when you see a train track, your age does not matter. It's 'Ohhhh!'" he says, with a sigh of childlike awe.
Appropriately enough, the title of his piece is "Railroad Nostalgia."