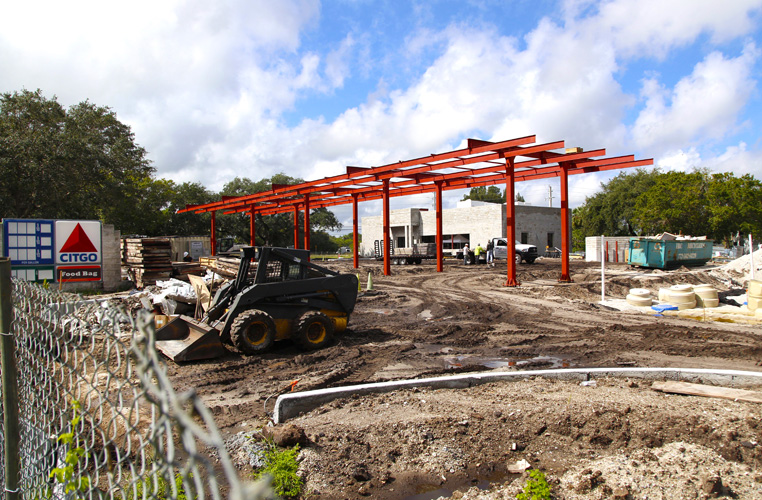 A new 7-Eleven – the county's 7th – is coming to the northeast corner of the U.S. 1/Route 510 intersection, where a Citgo gas station and market thrived for many years.
A dinky little convenience store in the mode of many 7-Elevens might seem like an odd choice for the county's third-busiest intersection, but this will be an amped-up franchise more like a new Cumberland or Wawa store.
The Wabasso store will be 4,050 square feet, nearly twice the size of the island 7-Eleven on A1A south of the 17th Street Bridge, and will sit on a 1.75-acre tract that is more than three times the size of the South Beach store's cramped parcel – and almost half an acre larger than the Cumberland site at U.S. 1 and 17th Street. (Wawa and Cumberland Farm stores range from 4,000 to 6,000 square feet.)
There will be 11 fuel pumps, one offering non-ethanol fuel for watercraft, and expanded food and beverage selections including specialty coffees such as espresso and fresh ground options.
The Citgo property was acquired three years ago for $1 million by PMG (Petroleum Marketing Group), a distributor of petroleum products to brands including Citgo, Mobil, 7-Eleven and others, according to county property records.
The Citgo station was demolished this past summer and construction is well under way on the new souped-up 7-Eleven.
Longtime commercial real estate agent Billy Moss calls the project phenomenal and points out the busy intersection is perfectly located "at the mid-point between Vero and Sebastian."
Fed by heavy northbound and southbound traffic on U.S. 1 and a steady stream of cars coming and going from the barrier island via the Wabasso Causeway, the intersection is traversed by nearly 75,000 vehicles per day, according to Florida DOT 2019 data. Only the U.S.1/17th Street intersection where Cumberland is located and the State Route 60/I-95 intersection are busier.
"This will be a 7-Eleven on steroids," says PMG director of development Armand Keurian, who had a 28-year career with 7-Eleven (1988-2018), including as regional senior director of development, before joining PMG.
He is overseeing the Wabasso project and will be the franchisee for the new store, which will be part of 7-Eleven Inc.'s "evolution" store format – basically learning labs that continually try out new food, beverage and other retail offerings to increase their sales and better meet the needs of consumers.
Keurian says PMG, which owns, operates or services more than 1,650 stores from Maine to Florida, has recently completed travel plazas in West Palm Beach, Fort Myers and Orlando.
Founded under a different name in 1927 in Dallas, 7-Eleven took on its iconic name in 1946 and has since grown to be the largest convenience store chain in the world by a longshot, with some 70,000 stores scattered across North America, Europe and Asia, including 600 stores in Canada, 1,800 in Mexico and 20,000 in Japan. Most stores – more than 60,000 – are franchises.
On its website, 7-Eleven Inc. – formerly the Southland Corporation – claims to have introduced "the world's first coffee to go" in 1965 and the first convenience store self-serve soda fountain in the 1970s.