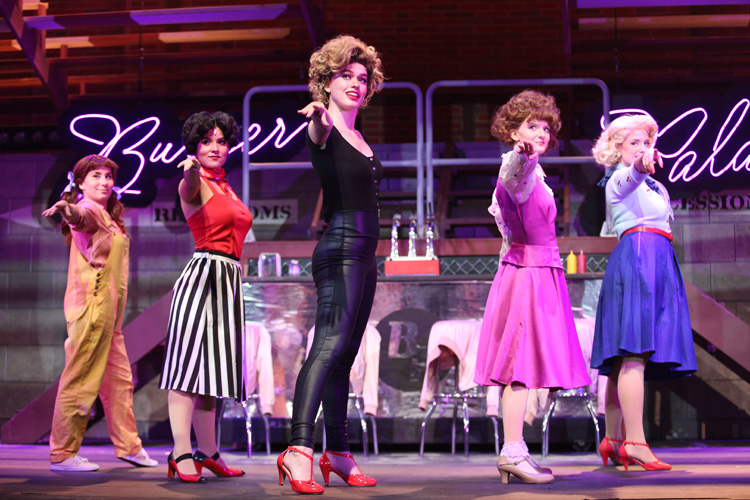 A couple of Melbourne community theaters are living the motto, "The Show Must Go On." After months of waiting and considerable preparation to keep audiences and casts safe from COVID-19, the Melbourne Civic Theatre and the Henegar Center are set to entertain patrons thirsty for theater.
"We're excited to get guests back in the space," says Dominic Del Brocco, executive artistic director at the Henegar, which is getting ready to reopen following a seven-month closure. "We've taken several different measures to make it safe and comfortable for them to return."
MCT reopened its season in July and, like the Henegar, continues to follow rigid rules to keep audiences, cast and crew safe.
"I get audience members saying, 'thank you so much for being open,'" says Peg Girard, MCT artistic and managing director. "And the cast is grateful that we're doing shows."
Del Brocco and Girard say that despite Florida Gov. Ron DeSantis giving the OK to reopen at full capacity, they want to be as careful as possible.
"They've done it right," says Vero Beach resident Judy Lemoncelli, who plays the role of Jessie in the show currently on stage at MCT. "I feel absolutely safe and protected as an actor and as a volunteer."
Both theaters require patrons to wear masks, even after they take their seats. Moreover, capacity is limited to about one third for the intimate MCT and half for the larger Henegar. Seating is staggered and select rows are closed to maintain social distancing.
Additionally, social distancing is practiced in the lobbies and no-touch policies have been put into place for concessions.
The Henegar has also employed strict regulations for entering the building. The box office windows are on the outside of the building, where one ramp leads up to a will-call window and another ramp designates where ticket-holders should line up. Special decals help those in line to keep their distance from one another.
Moreover, the main staircase leading up to the theater is closed, and a new door on the east side of the Henegar auditorium leads directly to the parking lot on the south side of the building.
Both theaters take cleaning seriously. The Henegar uses a professional service and MCT invested in an industrial sprayer which is used after every show. And, of course, there is hand sanitizer "everywhere," Girard says, "and masks that you can buy if you forget one."
Cast members wear masks to rehearsals and must promise to adhere to safe coronavirus practices. The Henegar even has cast and crew sign a separate set of rules. After a couple of weeks, actors may remove masks only while on stage.
Sebastian resident Tina Cookson, who plays the role of Pauline in MCT's current show, says the cast and crew are respectful of each other and take proper care in their personal lives to avoid getting, or spreading, the coronavirus.
"In the beginning, we were all a bit wary," Cookson says. "That was the first thing (Girard) said to us – 'if you can't follow protocols outside the theater, then maybe you shouldn't do it.' (The theater) feels clean, smells clean, looks clean. I would be the first person to be worried about catching something."
Care is also taken with staging and the plays chosen. Wanting to keep cast size to a minimum and needing to watch budgets, both directors had to make changes in what they had originally planned to produce. Fortunately, publishers have been considerate of theaters, which have been struggling nationwide, and have lifted fees for schedule changes.
And directors want to make sure to choose shows that will make all of us living in a weary world feel better.
MCT's schedule:
"The Prisoner of Second Avenue" runs through Nov. 8. The warm-hearted comedy, written by Neil Simon, eerily parallels the isolation so many are experiencing.
"When we did the read-through, it was like it was written for now," Girard says.
"Jacob Marley's Christmas Carol" runs Dec. 4-24. This marks the fourth time MCT will produce the show, which is a retelling of the Scrooge story as told through the eyes of Jacob Marley.
"Beau Jest" runs Jan. 15-Feb. 21. Its small cast is ideal for helping with social distancing. The play concerns a Jewish girl who is in love with a non-Jewish man. She hires an actor to pretend to be her Jewish fiancé in order to get her parents' approval.
"It's funny, it's touching, it's a breath of fresh air," Girard says.
"Out of Order" runs March 19-April 25. This is one of Ray Cooney's best and most often produced comic farces.
"Harvey" runs May 21-June 27. The Pulitzer Prize-winning play by Mary Chase is a classic that Girard has always wanted to do. "It's heartwarming and charming."
Henegar's schedule:
Del Brocco pulled two big budget shows that would have required a large cast – "La Cage aux Folles" and "Mary Poppins."
"If we can only sell half of our theater, we would not have a chance to make back the production costs," he explains.
"Grease" runs thru Nov. 8. The show was supposed to run at the end of last season but could not open because of the sudden lock down. Since the cast and crew were ready to go, the decision was made to postpone the production and present it when they could.
"Elf: The Musical" launches the 2020-2021 five-show mainstage season and runs Nov. 27-Dec. 20. Del Brocco says he is thrilled to present this because the show is scheduled to go back on national tour, which means local theaters won't be able to secure the rights to produce it.
"Godspell" runs Jan. 15-31. This is the revival version, so many of its songs and instrumentations have been updated, Del Brocco says.
"Once on This Island" runs Feb. 19-March 7. This replaces "La Cage." A show yet to be decided will replace "Mary Poppins" and will run April 2-18.
"The Full Monty," the final show of the mainstage season, runs May 7-23.
"It's a show with a lot of appeal," Del Brocco says. "It does very well. And I thought we'd end the season with a comedy; not too heavy or too dark."
In addition, the Henegar will have two special shows, "The Irish Curse," which runs March 12-21 in the Upstairs Theatre, and "Hedwig and the Angry Inch," which runs April 23-25 on the mainstage.
Tickets to the MCT shows are $30. The season pass to five shows costs $130. Melbourne Civic Theatre is at 817 E. Strawbridge Ave., Melbourne. Call 321-723-6935 or visit MyMCT.org.
Single tickets to Henegar shows run $27 to $34. Season ticket packages run $93 to $155. The Henegar is at 625 E. New Haven Ave., Melbourne. Call 321-723-8698 or visit Henegar.org.