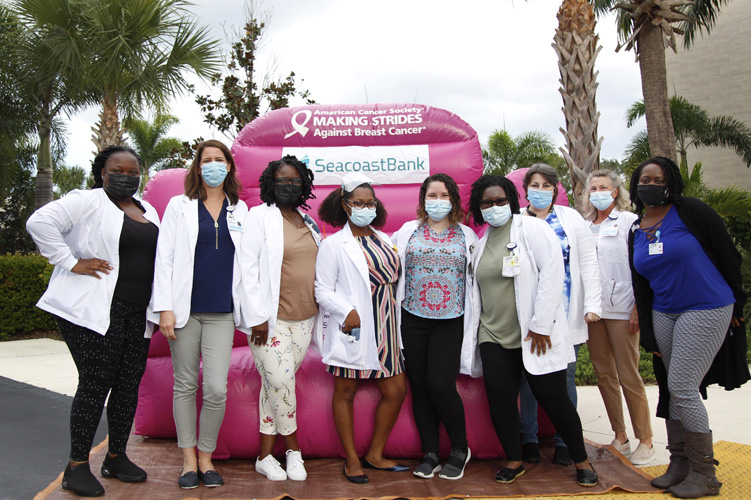 A convoy of cars, trucks and jeeps bedecked in shades of pink circled the wagons in the fight against breast cancer, gathering recently in the Scully-Welsh Cancer Center parking lot at Cleveland Clinic Indian River Hospital for a Pink Car Parade.
A parade of survivors, caregivers and supporters honked horns and turned up the tunes to celebrate the American Cancer Society's efforts to Make Strides Against Breast Cancer. The pink-hued warriors were greeted with signs, cheered along by Vero Beach High School cheerleaders, and were showered with gifts of support including pink carnations, T-shirts and backpacks by caped breast cancer crusaders.
The coronavirus pandemic put a halt to the annual Making Strides Against Breast Cancer fundraising and awareness walk at Riverside Park, which typically draws several thousand supporters, putting a damper on ACS efforts to raise money for research and support for patients, survivors and caregivers.
Additionally, Theresa Woodson, ACS community development manager, says that with attention focused on the pandemic over the past seven months, an estimated 7.2 million mammograms nationwide did not take place.
"When you apply the statistical data to that, that means that there are conceivably 36,000 people out there with undiagnosed breast cancer," said Woodson, noting that breast cancer has a 99 percent survival rate when detected early. With every stage, that number drops, and when diagnosed at Stage IV, the survival rate drops to about 26 percent. It is the most common type of cancer in women apart from skin cancers; as many as 279,100 cases are projected to be diagnosed in 2020.
"We want to make some noise and remind people not to wait a year. Reschedule your mammogram today," Woodson stressed.
For more information, visit cancer.org.
Photos by: Kaila Jones
Click HERE to see more or buy photos