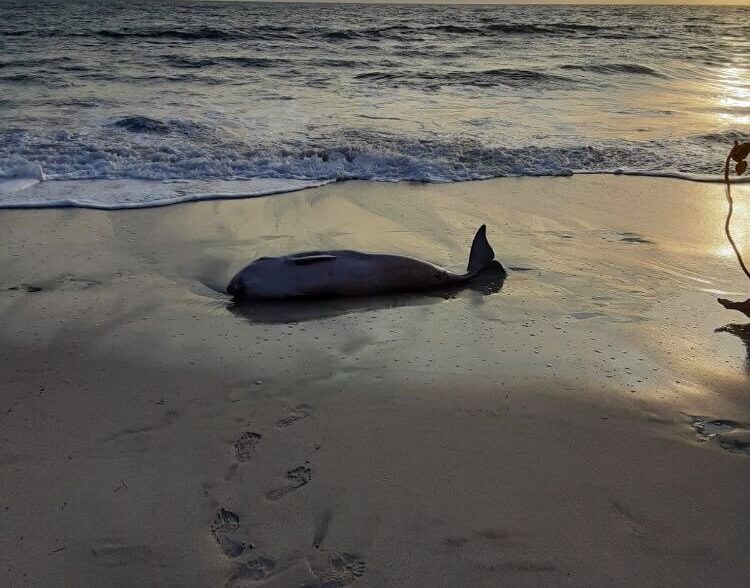 VERO BEACH — A young dwarf sperm whale died Wednesday after beachgoers found the mammal lying along the shore with bite marks on its body, police said.
"It appeared to have been attacked by a shark," Vero Beach Police spokesman Master Officer Darrell Rivers said. "It went into cardiac arrest and died on the beach."
Beachgoers called 911 after spotting the stranded whale about 7 a.m. near the Riomar Drive Beach Access Area, east of State Road A1A, Rivers said. The call initially said the animal was a "beached dolphin," but authorities later clarified the sea creature was a whale.
Rivers said beachgoers tried pushing the 7-foot long whale – weighing about 1,200 pounds – back into the water, but were unsuccessful. Police and Florida Atlantic University's Harbor Branch Oceanographic Institute staff went to the scene and treated the animal's severe injuries.
Rivers said the whale had bite marks on both sides of its body near the tail. Police and residents poured water on the injured creature.
The whale eventually succumbed to its injuries, Rivers said. It was unclear how long the animal was lying on the shore.
Rivers said marine animals who become beached for an extended period of time can experience distress, leading to heart attacks. The whale was taken to FAU's Harbor Branch Oceanographic Institute in Fort Pierce, where a necropsy will be completed.
Photos provided by Vero Beach Police Department