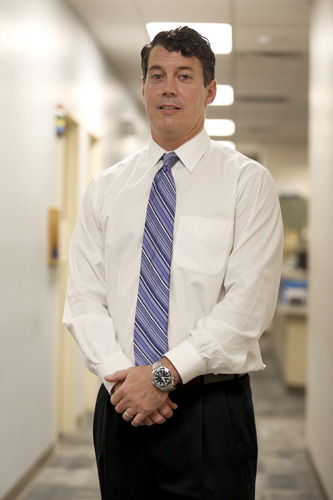 Having problems with your shoulder caused by arthritis, a bone fracture, rheumatoid disease, a torn rotator cuff – or just by normal wear and tear?
If so, Dr. Carl DiLella at the Othopaedic Center of Vero Beach has some very good news for you.
DiLella was among the first orthopedic surgeons in Florida to employ what he calls "an innovative system for total shoulder replacement," in which clearly detailed 3-D printouts of the patient's shoulder joint give him a much more accurate view than conventional X-rays and help guide the procedure.
DiLella quickly adds the system doesn't 3-D-print the actual implants. Rather, it 3-D-prints the guides that are specific to each patient and shoulder.
The 3-D images, he continues, "are produced using a highly specialized 3-D printing process created by the Swiss-based company Medacta and are based on CT scans of the patient's own shoulder anatomy.
"This," DiLella says, "makes the surgery much more precise and the outcomes more predictable."
That would be a welcome change to the norm.
Boston's Massachusetts General Hospital freely admits that until recently, shoulder replacement surgeries had become almost notorious for their high failure rate. Nearly 10 percent of them require revision surgeries.
Hip and knee replacements, meanwhile, have far lower rates of revision surgeries.
That's probably due in part to the relatively small number of shoulder joint replacements done annually – according to the American Academy of Orthopaedic Surgeons, only "about 53,000 people in the U.S. have shoulder replacement surgery each year," compared to nearly 400,000 who have hip replacements and even more than that who have a knee joint replaced.
With so many more hip and knee replacements performed annually, it's no surprise most orthopedic surgeons know their knee and hip procedures far better than their shoulder replacement procedures.
Massachusetts General goes on to point out that of the orthopedic surgeons who perform 100 or more hip and knee replacements annually, roughly 90 percent of them perform five or fewer shoulder arthroplasties a year.
The Medacta "MyShoulder" system claims to offer surgeons more accurate implant placements than was possible before as well as a "roadmap" for the actual procedure based on each patient's specific anatomy.
The system has been in use throughout Europe for several years but was only approved by the FDA for use in the United States in January.
Shortly after that, however, the COVID-19 pandemic put "elective procedures" such as shoulder replacements into a months-long holding pattern.
Since restrictions were lifted, DiLella has already performed 15 of these high-tech procedures here in Vero Beach and more are on his calendar.
All shoulder replacement procedures, according to Johns Hopkins Medicine, "are complex procedures that involve replacing the shoulder joint with artificial parts. The shoulder is a ball-and-socket joint. The ball is the upper part of the arm bone (the humerus) and is called the humeral head. The socket is smaller and is part of the shoulder blade (the scapula).
"The ball is held in the socket by ligaments and by the rotator cuff tendons. In shoulder replacement surgery the natural ball is replaced with a metal ball attached to a stem," and in order to function properly, the prosthetic or replacement pieces must be accurately placed and cuts made on the existing bone at precisely the right place.
That's one thing about the MyShoulder system that has impressed DiLella.
"I've been uniquely surprised by just how accurate the system is," says the soft-spoken DiLella.
What's also surprising is that surgery employing the Medacta system isn't much more expensive than traditional shoulder arthroscopies.
In fact, the only added cost, when compared to a traditional shoulder replacement procedure, is the cost for the CT scan of the shoulder in question.
Medicare and insurance may help with that, but as DiLella says, whatever that cost may be, if it delivers what he calls "a more precise surgery for your shoulder that will last you longer" – and be less likely to require revision surgery – then that cost may well be money well spent.
As with any surgical procedure, be sure to discuss all the available options thoroughly with your physician.
Dr. Carl DiLella is a board-certified orthopedic surgeon with fellowship training in sports medicine. He also performs adult knee and shoulder reconstruction and is with the Orthopaedic Center of Vero Beach at 1285 36th St., Suite 100. The phone number is 772-778-2009.