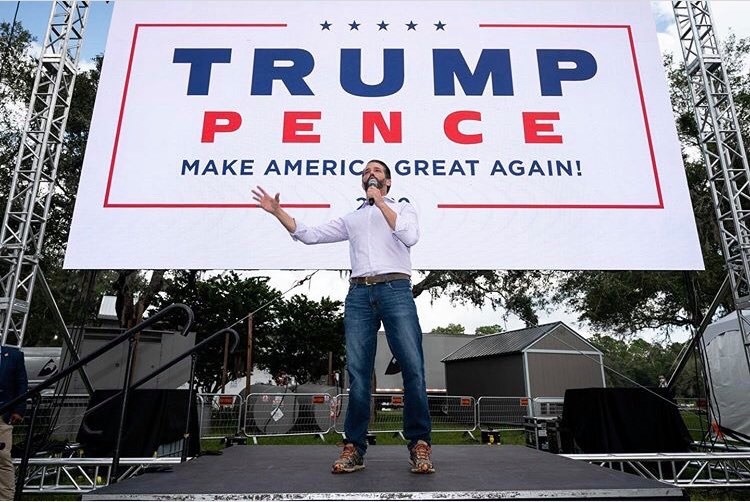 Donald Trump Jr. is expected to campaign on his father's behalf at the Indian River County Fairgrounds & Expo Center Wednesday, seven days before the upcoming 2020 U.S. Presidential Election.
"The enthusiasm has been high (here) the last couple of weeks," said Frank Sosta, field coordinator for the Donald Trump Victory Campaign in Vero Beach. "It's pretty exciting when Vero Beach gets one of the president's family members here."
Trump Jr., 44 and the oldest son of incumbent Republican President Donald Trump, will speak at the Make America Great Again rally at 6:30 p.m. Wednesday at the fairgrounds, 7955 58th Avenue, according to the Trump-Pence campaign website. Doors open at 5 p.m.
Those planning on attending the free event must first register through the campaign site. Sosta said Trump Jr.'s upcoming appearance is "very rare for Vero Beach."
The event comes ahead of the Nov. 3 election where Trump will face off against Democratic presidential nominee Joe Biden in a bid to remain commander in chief for the next four years.
The last major Republican candidate to hold a rally in the city was Gov. Ron DeSantis. Before becoming the 46th governor of Florida in Jan. 2019, DeSantis made several campaign stops in the state, including the Patio Seafood Tavern in Vero Beach.
"We're lucky to have (Trump Jr.) come," Sosta said.
The Donald Trump Victory Campaign Office in Vero Beach is one of 30 locations across the state, Sosta said. The office, located at 138 N. U.S. 1, has been in operation since March.
Indian River County rented out the fairgrounds to the campaign group for a standard rate of $1,970, spokesman Brian Sullivan said. The rental agreement, signed Tuesday, includes acreage for parking, the outdoor pavilion and the expo center.
Sullivan noted the county was not involved in any planning or operational aspects for the event.
Early voting for the general election runs from 8 a.m. to 4 p.m. Oct. 19 through Oct. 31, according to the Indian River County Supervisor of Elections website. As of Tuesday, 40,337 residents voted by mail, 24,883 participated in early voting and 33 filled out provisional ballots.
So far, those who have voted include 32,038 Republicans, 20,201 Democrats, 12,288 under "no party affiliation" and 1,075 listed as "other."