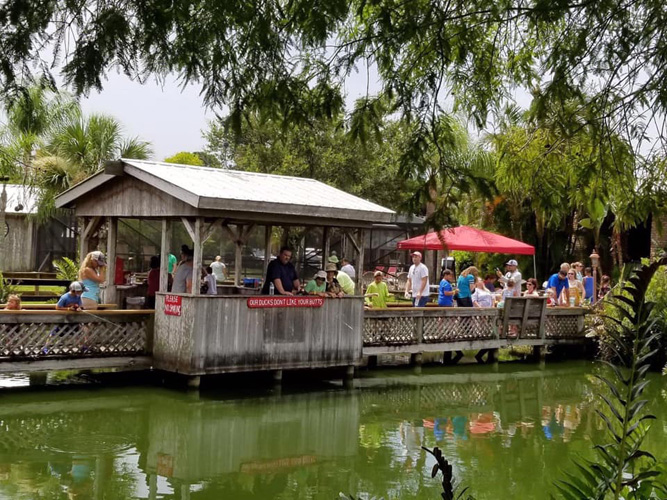 We may not be experiencing the traditional fall weather, but it's still happening out there. So get your masks ready because there's actually quite a bit gearing up, especially if you're a pet lover.
A sweet event for the whole family takes center stage at LaPorte Farms in Sebastian. The 5-acre farm will have tons of outdoor fun, including pony rides, mechanical bull challenge, hayrides, face painting and the opportunity for the little ones to help feed "the critters." LaPorte's Fall Festival also will have some good, old-fashioned American goodies for the humans – popcorn, cotton candy, hot dogs and hamburgers. And if you've delayed in picking up a pumpkin, then this is the place to shop. Be sure to schedule some time to simply enjoy the petting farm, where you'll find a zebra, tortoises, a monkey, goats, sheep, llamas and a bird sanctuary. Just be sure to bring your camera, and your masks. Admission is only $1. It runs 10 a.m. to 4 p.m. this Saturday, Oct. 24. LaPorte Farms is at 7700 129th St., Sebastian. Call 772-633-0813 or visit LaPorteFarms.com.
Dog lovers will want to head to the Dogs for Life campus to take in the fun of its 20th annual Halloween-inspired doggie costume parade. This year, because of the mask mandate, the name of the event has been expanded to the "Howl-O-Ween Mask-A-Rade Dog Costume Pawrade." The event brings 100 costumed dogs and more to walk the 4.5-acre campus dog park. As far as doggie costumes: "You see a lot of Oscar Meyer wiener, a lot of doggie bags," said Dogs for Life founder and CEO Shelly Ferger. "It's everything. It will blow your mind how creative people are. Every dog and owner gets a prize. We're not competitive because it makes people go a little overboard. So we don't have a contest." However, dog owners will want to compete when it comes to the event's raffle baskets. Each basket has hundreds of dollars' worth of merchandise, Ferger said. Raffle tickets cost $1 each or 6 for $5. In addition to the 4 p.m. parade, the event features music by Hobo Jim and a special 3 p.m. Sheriff's Department K-9 demonstration. Be sure to get there early enough to enjoy the park and to visit vendors' tents. This is also a great time to learn more about Dogs for Life, which, in part, trains service dogs for veterans and people with disabilities. It is one of only five Florida organizations to be accredited by Assistance Dogs International. Dogs for Life also runs an off-leash park for its members with dogs that are inoculated, neutered and social. There is a $100-per-year membership fee to belong to the off-leash park, and staffers conduct an assessment of the dog. However, Saturday's costume parade is open to the public, so dogs need to be on a leash. And owners need to wear a mask. Dogs for Life does not charge for its services. It depends on donations and fundraisers. "This has become our signature fundraiser," Ferger said. "It's free. It's very popular. We have had in the past close to 200 dogs one year. Mostly it's around 100 dogs in costume." And, yes, there are many people without dogs who come by to watch the event, she said. Howl-O-Ween Mask-A-Rade Dog Costume Pawrade begins 1 p.m. Saturday, Oct. 24, at Dogs for Life, 1230 16th Ave., Vero Beach. Call 772-567-8969 or visit DogsForLifeVB.org.
The 40th annual "Terror on Main Street Haunted House" has already started in Sebastian. The event runs through Oct. 31. This weekend, doors open 7:30 p.m. Thursday, Friday and Saturday, Oct. 22-24. Sponsored by the GFWC Sebastian River Junior Woman's Club, this is the Halloween event of Sebastian, attracting thousands of visitors, said coordinator Teddy Hulse. "I'm the only member who has been at all 40," she said. "The first one (at a yacht club) was grapes and spaghetti." It certainly has evolved. For the past eight years, volunteers build a haunted house setting in the four vacant lots owned by Sebastian United Methodist Church. "It's a little labor intensive," Hulse said. "It's totally different every year." This year's haunted house includes a five-room Egyptian tomb, clown rooms, and rooms with "Beetlejuice" and "Hocus Pocus" movie themes. Admission is $10. Masks required. Please do not wear costumes. Because of social distancing, rooms have been made larger and creepy staffers will not be getting "in your face." It opens 7:30 p.m. and takes about a half hour to do a complete walk-through. The Terror on Main Street Haunted House is at 1036 Main St. Visit SebastianHauntedHouse.org.