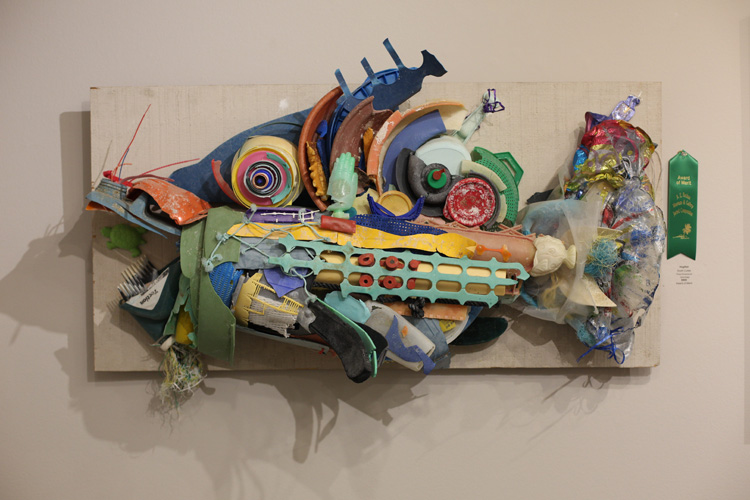 When so many museums around the U.S. have abandoned the time-honored tradition of hosting competitive exhibitions, why does the Best of the Best show at A.E. Backus Museum and Gallery in Fort Pierce prevail year after year?
The reasons for not having a competitive show are many. Even though entry fees purportedly cover the cost of putting it on, in reality they more often than not fall short of the expenses to keep the lights on, the floors clean, the guards stationed, and the insurance and alarm service bills paid for the show's duration. Volunteer hours certainly help; and for that, community-based museums are grateful.
Still, the headaches of storing entries until the show is juried (some, like Best of the Best, stipulate that entries be delivered to the museum in advance of jurying), as well as dealing with disappointed artists whose work is not deemed to be "the best," or at least good enough for the competition, can be trying. There are also jurors to be chosen; each expected to show up for judgment day and be team players. That doesn't always happen.
Full disclosure: The writer has been a museum curator in charge of overseeing a number of competitive exhibitions. She has also been a juror for shows, including one in which she became the de facto jury when her co-juror failed to show up. In another show she had to convince her co-equal, who didn't like any of the entries, to accept enough of them to create a show. The writer is also a painter who has entered enough competitive shows to experience the agony of defeat (Best of the Best 2019) as well as the occasional thrill of victory (Best of the Best 2018). She did not enter this year's show.
The Backus Museum's executive director, J. Marshall Adams, says the reason for continuing Best of the Best comes down to tradition.
"We like to open each season with this show," Adams explains. "It's a great opportunity to take a snapshot of the creativity in our immediate community and further on. It also hearkens back to our institutional beginnings as a community gallery. This is our 60th anniversary season; it's nice for us to remember that the doors were opened with the idea of encouraging local artists."
In other words, it was founder A.E. "Beanie" Backus's intention to have a showcase for regional art?
"That's right. We try to make sure there are two competitive shows each year. This one is for art mediums other than photography. Our juried photography show, Eye of the Camera, is how we close the season," says Adams.
He notes that the events are "nice bookends" for a schedule of exhibitions that relate to the diverse themes not only of our Treasure Coast region, but to Florida and, as Adams points out, to the experiences we share as a nation.
For his Director's Choice Award, Adams selected a work that relates to Florida's fauna; a bronze flamingo by Melbourne Beach sculptor Brenda Truesdale.
Planting himself in front of the smoothly stylized sculpture, Adams says "there is a lot to like about this piece. It's elegant and dynamic, and the modulation of the (pink and white) colors of the patina struck me."
He is quick, however, to say that Best of the Best is not about beauty alone.
"I can pick out a few works for you that seem to be in the spirit of the times," he says, striding over to a mixed media work by Fort Pierce-based artist Charles Blake, "Lock Down 20/20."
That work includes a representation of orange safety fencing, of the type used to isolate sea turtle nests on the beach. In Blake's picture, the fencing displays a boldly lettered message: BEACH ACCESS CLOSED. In front of this, a hand holds an upside-down bottle of Corona beer over a trash can filled with empties; the bottle's neck points at an ad-like starburst that reads, "75 Thousand Dead and Still Counting."
Ah, those were the days. As of this writing, the death toll from the novel coronavirus stands at 217,000 out of nearly 8 million confirmed cases in the U.S. alone. There is no upside to those dreadful numbers. Nevertheless, months of enforced sheltering in place to safeguard against infection has also been a boon to the creative impulse.
For the artists represented in Best of the Best, "the home became an artist's residency," says Adams, referring to the cultural programs that invite artists to live and work for a time in environments away from their accustomed ones.
Except for the away part, artists have used their "at home" residencies in much the same way as those located in exotic places. They have had the leisure to try new techniques, rethink their artistic direction, or engage in labor intensive, wow-inducting projects.
Adams points to a turned-wood piece by Jack Sheldon of Fort Pierce as one such project. Carved from a single piece of wood, Sheldon's "COVID-Catcher" is a bowl-shaped vessel. Its mouth is encircled by leafy vines that arc downward, terminating in openwork runners. These lift the bowl, not so much as a receptacle for germs, but as solemn offering. A dose of healing, anyone?
Adams' last example of art that connects with current events is Vero Beach artist Judy Burgarella's "Portrait of a Hero," an oil on canvas painting that captures a quiet moment in the life of an anesthesiologist, dressed for battle in blue scrubs with his beeper for a breastplate. The doctor's loosened mask reveals a sensitive young face, momentarily distracted from the cares of the world.
The above three artworks all garnered awards of merits from the trio of jurors who selected the show and conferred prizes. The jurors for this year's exhibition were artist Lila Blakeslee, a founding member of Gallery 14 on 14th Avenue in downtown Vero Beach; John Hayes, a son of the late sculptor David Hayes, who is responsible for placing his father's work in public venues across the United States, and Keira Daniels Navarro, the former assistant director and curator of Melbourne's Ruth Funk Center for Textile Arts, who curated a decade's worth of award-winning exhibitions for that institution.
During a recent afternoon, Blakeslee was at the Backus Museum, enjoying the Best of the Best show along with other masked visitors.
"This is one of the very first shows I had ever judged of this size," she says, adding that she appreciated working with Hayes and Navarro.
"We all had different backgrounds related to art. We were very much in agreement with lots of things, but not without controversy about other things," concerning which pieces would make the cut and which would not.
Blakeslee and her colleagues viewed more than 200 entries, of which a little fewer than half – 103 artworks – were accepted. Of those, 40 artworks were awarded ribbons. Best of Show went to Frank Spino of Melbourne Village for his watercolor landscape "Sabal Palms on Turkey Creek."
First-place winners included Vero Beach artist Rita Barone's abstract painting "Memories." Another Vero artist, Merana Cadorette, won second place in painting for her acrylic on canvas "Liquid Light."
Other Vero awardees are Jim Cohoe, who won a 3-D third place for his ceramic sculpture "The Kid," and Dawn Miller, who won a third place in mixed techniques for her pastel portrait "Richard."
Merit awards were presented to Joan Earnhart for her assemblage "Untethered"; and to Gregory Ingerson for his mixed technique "Electric Cross,"
Works by Vero painters Elise Geary, Barbara Krupp, Mark Kirby and James Newman were juried into the show.
Best of the Best is on view through Nov. 13.
The A.E. Backus Museum and Gallery is open Wednesday through Saturday from 10 a.m. to 4 p.m., and Sundays from 12 noon to 4 p.m. For more information, visit backusmuseum.org.