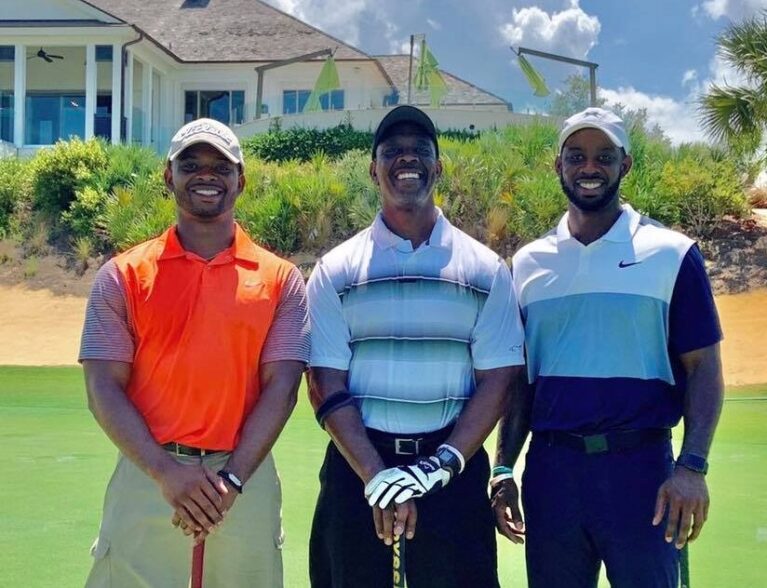 The strong bond between Billy Wilson and his two sons was still growing before Tuesday – the day he died.
But, the family's ties have not been broken, said Billy Wilson's sons William Wilson IV, 29, and Wes Wilson, 27, both of Jacksonville.
"He had the biggest smile in the world," Wilson IV said. "He was my idol and my hero."
It was that same natural connection Billy Wilson had with his father, William Henry Wilson, the Hall of Fame track and field coach who died Sept. 20 at 81 years old. Billy Wilson, 57, former assistant principal at Sebastian River High School and also a well-known sports coach, died less than a month after his father.
"My dad did a valuable job of not taking his relationship with his father for granted. He passed that down to (us)," Wilson IV said. "I hope to pass that down to my son."
Tragedy hits Wilson family
The community is supporting the Wilson family as relatives deal with a double loss this year. Wilson IV said the death of his grandfather, who had health issues and was on dialysis for a few years, was tragic, but expected.
But, Wilson IV said the death of his father was a complete shock.
"It has been tough. You lose someone you had a great relationship with," Wilson IV said. "I cherished every moment with him. My dad and grandad positively affected so many people. The outreach from the community has been incredible."
Wilson IV, an instructor, said he was teaching a class at 11:30 a.m. Tuesday at Providence School of Jacksonville when he got a phone call from a relative telling him something was wrong with his father.
Then, 30 minutes later, Wilson IV got another phone call from one of Billy Wilson's close friends saying that his father died at his home alone in Winter Beach, just south of Wabasso.
"He died in his sleep," Wilson IV said. Wilson IV and Wes Wilson drove three hours south to Indian River County to be with family.
Wilson IV said his father was healthy. The privately-owned Autopath Autopsy Services listed the cause of Billy Wilson's death as aortic dissection, Wilson IV said.
Aortic dissection occurs when the large blood vessel near the heart tears. Wilson IV said his father had a physician and that his most recent checkup was a couple weeks ago.
The Wilson family also dealt with another loss four years ago. Billy Wilson's wife of 28 years, Teneshia Wilson, 51, died from health-related issues on July 29, 2016, Wilson IV said.
Bond between father and sons
Wilson IV said he last saw his father two days before his death. Billy Wilson traveled last Sunday to Jacksonville to play golf with his sons.
"He was a great father, mentor and friend to the highest level," Wes Wilson said of Billy Wilson, who retired July 31 after a 26-year-career at Sebastian River High School.
Wilson IV said his father played golf three times a week at the Sandridge Golf Club in Winter Beach.
"My grandad loved to play golf and passed it down to my dad," Wilson IV said.
Golfing turned into an annual family tradition each summer for the Wilsons. The father and sons have held the family tournament for five years at various golf courses throughout Indian River County.
Wilson IV said he and his father planned to compete in a University of North Florida Alumni golf charity tournament scheduled for this upcoming Monday in Jacksonville. Now, Wes Wilson will take Billy Wilson's place in the competition, Wilson IV said.
"It was a sport that bonded us," Wilson IV said.
Family legacy
The Wilson family is deeply rooted in the heart of Indian River County. Billy Wilson and William Henry Wilson coached a countless number of athletes in Indian River County for several decades.
William Henry Wilson led the track teams at Vero Beach High School to win 19 consecutive district championships, seven regional championships and back-to-back state championships. Billy Wilson coached alongside his father when the school won the state championships in 1989 and 1990.
The father-and-son duo coached together for a youth basketball team that won the Amateur Athletic Union State Basketball Championships in 2000 and 2002 in Orlando. Wilson IV and Wes Wilson played on the winning team.
William and Billy Wilson also taught physical education and driver's education at Vero Beach High School. Billy Wilson became assistant principal at Sebastian River High School in 1994.
William Wilson started coaching football and track at the same school in 2005 and continued for seven years.
Billy Wilson's wife, Teneshia, and mother, Kathryn, were also local educators throughout the years.
Wilson IV and Wes Wilson followed in their relatives' footsteps.
Wilson IV and Wes Wilson played several sports at Sebastian River High School, including football, basketball and track. The sons said Billy Wilson showed up to every single one of their games.
Wilson IV played basketball at the University of North Florida. He also served as head coach of the Sebastian River High School boys basketball team from 2015 to 2018.
Besides being a teacher, Wilson IV is also an assistant boys varsity basketball coach at Providence School of Jacksonville. Wes Wilson works for a logistics company.
Thankful
Despite their loss, the Wilson brothers said they are thankful they had a close-knit relationship with Billy Wilson.
The Wilsons said their father taught them to be kind to people, always say "good morning" and to live their lives in a trustworthy way to everyone.
The brothers said their family grew up in the Allen Chapel African Methodist Church in Wabasso. The Wilsons said they are proud of the way their father and grandfather established core values within the family.
"(My father) was about living in the moment," Wilson IV said. "He enjoyed every second of life. He felt every moment was precious."