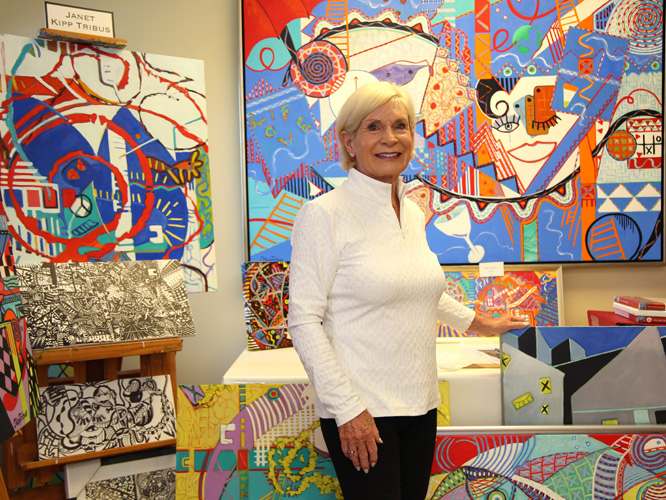 Painter Janet Kipp Tribus says she works every day in her private studio, located in an office building a little north of Bethel Creek House on A1A. She is the only artist among the professionals there, whose staid management and real estate offices line the dim, softly carpeted hallway of her floor. It is not until the door swings open onto the Tribus studio, where geometric abstractions shine from every wall, that you know you aren't in Kansas anymore.
It has been more than a couple years since she left her comfort zone at Palm House Gallery, the second-floor studio and gallery space on Ocean Drive that Tribus shared with Palm House's owner, Emily Tremml, and her colleagues, Suzy Mellot, Madeline Long and Rick Kelly, among others.
During that time Tribus was known for her painted idylls of rolling farmland dotted with little houses and crisscrossed with lanes where, rain or shine, women and girls strolled under open red umbrellas.
"I did those paintings from 1984 to 2015," she says, noting they were inspired by the countryside near her former home of Montclair, New Jersey.
The 30 years she spent exploring and refining her subject were happy ones, she says. She loved the peace of the country, whose mood she never tired of revisiting in her oil on canvas works.
As recently as four years ago, however, there came a point when she said, "I can't do it. I have to do what excites me."
Tribus metaphorically compares making art to feeding yourself. Only by taking an omnivorous interest in the variety of the world around you, including the work of other artists, can you fully develop and grow your own art.
Nowadays, Tribus has turned her brush from gently curving country roads and rustic pleasures to the sharp corners and sensual thrills of the big city – or at least, the sophisticated suburbs.
Think in general of the abstract works of Kandinsky, Klee and Calder, and in particular of Mondrian's late, great "Broadway Boogie-Woogie," and you will get an idea of who Tribus has been hanging with lately.
The supportive artists at Palm House encouraged Tribus not only to create her first abstract paintings, including the aptly titled "Leap of Faith," but also to leave her cozy spot among them for a room of her own. Well, that and her unconscious habit of humming while she painted.
For Tribus, humming while she works is an automatic function, like breathing.
Nothing focuses the attention on a personal tic like working in a shared art studio.
"One day someone drew my attention to it. I tried to stop it. I couldn't stop. I realized it was out of my control," she says.
On the advice of her husband, Tribus decided to go solo, renting her own studio space.
That was within her power. Not only did it save her relationship with her Palm House cohort, it encouraged her to develop her abstract style.
"When I got to my new studio, I just wanted to build up a new body of work. That was the only thing that was important. Just to paint, just to enjoy."
And while her first attempts at abstract painting were small in size, Tribus soon gained the confidence to paint much larger. She also developed an abstract language that went beyond the geometric shapes and grids of her art heroes.
Tribus' painting "Say Cheese!" is a case in point. The 40-inch-by-60-inch oil on canvas has the spirals and angles of a Calder, the ladders of a Miro, and the palette of a Mondrian, as well forms unique to Tribus that speak of modern American down time.
"Say Cheese!" is about taking a selfie, says Janet.
"I think it has to do with cocktail hour, and having wine and pizza."
Sure enough, some of the triangular shapes scattered through the painting are filled with tangled squiggles that can be read as cheesy slices, and a bottle shape hidden within the frenetic composition spills a red droplet into a wine glass at the bottom edge of the picture.
A fan of rectangles floating right of center in the composition can be read as a hand of Picassoesque playing cards or, because of the lens-like circles in their top corners, a trio of cellphones. The large triangle that surrounds them also contains two hieroglyphic eyes (one of them winking) above a Cheshire smile. A '20s-style kiss curl in the triangle's upper corner leaves no doubt that there is a flirty female face in the crowd.
Tribus says that she starts each painting by drawing directly onto the canvas with her brush.
"I never know what it's going to end up being. I just start with lines, and swooping arm movements. I try to keep some lines straight, so that my curvy lines don't make you woozy. But I like to do swooping things."
When abstract expressionist painter Tim Sanchez visited Tribus' studio for the first time, he was drawn to "Peace and Light," a 30-by-30-inch-square composition distinguished by the bold red spiral that lassoes the painting's active colors and myriad marks into a unified whole.
"I told Tim that I don't feel that one is 'me' so much. I did it to try to figure out what other artists are doing," says Tribus.
Another painter friend, Hank "Chips" Feeley, encouraged her foray into abstraction by recommending an intensive one-week class at Ox-Bow School of Art in Saugatuck, Michigan. The summer school is affiliated with Feeley's alma mater, the School of the Art Institute of Chicago.
Says Tribus, "Chips knew I was kind of dipping into abstraction. He said, 'I guarantee this will change your life.'"
She signed up for a summer 2017 class called Experimental Drawing Studio taught by Gulsah Mursaloglu, a contemporary artist visiting from Turkey.
"Gulsah encouraged everybody in the room, mostly young kids. Very young, deciding where they were going to go in life," says Tribus.
"I, of course, was the oldest in the class. Everybody else had green hair and nose piercings. It was wonderful – it was hard work. I don't know if I ever want to go through it again, because it was really –you put your all into it. It was one intense week."
In addition to her teacher's "Go for it!" attitude, Tribus says that her "very bright" classmates at Ox-Box were "way out there." Their energy rubbed off on her, made her bolder in her own art explorations.
In becoming an abstract artist, Tribus has relied on artist friends and colleagues who continue to inspire her, as well the art historical icons she reads about. The more you talk with her, however, the more you understand that life itself, in particular the 38 years she enjoyed with her late husband, have been her great source of inspiration.
Don Tribus died in November of last year. The couple's shared Christian faith, their family and mutual friends, their love of travel and music, shared meals and trivial pastimes inform all of Janet Kipp Tribus' paintings. The often-humorous visual comments with which she spices her piquant chef-d'oeuvres bespeak a life lived with gusto.
Tribus recalls that when she began doing abstracts, somebody said, "Don't you want to make salable paintings, the ones your collectors are familiar with?"
"I said, 'I have to do what excites me. It's like feeding yourself.'"
Janet Tribus cannot live by bread alone.