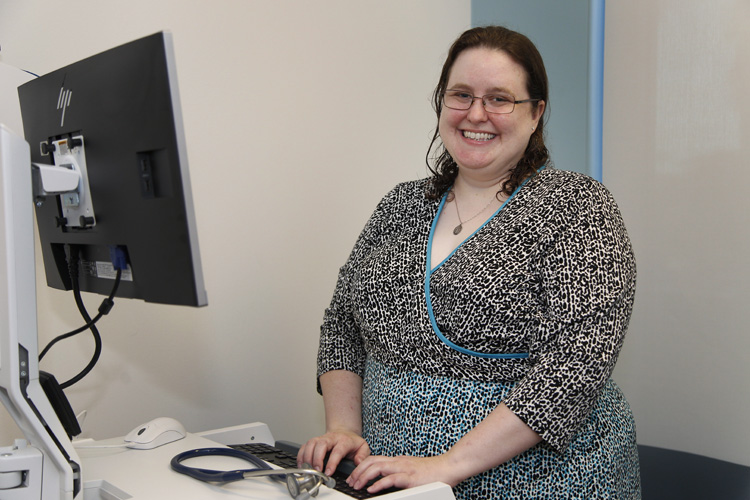 Newly arrived – or maybe that's newly returned – Cleveland Clinic Indian River Hospital family medicine and primary care physician Dr. Mary O'Meara knows the importance of getting your flu shot this year.
A Vero Beach native, O'Meara says she went to school "at Glendale, Osceola, Gifford and Vero Beach High School" before heading to the University of Florida and then on to Florida State for her medical degree.
She is back in Vero now and is keenly aware that the Journal of the American Medical Association just announced "as the U.S. heads into influenza season with the novel coronavirus pandemic still raging, public health authorities stress that it's more important than ever for people to get their flu shot."
O'Meara also knows, as the Occupational Health and Safety Administration says, "coronavirus' prevalence in the U.S. this year means you really do not want the flu. A combination of both viruses – or one after the other – may mean bad news for your health, respiratory health and your overall ability to recover," from one or both.
And, she is certainly aware that Dr. Anthony Fauci, the government's top infectious disease specialist, says "it's not acceptable to fail to realize that we are entering into an extreme risk period and we've got to act accordingly."
Simply put, the last thing Americans need right now is a "twin-demic" of COVID-19 and the flu this fall and winter.
Still, even as she endorses the flu vaccine to help prevent disease, the genial O'Meara shares some optimistic thoughts on today's situation.
"Hopefully," she says, "social distancing and improved hand-washing will help [fight] the flu this year. We want people to be less likely to catch the flu," and she adds that always wearing a mask in public should help.
O'Meara says "there are a lot of viruses this time of year that you can pick up. But if you get the influenza infection, you can get quite sick. So, it's good to get the flu vaccine just to be well-protected and to protect the people around you who are immunocompromised."
Meanwhile, according to the Centers for Disease Control, this season's "trivalent" flu shot option protects against three strains: the A/Guangdong-Maonan/SWL1536/2019 (H1N1) pdm09-like virus, the A/Hong Kong/2671/2019 (H3N2)-like virus and the B/Washington/02/2019 (B/Victoria lineage)-like virus.
The quadrivalent (four-component) vaccines, protects against the strains above plus a second B virus. This season that's the B/Phuket/3073/2013-like (Yamagata lineage) virus.
If that reads a bit like an alpha-numeric bowl of soup, just be aware that it could be worse.
There are potentially 198 different influenza A strain subtypes alone and they change from year to year.
Worse, all A and B strains of flu mutate over time with the newer versions constantly replacing older strains.
That's why it's important to get the current flu shot each year to ensure your body develops immunity to the most recent and prevalent strains circulating each year.
Meanwhile, back when COVID-19 first started spreading, so-called "immune boosting supplements" and even IV drips suddenly started being offered and advertised online and on television, but O'Meara offers a word of caution before stocking up on any of those things.
"It's very important to let your primary care doctor or any medical professional that's treating you know all the over-the-counter supplements you're taking," O'Meara warns.
There could be conflicts with the medications you're taking, or the supplements may be just plain unnecessary.
Whether it's vitamins or minerals or anything else sold over the counter, says O'Meara, most of the time "you can get that from a healthy diet; eating the right foods."
Finally, O'Meara deals with a common excuse for not getting a flu shot.
"I get a lot of patients," she says, "telling me they have an egg allergy, so they shouldn't get the vaccine. But the 'Choosing Wisely' guidelines do recommend patients get the vaccine. Even if you've had a severe reaction to eggs, you can have the vaccine, because it's such a small amount [of egg in it]."
In addition, one influenza vaccine, the "Flublok Quadrivalent" shot, is made without any eggs at all and is currently licensed and available for the 2020–2021 influenza season.
You don't want to risk getting two potentially fatal respiratory diseases – the flu and COVID-19 – this fall and winter. There is no vaccine yet for COVID-19, but there is for flu and you should get that shot now.
Dr. Mary O'Meara is a family medicine and primary care physician with Cleveland Clinic Indian River Hospital. Her office is at 3450 11th Court, suite 201. The phone number is 772-794-3364.